A small plaque in Baldwin Hall is the only on-campus acknowledgment for the 105 grave sites found in 2015. 
The graves are thought to be for former slaves, and University of Georgia student Jessica Douglas thinks the deceased deserve a more prominent memorial.
"I really want UGA to be a progressive force in telling the stories of black students and black history on our campus," said Douglas, a sophomore political science major.
Douglas started out the 2017 school year with a goal to use her Senate position in the Student Government Association to bring more awareness to black history.
To bring more attention to the issue, she proposed constructing a monument on North Campus in honor of the slaves.
Douglas and her co-authors, including current SGA Vice President Charlene Marsh, began working on Resolution 30-17, calling for UGA to "construct a permanent, physical monument on North Campus dedicated to all enslaved peoples held and employed by the University of Georgia."  
This resolution passed at the end of March after heated debate, which is unusual for most passed Senate resolutions.
However, after a veto from former President Cameron Keen on his last day in office and right before the first all-black executive trio was inaugurated, Douglas was left feeling defeated.
"I think coinciding with the inauguration of our first-ever, all-black SGA ticket and the assassination of Martin Luther King Jr. was just kind of a shame," Douglas said. "I just felt really gross about it all day."
The presumed slave remains were discovered by the university in November 2015 during construction on Baldwin Hall and were relocated to Oconee Hill Cemetery with an honorary ceremony, but UGA's response to the issue has caused contention for the past couple years.
"If they could just be more transparent and forthcoming [because it seems like] they are trying harder to protect the school as opposed to caring about the people of the community and what they have to say," President of Athens-Anti Discrimination Movement Mokah Johnson said.
A public memorial would be a step in correcting what many in the community feel is a wrong, Johnson said.
"I definitely could see some type of memorial ... So that the memory is never forgotten," Johnson said.
Currently, the only on-campus reminder of the Baldwin Hall events is the plaque inside the building. Because of Douglas's proposed memorial, this contentious community conversation was brought into the spring SGA meetings.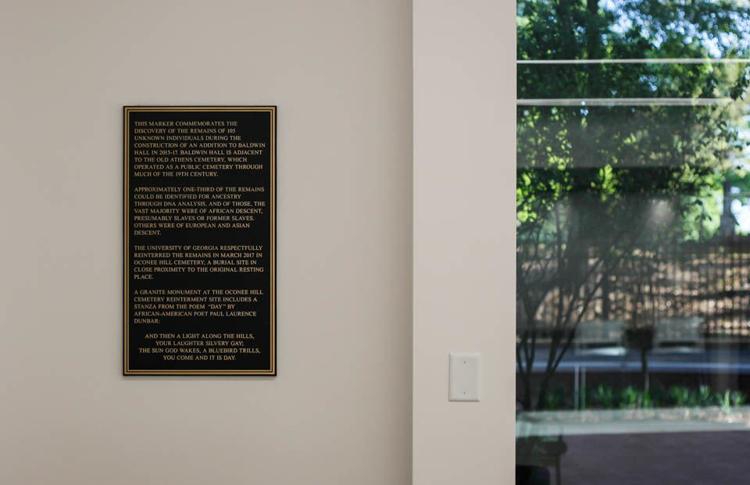 The debate
Before the Senate voted on the resolution, co-author Jada Steele said such a visible action as this monument would be effective in making black students feel more comfortable at UGA.
"The university is always asking questions about how can we get black students to come here," Steele said. "I can tell you 100 percent that if the university does something like this, black students will flood to the University of Georgia."
Alexis Boss, former SGA senator and treasurer of Council of Negro College Women, thought approval of the resolution was a no-brainer.
However, this was not an opinion shared by everyone, as many SGA senators voiced concerns that implementing the resolution would be impractical, due to issues with funding and possibly even requiring action from the General Assembly.
And though they did eventually gain Senate support, Keen's veto halted the authors' beginning work.
---
"We need to explain to people that these are my ancestors and we matter too. That's not something you sweep under the rug."
- Alexis Boss, former SGA senator
---
"The legislative process has a lot of red tape just in terms of what you can and cannot do," said Douglas following the veto. "I wish it was handled in literally any other way, but I am not sure how else it could have been."
After talking with the authors, Keen is confident that vetoing it was the best decision.
"Due to two factual incongruences in the resolution, I was left with no option but to veto," Keen said in a statement.
In his formal veto, Keen said including Georgia Daze as a supporter was a fact error in the resolution.
Georgia Daze, a UGA organization that takes underrepresented students on overnight visits to UGA, initially supported the resolution but rescinded after the resolution passed because the legislation did not align with its stated mission, according to a statement from the organization.
The second factual incongruence cited by Keen is the line of the resolution which reads, "the sole reminder of the bodies of enslaved people resting at Baldwin Hall is communicated through a small plaque in the rear of the building."
The bodies were reburied at Oconee Hill Cemetery with an honorary ceremony in 2017 and a headstone to mark the area.
Until next year
Now, no action can be taken until the new term begins in the fall.
Boss was hopeful action will be taken in the next legislative term. In the meantime, she said this is an opportunity to raise awareness and support because the discoveries at Baldwin Hall are unknown to many minority students around campus.
"We need to explain to people that these are my ancestors and we matter too," Boss said. "That's not something you sweep under the rug."
Acknowledging events like the discovery at Baldwin Hall is important because it is a part of history, Boss said.
Marsh and Steele also look forward to working on this issue in the future and respect Keen's decision as the only option based on precedent.
"Our goal from the start has been to respect and honor unsung heroes of our university's past," said Marsh and Steele in the statement. "In doing so, we wish to remain cooperative in our interactions with our university partners, student organizations, the general student body and administration … We still believe in the process to implement positive change on campus, and look forward to seeing unsung heroes of this campus honored in the future."
---
Correction: A previous version of this article misidentified Alexis Boss's title. The Red & Black regrets this error, and it has since been fixed.