Navigating the ins and outs of campus and city-wide sustainability initiatives takes some research. Both the University of Georgia and Athens-Clarke County continuously make efforts to inform citizens about sustainability related programs. As a result, The Red & Black wants to outline some recent developments regarding scientific research, social awareness campaigns and community involvement related to sustainability.
An alternative straw
UGA affiliates and researchers in the New Materials Institute Jason Locklin, Branson Ritchie and Daniel Carraway have embarked on a project to partially eliminate single-use plastics, planning to release their new innovation by the end of the year if all goes as planned.
Plastic straws, which add approximately 7.5 million pieces of plastic to shorelines in the U.S., have yet to become completely biodegradable. According to Locklin, director of the New Materials Institute and a professor in the Franklin College of Arts and Sciences and the College of Engineering, existing innovations include straws made out of corn, potatoes, wheat, sugar-cane or beets, all of which may be chemically made into polylactide, a plastic resin known as PLA.
While a viable option as compared to man-made plastic, these materials cannot biodegrade unless under specific levels of moisture and a temperature of at least 122 degrees Fahrenheit, Locklin said.
"We already know different PHAs can be used to create a variety of different properties necessary to manufacture plastic goods," Locklin said. "The biggest obstacle to PHA has been having enough material to supply a particular market sector in a cost-competitive way, along with the ability of industry to seamlessly adapt the technology, and this is why our team is so keenly interested in making sure we can overcome these obstacles."
The team has already developed a patented resin formula based on a different resin called polyhydroxyalkanoate, known as PHA. Because of the patent, the technology is restricted from being shared, according to Grant Writer and Sr. Science Writer/Editor, Kat Gilmore, of the New Materials Institute. 
Manufacturing testing on prototypes, which are still in the works, remain to ensure thefully biodegradable properties of the material and consistent application to the market. According to Locklin, these tests are expected to be completed by the end of the year.
The three scientists conducting this research come from different backgrounds. Ritchie is a veterinarian and co-director of the UGA Infectious Diseases Laboratory, Carraway runs the RWDC Environmental Stewardship Foundation and Locklin works with different polymers. Yet, they all believe that this is the time to dive headfirst into research promoting sustainability.
"One thing that's different now that hasn't really existed before is there is a global growing concern about what conventional plastics are doing to our environment," Locklin said. "Consumers want better alternatives, and this drives demand." 
Tackling tailgating and trash cleanup
Miranda Moore, a junior pursuing environmental science, law and policy, took over the UGA Office of Sustainability Game Day Zero Waste intern position without really knowing what the outcome would be. The semester-long position was added this year to tackle waste produced on football game days. 
Part of her internship will involve spearheading the Game Day Ambassadors program. Ambassadors are in charge of interacting with tailgaters, informing them about waste reduction and monitoring litter levels during the four hours before kickoff.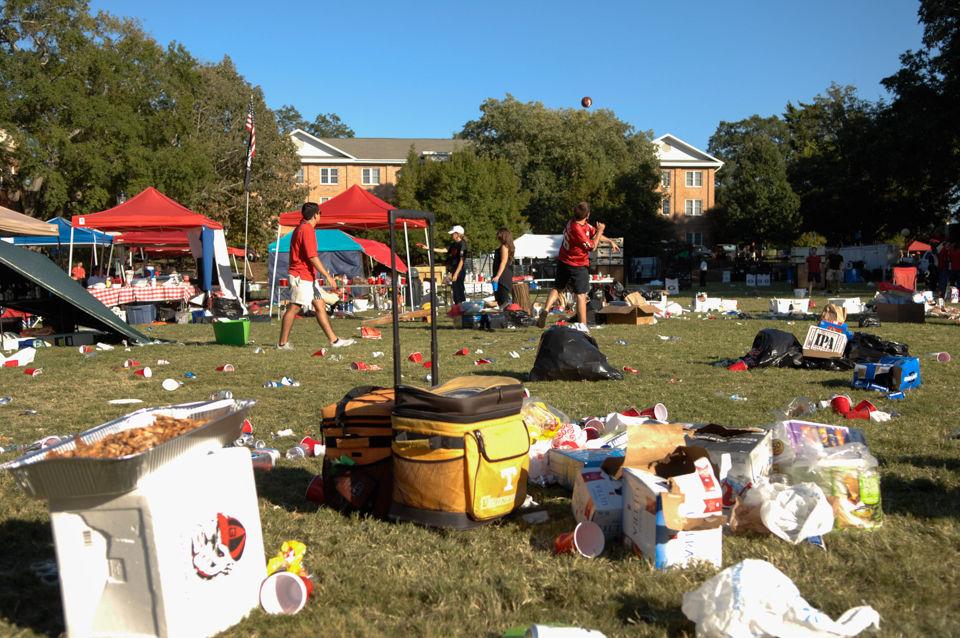 "As much as we can put up signage or have people go around, it's the personal connection that we think is going to make the difference," Moore said.
Students involved will each be in charge of one zone out of six, including areas such as Myers Quad. Those who want a smaller commitment will have the ability to volunteer on game days without being involved the entire semester.
Moore hopes the face-to-face contact between ambassadors and tailgaters changes the landscape of litter commonly found after each game day. She is proud of the interest the program has received, with about 30 people signed up to potentially become ambassadors.
On the horizon 
The Office of Sustainability faculty and staff try to promote different sustainability initiatives each year that encompass larger issues than just being green, said director Kevin Kirsche.
"We try to provide pathways to help [students] move from compassionate but lacking direction to effective world changers," Kirsche said.
Projects in the works include expanding the bike share program from 15 bikes to 100 bikes and including access for the rest of the Athens-Clarke County community.
Upcoming events include the opening of Lake Herrick on Oct. 17, the annual National Arts and Research conference, which will cover sustainability, Nov. 1-3 and the display of a large fish exhibit by a UGA student throughout October to draw attention to the effects of marine ecosystem pollution.