If you were watching the World Cup in 2010 and 2014, you probably weren't watching the grass grow, but Wayne Hanna was. While none of University of Georgia's athletes were on the field, turfgrass developed by UGA researchers were used in stadiums in South Africa and Brazil. Around 200 miles south of Athens on the University of Georgia Tifton campus, the turfgrass breeding program led by Hanna was reaching both domestic and international consumers.
"Our turfgrasses fill needs, solve problems and look pretty. Therefore, industry and customers use them around the world," Hanna said. "My dad always told me to do more for my boss than he expects."
Hanna, a professor in the department of crop and soil sciences, began his turfgrass research in 1971 with the U.S. Department of Agriculture, working as a research geneticist. During his time with USDA, they collaborated with UGA to contribute to the turfgrass breeding program at the UGA Tifton campus. In 2002, he retired from USDA to continue his research as a UGA employee.
Once a UGA employee, the licensing of his products began going through the UGA Research Foundation. Shelley Fincher, the plant licensing manager of Innovation Gateway, has seen the different varieties of turfgrasses from Hanna's research and attests to his ambition and attention to detail.
"He is testing these grasses for 15 years before they even get out in the marketplace, which is unheard of," Fincher said. "So they've been well tested before they even get out to the consumer."
Throughout the years, Hanna has worked on several varieties of turfgrasses, each formulated to serve a different purpose. For example, TifTuf, which is used on UGA's North Campus, is known for its wear tolerance and water conservation.
TifGrand, which he began developing at USDA, is a shade and wear tolerant grass, used for homeowners, golf courses and athletic fields. Each hybrid is tested for 10-15 years to ensure its quality and adaptability to different environments, and the turfgrasses can be found on every continent excluding Antarctica.
The turfgrasses Hanna developed are hybrids and pollen sterile, which allows turfgrass managers to have a contained, controlled growing of turfgrasses. While traditional bermudagrasses produce seeds, his do not, which have made his grasses valuable for venues such as golf courses.
The extensiveness of Hanna's expertise has not gone unnoticed. Hanna was awarded Inventor of the Year by the UGA Research Foundation in 2003 for his contributions to the turfgrass industry. In 2015, Hanna was elected as a National Academy of Inventors Fellow, which highlights academic inventors across the world.
However, despite his prestigious accolades and worldwide recognition, Fincher said Hanna remains humble about his accomplishments.
"It really embarrasses him if you talk about how well-known he is," Fincher said. "He's very humble. Probably the best character of most anyone I've ever met."
While Hanna passed the turfgrass breeding program onto Brian Schwartz in 2009, he continues to contribute his expertise to projects in different fields. After growing citrus in his backyard, Hanna began looking into seedless lemon and tangerine, and he eventually developed seedless Sweet Frost, a type of tangerine, and Grand Frost, a type of large lemon, for homeowners and backyard gardeners.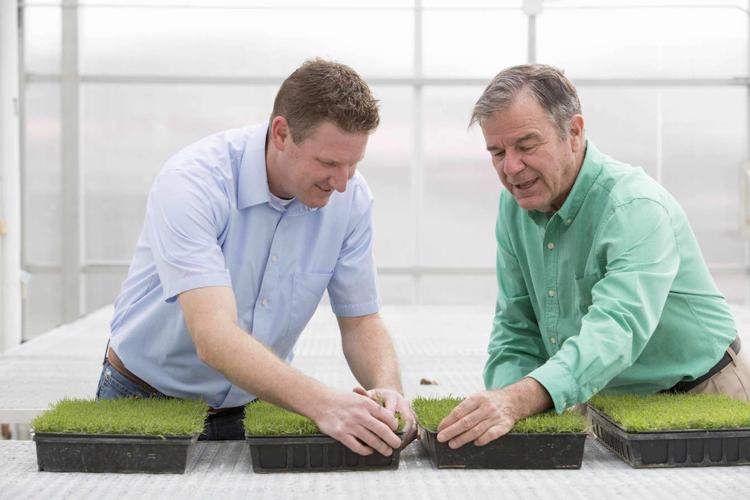 "He's very progressive thinking. He's really a renaissance researcher," said Brent Marable, the assistant director of plant licensing in Innovation Gateway. "He's willing to try new things and think outside the box."
Today, Hanna is still involved with the turfgrass products by answering questions about management through emails and phone calls.
"The broad use of our turfgrasses tells me that we are doing a good job for the taxpayer who supports UGA and USDA," Hanna said. "Also, that the customer feels that they are getting a reliable product."
Hanna's approach to his research involves creating a product that serves a unique purpose while learning from others around him. Ultimately, Hanna said the product's worth should speak for itself through its purpose and quality.
"First you have to have a good product to market. To have a good product, one needs to think and dream 'outside the box' of what everyone else is doing," Hanna said. "You need to be one part of a team who, in many instances, are smarter than you. At the same time one needs to take leadership in promoting and informing the merits of the product — do not oversell."
So next time you're playing golf or just taking a nap on North Campus, keep in mind the grass underneath you could very well be the product of decades of research by Hanna and his team in Tifton.