Less than a week after the 2018 midterm elections in Georgia, University of Alabama professor George Hawley, who also researches elections and political parties, held a lecture Nov. 12 on the future of the conservative movement in America in the Miller Learning Center at the University of Georgia.
At the beginning of his lecture, he answered the title of his talk, "Does the conservative movement have a future?"
"The answer is yes," Hawley said. "But I will say that it is unclear what the future of the conservative movement will look like."
The future of the conservative movement
Two vital issues, Hawley said, for the conservative movement are to adapt by "stepping into the 21st century" and to stop "liberal bashing."
Hawley teaches a course on conservatism at the University of Alabama, which he said is typically comprised of young conservative students, many of whom aspire to work in politics.
"I ask them to spend a little bit more time thinking seriously about these questions and a little bit less time holding up signs that say 'socialism sucks,'" Hawley said. "'Owning the libs,' to use that contemporary colloquialism, is not a political agenda or a coherent philosophy."
Hawley said by bashing the left, the right fails to improve America and instead aids in the division between the left and right. By the same token, he said the conservative movement's lack of response to the 21st century has hurt instead of helped its platform.
"The conservative movement will survive in any event," Hawley said." But if [the conservative movement] wants to have a major role in shaping the future of American politics and culture and not just exist to raise money for itself, it is going to need to have both feet placed firmly in the 21st century."
Hawley said conservative Republicans missed an opportunity two years ago to regroup itself by addressing 21st century talking points and instead continued to focus on tax cuts.
"I think we're hitting a ceiling on how much political gain you can get from that," Hawley said.
Trumpism
Hawley said during the 2016 GOP election, President Trump differed from previous Republican candidates.
"Donald Trump did something interesting by simply showing total indifference to the conservative intellectual movement," Hawley said.
And while Trump chose to disregard much of the conservative rhetoric of the movement, Hawley said "The Republican electorate shrugged its shoulders and voted for him anyway."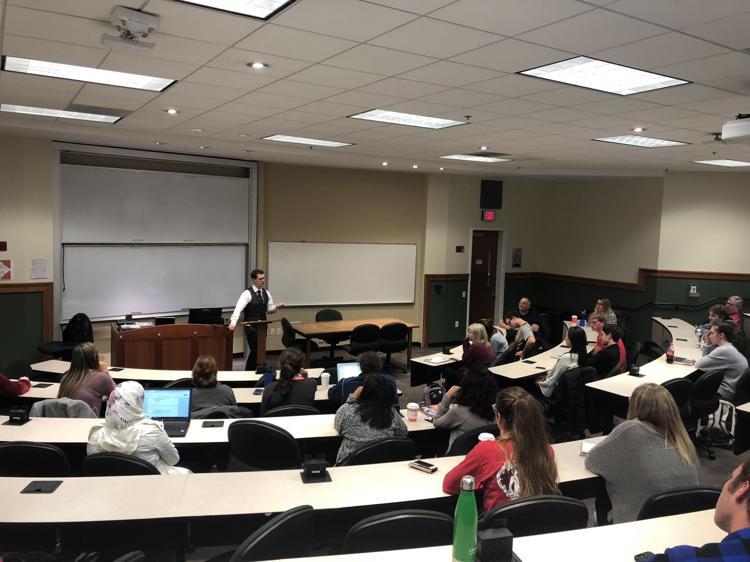 Hawley said the way conservatives view Trump's presidency after his term will be determined by whether or not he wins reelection in 2020.
"If Trump is re-elected and ultimately remembered by many Americans as having been a successful president, I suspect a strong element of the conservative movement was that Trump was, in fact, a conservative at one time and, perhaps, even the real successor to Ronald Reagan," Hawley said.
At the same time, Hawley said if Trump fails to be re-elected, the conservative movement will instead call Trump's presidency a fluke and error in judgement.
MAGA and the power of nostalgia
Trump's slogan, "Make America Great Again," results in feelings of nostalgia, Hawley said.
The key last word of his slogan reminds Americans of a time when the country was in its prime, resonating with conservatives. Hawley said many conservatives cherish the 1950s or 1980s as the heydey of American culture and politics.
In order to provide context for the future, Hawley lectured on the history of conservatism up into the 1960s.
Avery Evans, a junior international affairs and sociology major from Decatur, enjoyed the historical background of the conservative movement given by Hawley.
"I feel like a lot of times when you see critiques of Republicans, it's much more baseline Trumpian stuff that doesn't actually get into the root of the issues that are debated," Evans said.
Hawley said many of the students enrolled in his course on conservatism lean toward the right themselves. But for those who attended his lecture, many were either ideologically ambiguous and or leaned left.
"I identify as more liberal, but it's always interesting to hear critiques of conservatism from someone who seems to be from that background and know more about it than me," Evans said.