University of Georgia students are used to passing preachers on milk crates condemning their sins or pro-life organizations showing graphic images of aborted fetuses.
These speakers, while offensive to some, are typical in the Tate Student Center Plaza or in front of Memorial Hall, UGA's designated free speech zones.
On Tuesday, Feb. 20, the Georgia Senate Higher Education Committee approved a bill which would expand these free speech zones to any public area on campus and make the campus a traditional public forum open to anyone who wants to speak, regardless of their affiliation with the university.
If this bill passes through the Senate, the University System of Georgia Board of Regents would have to develop and adopt a free expression policy outlined in Georgia Senate Bill 339 which would nullify any previous policies that contradict the bill.
Currently, the UGA Freedom of Expression Policy states individuals not affiliated with the university must make a reservation request to reserve a time at one of these free speech zones, and these areas are the only areas at which people not affiliated with the university can speak.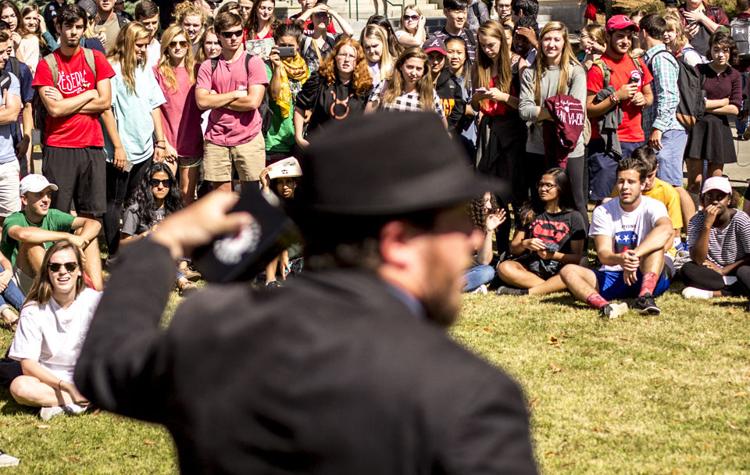 The university community, on the other hand, is not required to reserve a time for the free speech zones. As for other publicly accessible areas on campus, the university community can reserve areas through the associate dean of students before the planned activity, and they can engage in spontaneous speech under certain regulations, though non-affiliated individuals cannot do so on campus.
UGA President Jere Morehead spoke in favor of UGA's current policy and against adopting this bill in a speech to the Senate committee on Feb. 13.
"I have major concerns for this overbroad application of the First Amendment that could detract for the learning environment on college campuses in Georgia," Morehead said.
Effects of the bill
UGA student Erin Cooke said she expects the legislation to be received positively at UGA.
"Across the nation and in Georgia, we have seen students be denied their First Amendment rights, and this bill is a good first attempt at addressing that," she said.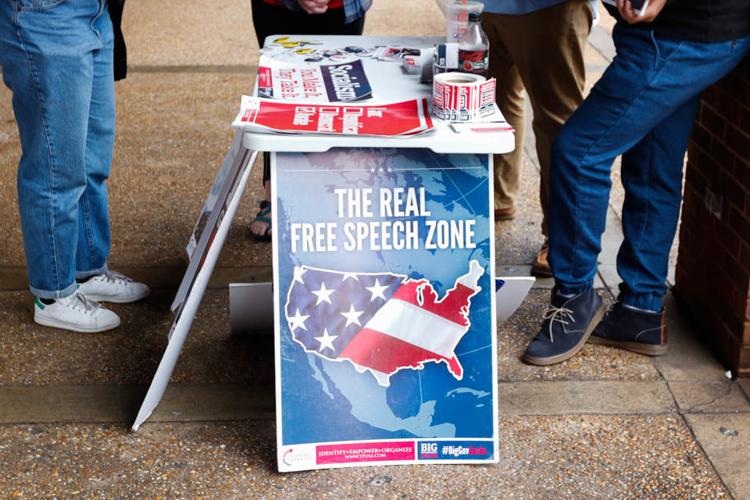 Cooke is president and campus coordinator for UGA's chapter of Turning Point USA, which is a nonprofit organization which aims to promote freedom, free markets and limited government, according to the website.
"It's great to see the Georgia legislature take an interest on the issue of campus speech," Cooke said.
The bill would allow all individuals, regardless of if they are affiliated with the university, to partake in expressive activity anywhere on campus as long as their speech is protected under the First Amendment and does not infringe on others' rights. The speech will still be subject to content-neutral regulations such as noise restrictions.
"The largest benefit of the legislation is the ban on so-called 'free speech zones,'" Cooke said. "This means no longer will students be subject to unconstitutionally small areas of campus to express themselves."
The bill would also apply to faculty, giving professors the right to speak freely on campus and in classrooms about "public controversies of the day," the bill reads.
---
It's great to see the Georgia legislature take an interest on the issue of campus speech.
-Erin Cooke, president of UGA Chapter of Turning Point
---
Dr. William Lee, a communication law professor, said the bill seems to allow faculty to go "beyond our traditional concepts of academic freedom."
According to the American Association of University Professors, academic freedom is freedom for professors to speak as citizens about public issues outside of the classroom without risk of being fired for their views. It also allows professors to talk about controversial topics in the classroom as it relates to the class, but they do not have the right to completely veer away from their subject.
Morehead said the traditional classroom setting could be disrupted by a faculty member's "extreme, partisan political-charged commentary in their classrooms."
Lee said if the bill passes, he expects USG to clarify this portion of the bill, ensuring that professors will not be able to disrupt the goal of the course with their personal views.
The bill would also require the USG Board of Regents to create a special subcommittee that will issue a yearly report of the administrative handling of free-speech to the public and state legislators.
After several other amendments were revised, including a controversial portion which would impose heavy consequences on those who disrupted a speaker on campus, the legislation will be reviewed by the Senate, though there is no set date to debate the bill yet.
The bill's beginning
The bill is sponsored by several Republican state senators and was sparked by the many, mostly conservative, speakers who have been run off campuses by demonstrations and protests across the nation.
Senate Bill 339 is a product inspired by a 2017 model bill released by the Goldwater Institute, a public policy research and litigation organization that aims to expand U.S. freedoms.
Lee said Georgia colleges in general aren't free-speech friendly.
The Foundation for Individual Rights in Education, an organization with a mission to "defend and sustain individual rights at America's colleges and universities," ranks U.S. colleges a red, yellow or green light based on their reception of free speech.
All ranked public Georgia universities have either a red or yellow light.
"One of the benefits of this law is that it would eliminate some of these policies that are in place at some of these schools that are problematic … It's going to be a big step forward at most of these schools," Lee said.
---
Nate Harris contributed to this article.