Gov. Brian Kemp was greeted by a barrage of handshakes and selfie requests when he entered a room full of University of Georgia students at the Zell B. Miller Learning Center on Oct. 16. Despite the suffocating volume of requests, Kemp embraced the response and encouraged the selfies to keep coming.
"I need y'all to post that photo and say 'The governor is doing what he said he'd do,'" Kemp said, "That matters to people that are your age, and y'all are going to be in our position very soon … We can't rely on the news media or anybody to tell our story. We got to tell it ourselves."
More than 150 people attended the native Athenian's speech. Nearly every seat was filled and many individuals stood against the wall to hear Kemp speak. The UGA College Republicans hosted the event.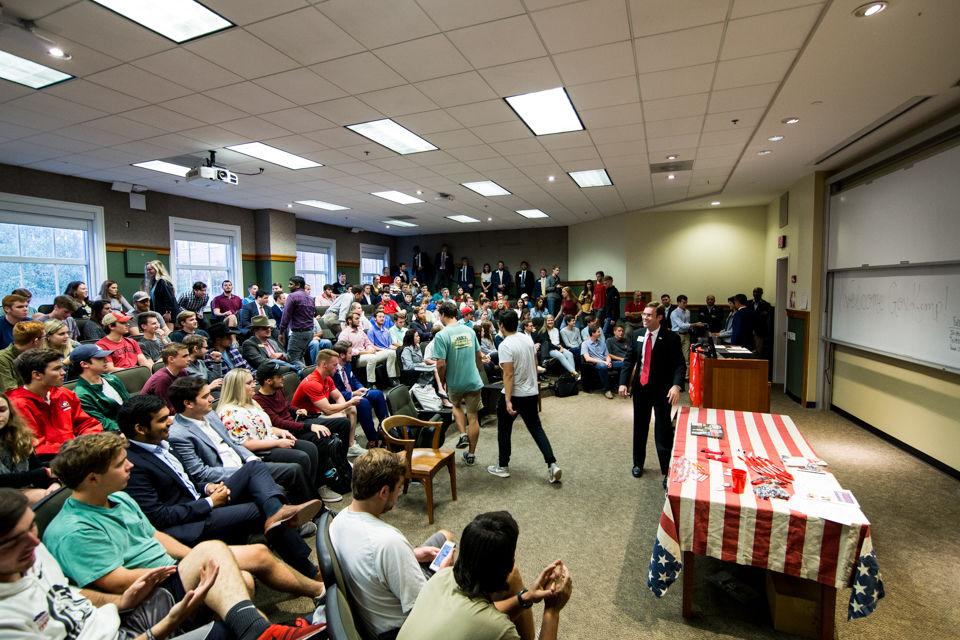 After narrowly winning the 2018 gubernatorial race against Stacey Abrams, Kemp told the audience the race "really woke a lot of folks up on our side" and said Republicans needed to canvass more aggressively.
In that spirit, Kemp agreed to make room in his schedule as the College Republicans reserved a larger classroom than usual due to expectations of high turnout. College Republicans Public Relations Director Kate Hester said the group was thankful that Kemp was "very kind to fulfill our request and to make time in his busy schedule to come to campus." Kemp last spoke to the College Republicans in 2018 at a tailgate.
"It is important for us to host the governor because our goal is to inform our members of what is going on in our community and teach them about the values of the Republican Party," Hester said. "Hosting a sitting governor is a once-in-a-college-career type of opportunity, and we believe this experience will provide our members with a unique chance to interface with the central figure of our state government."
Energizing the Republican voter base was just one of the various topics Kemp spoke about during his speech, answering pre-selected crowd questions. In just shy of an hour, Kemp spoke on a breadth of topics — education and healthcare reforms, school safety, economic development and medical marijuana.
Although he said he is not very politically active, Drew Tindol, a fifth-year majoring in entertainment and media studies, voted for Kemp last year. Drawn by Kemp's name, he felt he was specifically interested in hearing about Kemp's concern about opening Georgia up to hemp production.
"What I know comes from the media and not from the source, things can get construed so it was good to hear his take on things," Tindol said. "But [I'm] also mindful that maybe he's only scraping the surface of some things [that] are going on."
Kemp highlighted his administration's work to pass a $3,000 raise for all Georgia public school teachers and giving approximately $69.4 million to all Georgia schools to improve school security. Kemp also noted he nearly doubled the funding for the Georgia Apex Program, which puts mental health counselors in high schools. Kemp said mental health is an important issue in keeping schools safe.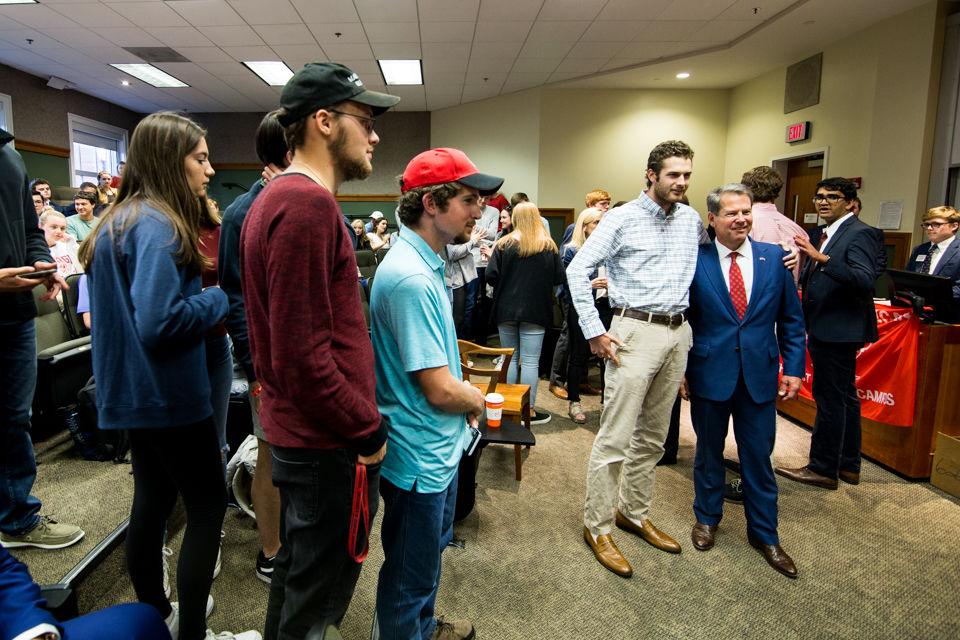 Kemp also spoke about combating gangs and human trafficking, calling the latter an "epidemic" and "modern-day slavery." In Feb. 2019, Kemp creating a strike force, the Georgians for Refuge, Action, Compassion and Education Commission, which is headed by Georgia Bureau of Investigation Director Vic Reynolds and first lady Marty Kemp. The governor also cited his wife's efforts working with the Asian American Hotel Owners Association and the Georgia Hotels and Lodging Association in training hospitality workers to spot and report human trafficking.
Kemp drew applause when he mentioned House Bill 481 — the fetal "heartbeat bill," which effectively banned abortions after doctors could detect a heartbeat, approximately six weeks into a pregnancy. Kemp framed the bill as part of his administration's larger effort to "fight for life" — referencing future goals of reforming the adoption and foster-care system and protecting senior citizens from abuse in elderly homes.
Kemp closed out the evening by talking about the impeachment inquiry into President Donald Trump, saying he thought the process is "a big waste of time." Kemp said Democrats aren't focused on the issues that really matter such as "trying to work together to secure the border but also get a comprehensive plan for immigration reform" and passing the United States-Mexico-Canada Agreement, which will replace the North American Free Trade Agreement.
"Instead of impeachment, they ought to really be sitting down at the table and saying 'Hey, how can we get USMCA on the floor,'" Kemp said. "It's going to be good for our farmers. Those are the kind of things that they need to be working on up there."
Avery Mitchem enjoyed the evening's experience. While she previously debated joining the College Republicans, Kemp's speech pushed her over the edge, so the sophomore international affairs major decided to join the organization in coordination with her internship on Trump's 2020 campaign.
"I think it means a lot that he took the time to come speak to us," Mitchum said. "As college students, I feel like a lot of times we can get overlooked in politics just because of our age."
---
Editor's note: A previous version of this article stated that Kemp last spoke to the College Republicans in 2017 before he was elected governor. However, Kemp last spoke to the group in 2018 at a tailgate. The Red & Black regrets this error and it has since been fixed.