Students at the University of Georgia know that at least once a semester, they will walk through the Tate Student Center Plaza and see a display protesting abortion by showcasing pictures of unborn fetuses.
The anti-abortion group Justice For All was on campus Tuesday — the same day the United States Senate failed to advance a U.S. House of Representatives bill that would have banned abortion after 20 weeks of pregnancy, or about five months.
"We are not a lobbying or a legislative organization," said Jonathan Wagner, a staff member with Justice For All. "We are an educational organization trying to change public opinion so that we as Americans respect the human rights of the unborn child."
After a lengthy filibuster by Senate Democrats, the Pain-Capable Unborn Child Protection Act received only 42 of the 60 votes needed to pass.
The bill would have prohibited late-term abortions, except in cases of rape, incest or when a pregnancy poses a danger to a mother's life.
The House cited disputed research from The Journal of the American Medical Association as its reason for passing the bill in May. The research says the fetus can feel pain after 20 weeks of development.
"I am extremely disappointed that protecting unborn babies from unimaginable pain failed to get enough support in the United States Senate," said Sen. David Perdue (R-Ga.) in a press release. "This should not be a subject of debate. It is our duty to protect the innocent and the most vulnerable among us, especially the unborn."
Next week when the government budget year ends, congressional Republicans will need to pass a temporary funding bill so agencies can continue operating.
But Republicans want to remove taxpayer funding in the budget from Planned Parenthood, which receives about $500 million a year.  They are threatening a government shutdown if the bill does not pass.
Perdue does not support Planned Parenthood, but in terms of the potential government shutdown, he does not know how he will vote on the resolutions, Perdue's press representative said.
---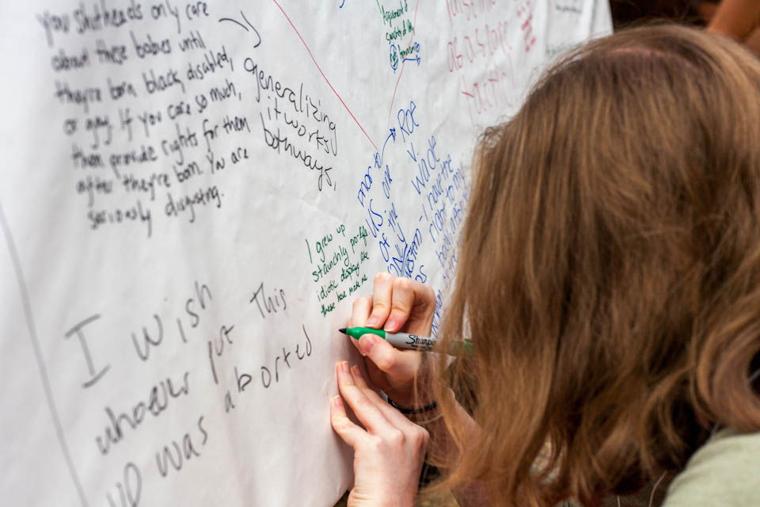 Photo by Landon Trust
---
As for Justice for All, the group will continue supporting its anti-abortion cause on college campuses across the country, despite the failed ban on abortion after 20 weeks and the looming decision on Planned Parenthood funding, Wagner said.     
The organization started outreach projects in 2000 after the founder of Choices Women's Medical Clinic, a crisis pregnancy center in Wichita, Kansas, noticed women were getting abortions at a clinic next door without considering the alternative resources, Wagner said.
"We go upstream and meet people before they get pregnant or before they consider abortion and talk to them about the value of human life," he said.
Justice for All visits college campuses around the country to reach out to people between the ages of 18 and 30.
"Our hope as an organization is to help make abortion as unthinkable as injustices like slavery," said Catherine Wurtz, staff member with Justice For All.
Students for Life campaigned alongside Justice for All and invited the group on campus for Monday and Tuesday.
Also at Tate were students from the Women's Studies Student Organization, supporting pro-abortion rights.
Member Kathryn Leamon, a senior biology and women's studies major, said there should be equal access to all healthcare services, including abortion.
"If this is supposed to be a free country, we need to be able to make decisions about our own body," she said.
Leaman said the Senate's  decision to stall the bill was a victory.
Justice for All aims to create open dialogue on abortion and only uses the graphic display as a method to start conversation, Wurtz said.
Wurtz referenced Emmett Till, a young African American brutally lynched in 1955, and said the display brings attention to abortion just as his mother did to racism with his open-casket funeral.
"In a sense, we are just trying to open the casket on abortion," she said.
UGA's Students for Life  President Denton Boone said many anti-abortion radicals insensitively use graphic images.
"We bring the graphic images out not to be those radicals, but we use them to engage in conversation — not to throw them in students' faces," he said. "It's just to get people talking here who, without those, might not have the urge to speak."