Editor's note: The Red & Black was in constant communication with Charlie Williams prior to publishing. He gave his consent in interviewing and his well wishes in publishing, knowing the possibility of punishment and other repercussions beforehand.
---
Charlie Williams, a freshman mechanical engineering major at the University of Georgia, has made a name for himself at Oglethorpe House Residence Hall. Williams' name has become synonymous with a cryptic saying known only to residents in Oglethorpe: "Is the grill hot?"
Equipped with a store-bought griddle and spatula, Williams, originally from Bowdon, Georgia, has found unlikely success running a late-night grilled cheese delivery service to residents in O House. For $3, Williams will whip up a grilled cheese, quesadilla or Nutella crepe and deliver it to any resident's door.
The operation is relatively straight-forward. Orders are taken exclusively online — residents in need of a grilled cheese, quesadilla or crepe will text "Is the grill hot?" in the residence-wide GroupMe chat and wait for Williams to respond. If he is in his room and fully stocked, the customer will receive the menu item at their doorstep in 10 minutes.
"It's a late-night operation," Williams said. "If I'm here, and somebody wants something, I try to be as convenient as possible."
The idea of running a grilled cheese operation came to him while living in O House during FreshCo program, a freshmen adjustment program that allows incoming students to move onto campus, getting a head start on classes during the summer.
Committing himself to the idea before ensuring it would be profitable, Williams bought a $25 griddle from Target and offered to make a $3 grilled cheese for anyone who wanted one.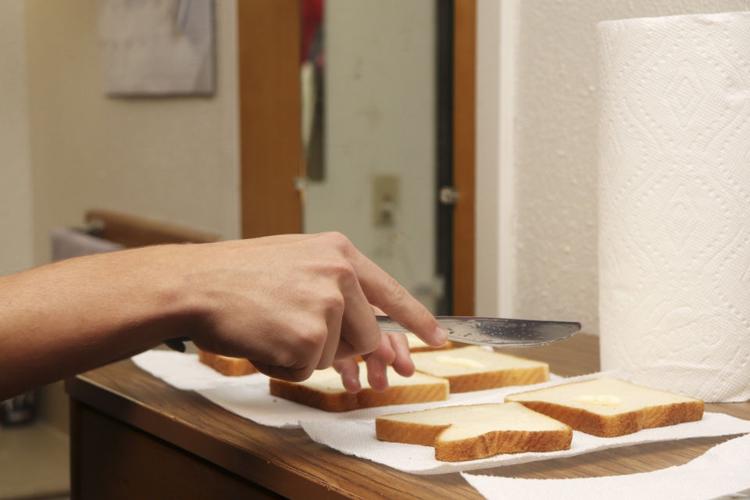 "I've always wanted my own business, and I just thought that now would be the perfect time to go about doing it, especially with all of these people within my reach," Williams said.
Grilled cheeses were the perfect food to make and sell to his peers, Williams said.
"For one, most people like grilled cheeses. I know that for a fact," Williams said. "It's a classic American comfort food that people will resort to. Two, grilled cheeses are not hard to make at all. I didn't grow up cooking, so if I can do it, anyone can. Three, it's not expensive and doesn't create a lot of smoke."
Although it was not popular among the FreshCo residents in O House at first, the business caught on after a group of new residents moved into the hall for the fall semester. It became widely popular, and Williams soon amassed a loyal customer base.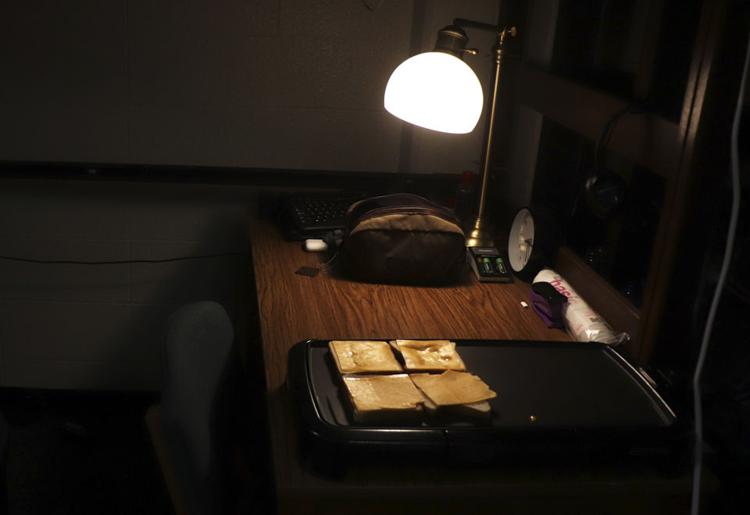 "It's just the best when you're hungry," said Casey Roberson, a freshman political science major from Covington and frequent customer of Williams. "I typically order when it's like 11 or so at night when I'm hungry and don't feel like going to Snelling [Dining Commons]." 
Chase Duncan is Williams' roommate and a freshman international affairs and Russian major from Carrollton. He has known Williams since they were in the sixth grade and is unsurprised by the business's success.
"Charlie's the personification of the Monopoly Man," Duncan said. "He's always had that entrepreneurial spirit. It always comes out in harebrained schemes, typically stuff like this. This is the first time he's actually implemented one of his schemes, and it's going well."
---
"Charlie's the personification of the Monopoly Man."
— Chase Duncan, roommate
---
Although the business is mostly a one-man operation, Duncan offers his assistance when needed.
"Sometimes I'll be hanging out in the dorm, and I'll ask if he'll need me to deliver a grilled cheese and I will," Duncan said. "I don't ask for money. Sometimes, he'll give me some — just a little something. But that's not what it's about. He's my friend, you know, I just do it anyways."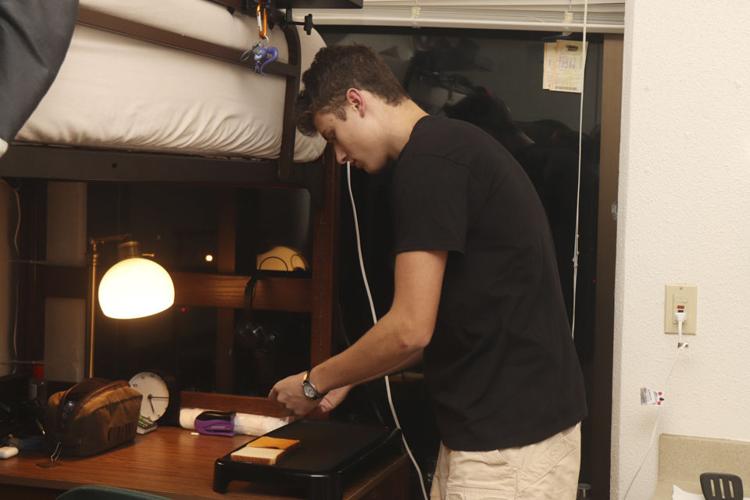 The business venture has slowly proved to be a financial success. In the five months Williams has run the business, he has earned approximately $500 in revenue and $450 in profit.
"With all of the profit I'm making, a lot of it is going back into the business for supplies to keep it running," Williams said.
The costs of running the business are minimal. Williams' primary expenses are bread, cheese and tortillas. Once every three times he restocks, he purchases butter, tinfoil, mayonnaise, Nutella and honey.
Williams said his preference for using higher quality ingredients makes his grilled cheeses stand out. He exclusively uses Sunbeam bread — for cheese he buys cheddar or muenster from Sargento or Target's Market Pantry brand.
"I wanted to make it like that to make it taste different from the dining hall," Williams said. "I'm pretty sure the dining hall just uses Kraft singles. People like real food, and there's a lot of people that will go the extra mile to get real food and not artificial food."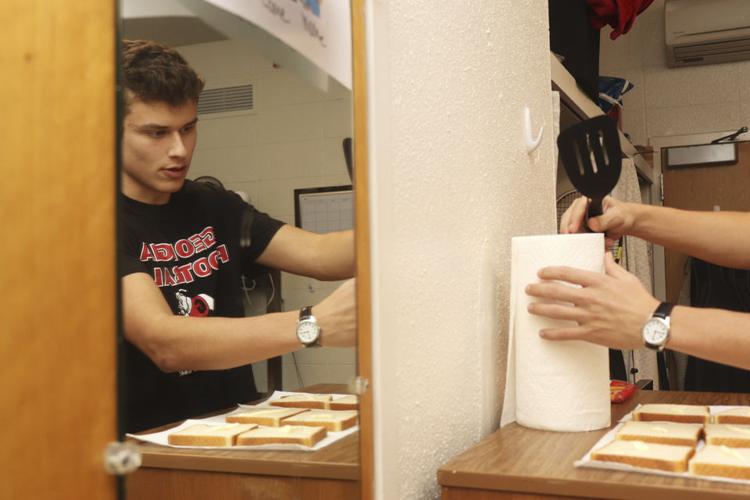 His customer base appreciates his choice of ingredients and speed in delivery.
"It's just the best," Roberson said. "The bread is that perfect toast. It's got a good cheese-pull to it. It's always warm when it comes to you, even if it takes him a minute to make it. 13 out of 10. Amazing."
According to Williams, the main appeal lies not in the quality of the food being provided but in the convenience of the delivery service.
"Convenience is one of the large factors that plays into the business's popularity and success," Williams said. "I have crafted this business so that it stands on three Cs: comfort, convenience and cheese."
Although Williams has not faced any problems since the business's inception in July, he said that his lack of on-campus transportation is an inconvenience. His dependence on others for rides to the grocery store gets in the way of restocking frequently enough to ensure timely and quality service at all times.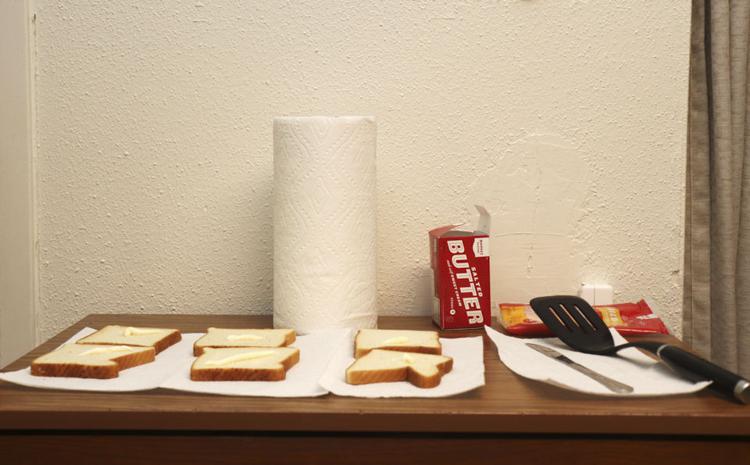 Williams also expressed concern for the risks associated with continuing the business in O House. UGA's University Housing mandates that operating a business out of a residence hall is not allowed while under contract. The potential consequence associated with engaging in such misconduct is a revocation of the student's housing license.
"It's risky, but I haven't run into any problems with housing yet," said Williams. "But so far, everyone has been awesome."
Though longevity is not a priority for Williams, his current goal offers a solution to ensuring that his business can continue for as long as possible.
"The main goal I'm trying to pull in with this right now is to save up to make my own electric skateboard, that way, I can ship this out to other residence halls around here," Williams said. "I want to stay running throughout the entire year. As long as people keep buying, then it's going to keep on going."
As Williams' first semester comes to an end, he is slowly beginning to flesh out plans for the business's potential expansion. Planning to live off-campus next year, he is uncertain where he wants to see the business go, but he wants to keep the business running for as long as he possibly can.
"A downside to the business is that you're the one with all of the risk, but you get to meet a lot of people doing it," Williams said. "I really like going to knock on people's doors and saying 'Hey, I've got your food!' and seeing a smile on their face. The pros of the business outweigh the cons, except for that it could fail one day. But if it fails, it fails. We'll go out with dignity."