The self-described journalist responsible for Project Veritas, a nonprofit which goes undercover and records politicians, government employees and executives, shared his views on mainstream media and its "corrupt" nature at the Miller Learning Center on Tuesday night.
Hosted by the University of Georgia chapter of Turning Point USA, approximately 50 attendees listened to James O'Keefe, a conservative icon for his undercover investigations into various institutions, as he spoke about the agendas set forth by mainstream media organizations.
The recent defamation lawsuit against The Washington Post by Nick Sandmann's family, where the family alleges The Washington Post "targeted and bullied" Sandmann, was one of several examples used by O'Keefe to explain his sentiments.
O'Keefe alleged The Washington Post told lies while covering the Sandmann events, and he attacked major media outlets, such as The Washington Post and The New York Times, multiple times during his speech.
"We're talking about an existential crisis in the country, where journalism is extinct," O'Keefe said.
O'Keefe went viral when he and his associate Hannah Giles recorded their interactions with Association of Community Organizations for Reform Now employees in 2009. ACORN's purpose was to aid low- and moderate-income families.
O'Keefe and Giles went undercover as a pimp and prostitute, respectively, and asked ACORN employees about housing to run a prostitution ring. In the videos he recorded, various employees in the association provided him with responses, including one who told him how to hide the prostitution.
His investigation into ACORN received mainstream attention, and The Daily Show performed a skit, criticizing mainstream media for not covering the story while O'Keefe, who was not in the public spotlight at the time, looked into it.
"And that is why the media hates me," O'Keefe said after a viewing of The Daily Show skit to audience members.
Erin Cooke, a senior political science major from Ringgold, agreed with the views expressed by O'Keefe and believes corruption in the media exists.
"We all have biases within us, and I would like to see a media culture of journalists who are driven to write about what they see happen from all points of view," Cooke said, who serves as president of the UGA's chapter of Turning Point USA.
She expressed her concern for people knowing about what's going on in mainstream media and said she believes his findings because of the nature of his investigations, where he uploads the video interactions with institutions.
Some have expressed concerns about the validity of his evidence, as they believe he edits his videos in a misleading fashion.
To this, O'Keefe argued most journalists do not release full footage of interviews and recordings, and he shouldn't be expected to do the same.
O'Keefe refers to his colleagues as "guerrilla journalists" and said he's fighting a war for truth, as he believes the media fails in its role.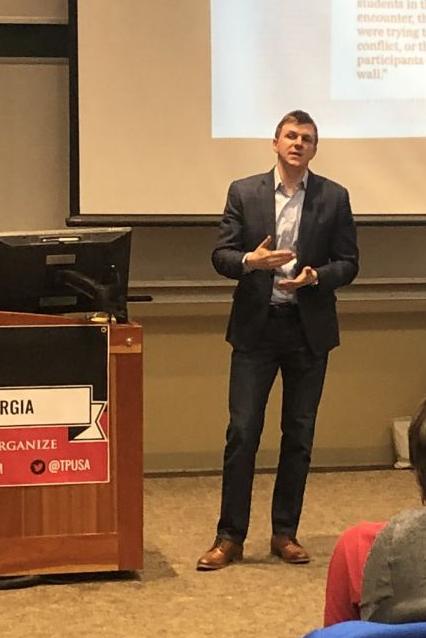 "If media was doing their job, we wouldn't need people like me," O'Keefe said.
In 2017, a woman approached The Washington Post with a false story, trying to convince Stephanie McCrummen, a reporter for The Washington Post, she was raped as a teenager by U.S. Senate candidate Roy Moore and forced to get an abortion.
McCrummen found inconsistencies in her story from a GoFundMe page, where she said she was starting a job in the conservative media movement to combat liberal mainstream media. The Washington Post did not believe her story, nor did it publish it.
She was then seen walking into Project Veritas' building. When The Washington Post approached O'Keefe, he declined to answer its questions related to her involvement.
One of O'Keefe's latest projects revolves around censorship used on Facebook, where a Facebook employee, who was later fired, approached him and gave him documentation surrounding Facebook censoring certain "trigger words."
Calvin Pettyjohn, a sophomore mechanical engineering major from Athens, said he agreed with O'Keefe's speech and believes some journalists in the mainstream media fail to fact check stories due to a lack of effort.
Two students, both of whom self-identified themselves as progressives, disagreed with O'Keefe and said he only seeks to uncover corruption in liberal entities and excludes ousting corruption in conservative circles.
Zane Malas, a junior economics major from Milton, and two fellow students who joined him walked out of the speech after another audience member told them they need to "get off their butts and do something."
Malas said O'Keefe is a "conservative actor and not a real journalist," and he said people do not view him as a credible journalist because he operates on a partisan basis.
"The problem with James O'Keefe is that [he talks] about mainstream media, but he thinks about it as a political entity rather than an economic entity," Malas said. "Fox News is just as bad as MSNBC; that's what they will never, ever say."