Pop-up testing tents have become a common sight over the past year. On Thursday, however, the white tents on Reed Quad weren't for COVID-19. Live Forward, in partnership with the University of Georgia LGBT Resource Center, was offering free, confidential HIV testing to UGA students and Athens residents.
Live Forward provides HIV testing at UGA and in the Athens community on a regular basis. Because of COVID-19, testing events are less frequent than they were in the past, said Chris Richards, assistant director of Live Forward.
The test is a rapid antibody test that uses blood from a finger prick. The tests that Live Forward uses are provided by the Georgia Department of Public Health and take less than five minutes to show results. Richards said the antibody test isn't accurate if it's done too soon after exposure to the virus, and in most people, it takes a couple months for enough antibodies to be detectable by the test.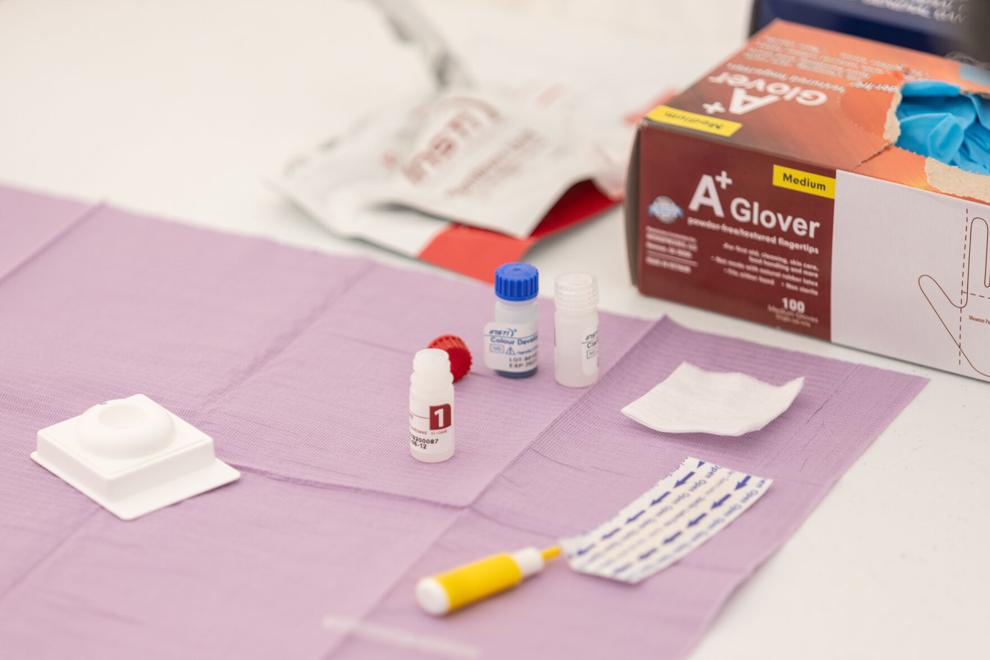 HIV, short for human immunodeficiency virus, weakens a person's immune system. Today, HIV is a treatable condition. People who are HIV-positive can take medication that lowers the level of the virus so that it's undetectable, and they won't transmit it to others. In order to get on medication, though, people need to know they need it.
"We have all of these really effective treatments for HIV, but it's only effective if people know that they have HIV," Richards said. "So that's why testing is so important."
If untreated, HIV can develop into AIDS, which drastically weakens peoples' immune systems. Richards said everybody should get tested once a year, and people who are at higher risk for HIV should be tested more frequently. Having unprotected sex and using intravenous drugs increase the risk of catching the virus.
HIV also disproportionately affects communities of color and gay and bisexual men, according to the Centers for Disease Control and Prevention. Testing and education about HIV are critical everywhere but especially in the communities that are disproportionately affected, Richards said.
Over half of Live Forward's clients are Black, Richards said, and the organization makes an effort to connect the Black and Latinx communities in Athens with testing and resources for HIV and health care in general. Factors like food insecurity, transportation barriers and lack of access to health care can make it harder for people to receive the care they need if they are HIV-positive.
Currently, HIV testing at Live Forward is appointment only, according to its website. Contact chris@liveforward.org or 706-248-8659 to schedule an appointment.
"It's really important to us that people are able to get tested and get the results, and then if someone is positive, we can get them into care, get them on treatment," Richards said. "Because really, HIV shouldn't define someone's life anymore, and people shouldn't be dying from it."