At 5 p.m. on May 15, all final grades for the spring 2016 semester are due.
While some students celebrate graduation, the kickoff of summer vacation or the beginning of study abroad and internship adventures, others will log into Athena with more than their GPA on the line.
For University of Georgia students hovering close to the 3.0 GPA minimum required for the HOPE Scholarship, grades are a constant point of anxiety. 
"HOPE is a funny thing," sophomore Griffin Dangler said. "I have spent so much more time stressing about finances than academics, which doesn't really make sense."
Even with HOPE and working 20 hours a week to cover costs, Dangler — the first in his family to attend a four-year university — has accrued around $14,000 in loans in his first two years. If he loses HOPE, he will need to take out private loans. 
"If I lose HOPE, I would have to question whether I need to be in school right now at this point in my life," he said. "Maybe I could make enough money not to take out so many loans and come back older and wiser and better able to manage my time than 19-year-old me."
Dangler is on the edge. He needs at least three As and no more than one B if he wants to keep HOPE after this semester. 
If he stays above a 3.0 at the 30-credit hour checkpoint, tuition with HOPE will be around $3,000 for the next year. If he drops to a 2.9, Dangler is looking at a $9,364, full-fare bill. If lost, he has only one chance to regain HOPE after completing another 30 credit hours. 
Morgan Attebery can relate to the pressure after losing HOPE her freshman year. Her GPA took a hit after taking a pre-calculus class. 
"When final grades came out, and I had a 2.5 or 2.6, I knew this was going to need to be a redemption year," said the sophomore from Metter.
Attebery's story is not uncommon. For those students who started their freshman year at UGA in 2009 with the HOPE Scholarship, only 38.8 percent maintained the scholarship throughout college and graduated by 2015, the last year for which the University System of Georgia published cohort data. 
The percentage of students receiving and maintaining the scholarship increased for freshmen from 1997 to 2004, but has been on a downward drop since then, according to the USG data.
In that time, the scholarship has changed drastically. In 2004, a 127-credit hour cap for HOPE was introduced and in 2011, the Zell B. Miller scholarship was established to cover full tuition while HOPE was reduced in the face of budget pressure from increasing tuition and limited lottery funding. 
But while some schools have stepped up to try and help individuals keep the scholarships, others, including UGA, leave it largely up to students to get back merit-based aid. 
A Different Picture
At Georgia State University, there is a far more coordinated effort to help students who lose HOPE. 
When Eric Cuevas and others looked at graduation data for students at Georgia State, they noticed a majority of its students were earning HOPE straight out of high school. But a large number were losing the scholarship at the end of their freshman years, he said. 
"We had full-time students registered for 15 hours who would get all Bs, then come back in the spring, get one C and instantaneously lose HOPE," said Cuevas, Georgia State's assistant director of academic outreach.
Cuevas said what they found was troubling. Students who lost and never regained HOPE only graduated 21 percent of the time, while people who never lost HOPE graduated 61 percent of the time. 
To close this gap, Georgia State launched the Keeping HOPE Alive program in 2007. The program, which serves between 60 and 100 students a year, provides a $1,000 scholarship to in addition to academic coaching. 
And the program has received high praise as part of the university's larger focus on student retention. In February, United States Secretary of Education John King visited the university on his "College Opportunity Across America" tour. 
---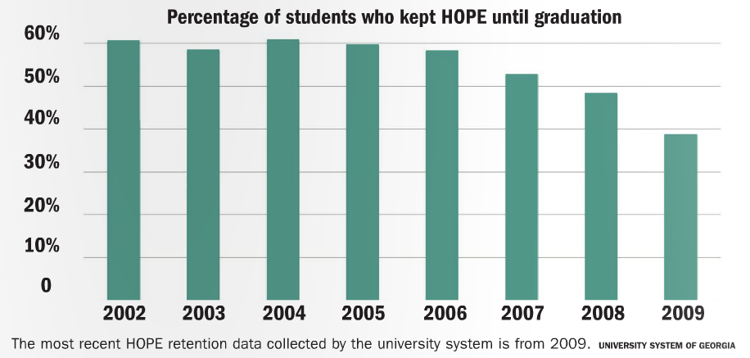 Graphic by Lisee Pullara
---
Financial need for students at Georgia State and UGA is different. Georgia State has more than double the number of federal, need-based, Pell Grant recipients that UGA does, despite a similar student body size. 
But Tiffany Tullis, who directs the Keeping HOPE Alive program, said the key is not the $1,000 scholarship they provide to students, but the guidance they give for regaining the HOPE.
"The average college student does not necessarily understand the rules to regaining HOPE, and some faculty don't even understand it," she said. "Taking time to sit down and craft an individualized plan for regaining HOPE is one of the major parts of this program."
Regaining HOPE
At UGA, there is no specific backstop or program to help students struggling to regain HOPE, although there are "mechanisms in place for all students who wish to improve their academic performance," said Nancy Ferguson, the senior assistant director for programs in the UGA Office of Student Financial Aid, in an email to The Red & Black. 
"I was pretty disappointed in myself and knew that my parents wouldn't be disappointed but that they would be let down," Attebery said of losing HOPE. "I thought college was not for me and talked to my parents about coming home." 
Attebery was ultimately able to make a plan for regaining HOPE with the help of her grandmother who works for GAcollege411, the Georgia Student Finance Commission's site for helping students plan for college. 
For students without that type of connection, Attebery said more help from advisers is necessary.
---
"If I lose HOPE, I would have to question whether I need to be in school right now at this point in my life," 
— Griffin Dangler, sophomore
---
Mike Merva, the coordinator of the Franklin College of Arts and Sciences' Office of Academic Advising, said they try to adjust their advice for students trying to regain HOPE, but a lot of the time they have to refer people to the OSFA. 
"We try to meet with someone from financial aid every couple of years to give us the basics but because it is so complex we don't want to be responsible for that information," Merva said. 
Attebery wishes she had received more thorough advising during freshman orientation. She said as hundreds of students were advised on the same day, the process felt rushed,
"They said 'Here is what you need to take' instead of 'These are the smartest decisions,'" said Attebery, whose schedule was overloaded her first semester as she tried to take too many required classes at once. 
Attebery ended up dropping chemistry and switching from pre-pharmacy to a special education major. She said she has been much happier with the guidance she has received from her major-specific adviser. 
Dangler, an English and physics major, has also preferred being advised within those respective departments. He said he found the advising at orientation to be impersonal. 
Juggling GPA
Sometimes, it is not an issue of advising, but just the challenge of certain classes which can impact students' GPAs at UGA. 
Merva said HOPE issues tend to hit math and science majors the hardest, but this past legislative session, the Georgia House of Representatives and Senate unanimously passed House Bill 801, which would give a 0.5 grade boost to science, technology, engineering and mathematics courses that align with the needs of high-demand careers in Georgia. 
As for students receiving the Zell Miller Scholarship, Merva said they tend to be less concerned with GPA to begin with. 
"There are some similar conversations, but I feel like there are fewer of them," he said. "Because Zell is hard to get, it is top-tier students getting that who tend to be able to manage their coursework pretty well." 
There has been a  trend toward higher GPAs at UGA. In 1991, before HOPE was created, only 24.4 percent of all undergraduate grades handed out at UGA were As and the average student GPA was a 2.77, which is below what is required as the HOPE minimum today.
In 2015, 47.6 percent of undergraduate class grades at UGA were either A or A-, according to the UGA Fact Book.
"Since HOPE started, the pressure to keep a B average has pushed a lot of students to do just enough to get out of that C+ category, and they've honestly done a good job in that respect," history professor Thomas Whigham said in an email. "However, the effects of the scholarship have not been such as to cause people who generally get B+s  to do the extra labor to get the A-."
Getting a B is still a good grade, and getting an A should not be expected, some professors believe. 
"You should never be able to expect an A," Josiah Meigs Distinguished Teaching professor Edward Azoff said. "You should work hard for it, and if you are lucky, you'll get it. If you know you will get an A before you take a course, it is a good sign that you shouldn't take the course."
Azoff, who has been at UGA since the 1970s, is a self-proclaimed data junkie and maintains data on the grades given out in all UGA math classes since 1985.
He said there has been a general increase in student grades at UGA and also nationwide. 
As an adviser, Azoff sometimes has conversations with students about the grade reputations for certain courses if they are on the edge with HOPE. 
As a professor though, he said he never asks his students who has HOPE and knowing that a student's HOPE GPA was hinging on his course would not influence his grading. 
"I really think it is wrong to bring that up to a teacher," said Azoff, who has had students approach him with grade concerns if they are applying to graduate school. "I have never changed a grade because I don't think it would be fair to other students." 
Who benefits
When David Mustard started teaching economics at UGA in 1997, he offered to take his students out to lunch. 
He asked the first group of five students why they chose to come to UGA. They all had surprisingly similar versions of the same story. 
Whether they called it a bribe, a deal or an agreement, they all had received a car from their parents for attending UGA with the HOPE Scholarship, which removed its income cap in 1995, instead of going out of state. 
The responses led Mustard and fellow economist Christopher Cornwell to their first of many studies on the HOPE Scholarship, and they found that the HOPE income cap removal correlated with an increase in car sales in Georgia.
While it would be harder to see a similar correlation today, as people often get cars earlier, Mustard said, this still points to the high income of many HOPE recipients. 
"You don't have to be a professional economist to guess the direction of effects of HOPE," Cornwell said. "The kind of people who receive HOPE are often ones who would be headed to college anyway and many could afford to pay full freight without the scholarship." 
Ultimately, it is hard to study the needs of HOPE students because they are not required to submit family income information.
But both Cornwell and Mustard see the benefits of HOPE as parents. Mustard has five children under the age of 15 and Cornwell had two children who already went to UGA with HOPE. His third child is still in high school.
"I have more degrees of freedom for her for college because I didn't need to pay tuition for my older kids," Cornwell said. 
For Attebery and Dangler, HOPE has made college accessible. 
Attebery had to take out subsidized and unsubsidized loans to stay at UGA and has become more budget-conscious. Instead of working her part time job at The Children's Place to earn spending money, she is working to pay rent. 
Sophomore civil engineering major Jason Jones lost HOPE this past fall and will be taking summer classes to reach the 60-hour checkpoint for regaining the scholarship. He works in a dining hall to put money towards rent. 
"My parents would be able to pick up the slack, but I feel like I am such a burden to them because they are paying for full tuition now," Jones said. "It is brutal calling each week and asking for money." 
While college affordability has been a struggle for Dangler, he has friends who have lost HOPE and are still fine financially. 
"I am not going to say I don't get a little annoyed when I hear people complaining about school being stressful when they don't have to support themselves," he said. "I have no right to be annoyed by that though, because I know if my parents were in a similar situation they would give me as much as they possibly could."