The University of Georgia Transportation & Parking Services offers several incentive programs for all UGA students — even those without a parking pass. Here are a few of the things it offers that you might not have known about.
UGA TPS offers free parking each month for those who use alternative transportation to get to campus.
"The program has been in place for more than 10 years and was developed as a way to provide additional options for accessing campus, promote sustainability and encourage transportation methods other than single occupancy vehicles," said Allison Brannen, the marketing and communications manager for Auxiliary Services, in an email. 
The program hopes to incentivize walking, biking, carpooling and the use of public transit, according to the UGA TPS website.
Alex Carmichael, a junior entertainment and media studies major, has used the ATP program for two years. Last year, the Lawrenceville native rode Athens Transit to campus, and this year he walks from home.
"This will be my second year using it. My roommate told me about it last year, and we both got excited since neither of us had the money for a parking pass," Carmichael said.
The Alternative Transportation Program allows 22 days of free parking per year in designated decks for those who bike, walk or ride Athens Transit. This may be distributed as two uses per month from September-July.
Micaiah Kimble, an international affairs and communications major from Atlanta, rides Athens Transit to campus every day.
"I think it's a really good option just in case you need to get to campus or you're running late," Kimble said. "You have that alternative so you know you always have a place to park."
Individuals who carpool or use a motorcycle, moped or scooter may receive 11 days of free parking, once per month September-July.
The parking pass allows students in the ATP program to park in North Deck, Carlton Deck, PAC Deck and Hull Deck, Brannen said.
Students with parking permits are not eligible for ATP, and only current employees and students who regularly commute to campus qualify.
Although there are 48,347 combined students, faculty and staff at UGA, only 18,000 of the available 18,970 parking spots were dispersed as of Aug. 22, as previously reported in The Red & Black.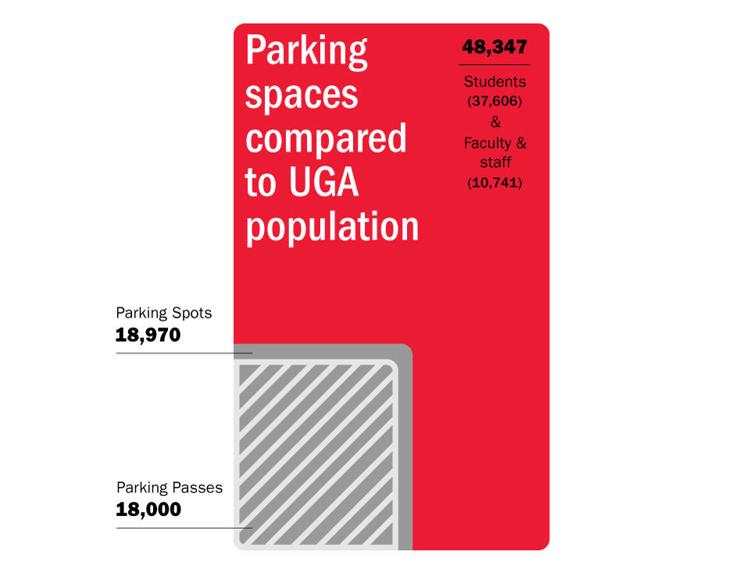 "Currently there are 361 individuals (student, staff, and faculty) participating in the program, however, participation increases to over 1,000 per year," Brannen said.
Ian Huff, a senior mechanical engineering major, stopped using the ATP program because last year he used his ATP pass to park in the Carlton Street Deck only to find it full. This year, he opted to buy a parking pass in hopes to have a guaranteed spot, but that is still not always the case, he said.
"There's still certain times in the day that the staff has to put out signs saying that the deck is full, making me wonder if they oversold the passes and ATP taking remaining spots," Huff said.
Passes are only available for pickup at the Parking Services office, but no advance notice is required to pick up passes in person or for registration online, Brannen said. Registration is available on the TPS website.
TPS also offers assistance and services to motorists on campus. The Motorist Assistance Program is available to all permit holders and guests for free, according to the TPS website.
MAP services include jump-starts, lights-on notice, assistance and directions on campus and, if you forget where you parked, help finding your car. The services are available from 7:30 a.m.-10 p.m. on weekdays.
To take advantage of the MAP services, students can call Parking Services at 706-542-7275 (PARK).