In spring 2014, the University of Georgia chapter of the Kappa Alpha Psi fraternity was temporarily suspended from campus due to hazing violations.
Three years later, a new round of Kappa Alpha Psi brothers are making a positive impression on the university campus. The fraternity hosted its first official event since the suspension was lifted in January 2017 — helping new students move in. 
The fraternity hosted Kappa Move Krew from August 6 to 10, helping students move into their dorms on campus. The event was sponsored by the Athens Coca-Cola Bottling company, and the fraternity also handed out Powerades and other Coca-Cola products to students and their families.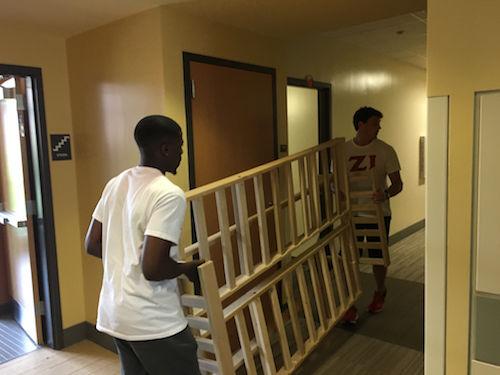 At first, the fraternity offered appointment times for students to sign up for assistance during move-in week, said Cory Carter, the vice polemarch and leader within the fraternity, but due to the large amount of students needing help, the fraternity began volunteering to any student in need.
"We originally had 15 people to sign up, but while out there, we were able to provide assistance to over 50 families as well as offer them refreshments which were sponsored by Coca-Cola," said John Adeyemi, president of Kappa Alpha Psi.
He said the most rewarding part of the experience was welcoming the students, whether first years or upperclassmen, to UGA.
"UGA is a great campus, and incoming students may feel intimidated by its size, so [it's important to be] able to welcome them with open arms and invite them to different events so they can feel like they are a part of UGA," Adeyemi said.
Andrew Troy, the record keeper for the fraternity, said the most rewarding part was cutting down people's moving times.
"I know when I moved in, I did it by myself and didn't have any help. So I feel that the rewarding part was just knowing that I was actually helping people," Troy said.
Being a part of a college freshman's experience of starting a "new beginning" was one of the best aspects of the event for Bobby Sarpong, a senior sports management major from Duluth and Kappa Alpha Psi brother.
"Honestly, being able to have all hands on deck moving a first generation college student or even the child of an alumni. It's a start of a new beginning. And I'm happy that I was able to be a part of that," Sarpong said.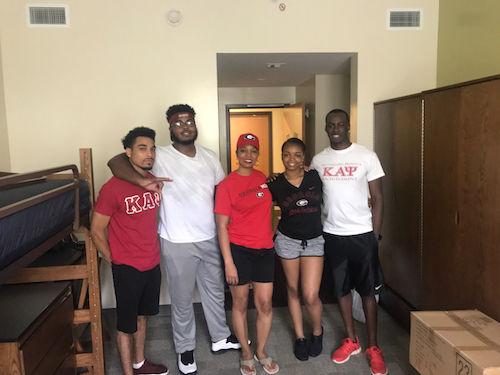 The fraternity also plans to continue this tradition into the future, Troy said, since the Kappa Move Krew was and is an event that has been carried on in the fraternity for a number of years.
"We of course are going to do more community service. It was what we were are built upon which is service and helping others," Troy said.
Abel Belete, coordinated with Athens Coca-Cola Bottling Company to sponsor the event. He said the initiative of the fraternity after returning from suspension was to maintain and build upon the legacy of the former fraternity brothers.
"Being that we just came back ... we have a big legacy to follow from the brothers that came before us. They were big on community service. We are looking to follow in their footsteps and also make a difference," Belete said.