Obrigado, Portuguese for thank you, was heard many times by University of Georgia instructors as they handed out completion certificates to their Brazilian students, who attended a leadership seminar of their choice hosted by members of the UGA Carl Vinson Institute of Government.
Brazil's Ministry of Finance's School of Public Finance Administration, also known as ESAF, hosted this year's program in early October. ESAF provides educational opportunities for employees, including people working in treasury or budgeting for the federal government. In this case, they welcomed UGA to offer supervisory and leadership training for government officials.
The trip was an opportunity for Public Service and Outreach faculty to visit another country while offering the same content the Vinson Institute offers to local and state governments in Georgia.
Stacy Jones, associate director of governmental training, education and development at the Carl Vinson Institute, said though there was a language barrier, their work could be translated through anything.
"We have a good understanding of what it means to serve the public and are able to take training and apply it to a government setting so that we can speak a common language — this call to public service," Jones said. "To work in the government sector and to be able to deliver training that is focused on that is really valuable."
Communication between the Portuguese and English speaking officials went smoothly, Jones said. During the programs, the Brazilians and Americans would wear headsets, and whatever was said in English or Portuguese would go to a translator in the back who would — in real time — translate it to the other language.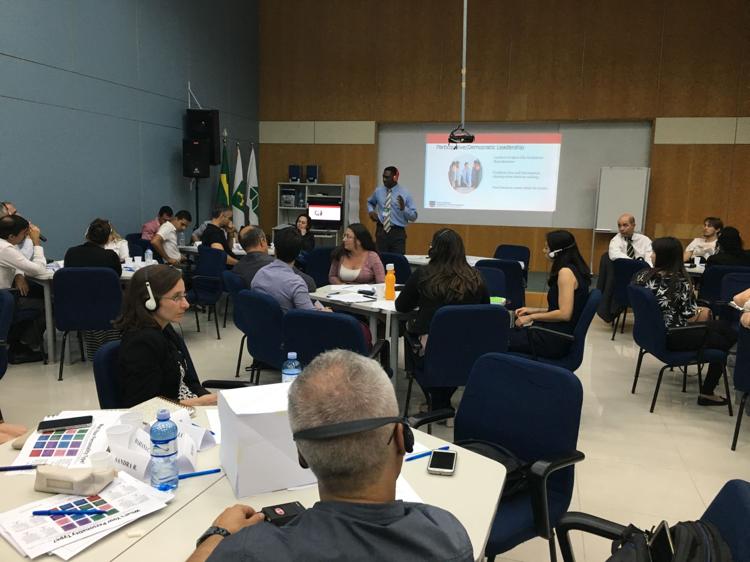 This was the second time the Vinson Institute offered programs to Brazilian officials. The institute first went in December 2017. Last year's visit was so well received the Vinson Institute made plans to go back, offering a second program to go along with the original. The number of officials who enrolled increased from 60 to around 180 students.
One of the main figureheads of the training, Rusty Brooks, associate director of the International Center at the Vinson Institute, said the recent trip is a result of the great feedback they received from the first trip.
"They had seen us as a very capable partner. They were willing to increase their investment to have us come down to increase the number of participants they had in the class provided, and they expanded the class topics," Brooks said.
This time, the Vinson Institute faculty offered two leadership programs — the "Succeeding as a Supervisor" program and a leadership development program — to the ministry students.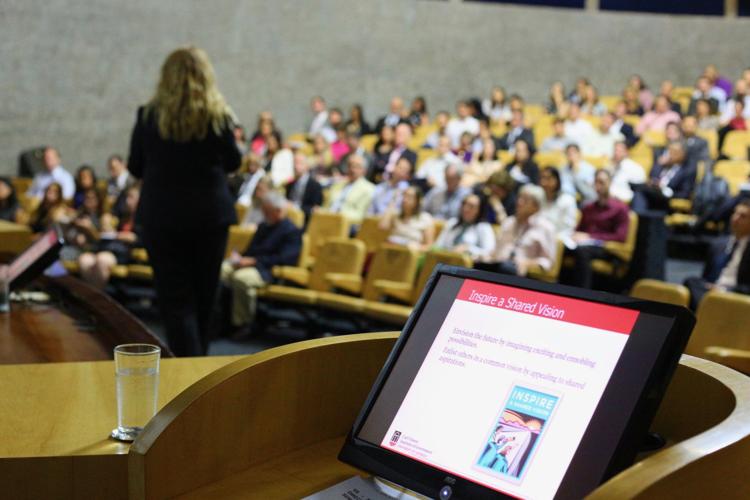 Succeeding as a Supervisor seeks to give students the knowledge and experience they need to be effective in their work, giving students three different modules to choose from. Regardless of which module they choose, students learn about building trust, leading teams and handling conflicts.
Denis de Queiroz Braz, a student of the Succeeding as a Supervisor program, felt empowered from the trip.
"The tools we received throughout the course empower us to help those around us. The course was an opportunity to externalize the positive that we have inside us," Braz said. "As we get older than we have come, the proposal is to be better people and bring colleagues, friends and family to a better situation as well."
Along with the feedback from students, the Vinson Institute faculty were not just teachers but also students.
"We bring back a lot of experience of working with other situations to see other kinds of challenges that organizations have," Brooks said. "It just makes the training faculty here better because we had a chance to compare and contrast what we do and will it work in other places. You come back with those experiences, and it just makes people work better."
There are negotiations between the two institutes for another trip to Brazil in 2019, with plans to have Brazilian civil servants come to Georgia and continue their training at UGA.