Agnes Kim is a 24-year-old University of Georgia graduate who loves Christian music, calls herself a "social butterfly" and wants to be an occupational therapist. She is also the survivor of a critical brain injury. 
"I've been doing so well, and I'm wanting to do more and more things by myself now," Kim said. "Like really basic things." 
Kim, who now lives in Snellville with her parents, was the driver and sole survivor of a fatal car crash in April 2016 in which four UGA students — Christina Semeria, Brittany Feldman, Kayla Canedo and Halle Scott — died. 
Students gathered at the Young Life Center on campus that night to pray for the families and Kim's recovery, and UGA President Jere W. Morehead spoke to students the next day as hundreds gathered at the Tate Student Center and Greek houses along South Milledge Avenue to celebrate the four women's lives. 
"I have prayed with her many times since her accident, and it gives me goosebumps every time," close friend Patrick Mangan said. "Her faith is inspiring. 
On social media, #UGAStrong and #PrayForUGA took over students' feeds. Flags across the state were ordered to fly at half-staff by Gov. Nathan Deal, and support was felt from universities across Georgia. 
For the past two years, Kim has been working on getting better. Through physical therapy, doctor's appointments, gym workouts and mental exercises, her condition has improved drastically.
---
---
"Considering Agnes' fatal car accident and the injuries she suffered, Agnes has healed way beyond what doctors expected," Mangan said. 
On Sept. 5, 2016, it was reported Kim could speak and form coherent sentences for the first time since her accident. Now, she can change her own shoes — with only a little help from her mother — and has been spending time out of the house by herself. 
"I'm also meeting people one on one now, or I'll go to something with a group of people," Kim said. "I could never leave the house before unless my mom or caretaker were right by my side."
Kim is a long way from being completely independent, said her mother, Elizabeth Kim. However, Elizabeth Kim tries to let her daughter do more things on her own to try to help with her healing process, always standing nearby just in case. 
"Which is hard because you want to step in and help," said Elizabeth Kim, which was translated from Korean by her eldest daughter, Cecilia Kim. 
After the accident, Kim was transferred to Piedmont Athens Regional Medical Center while in critical condition. She moved to the Shepherd Center's Brain Injury Unit, Disorders of Consciousness Program in Atlanta and was still in a coma at this time.
---
"I have prayed with her many times since her accident, and it gives me goosebumps every time. Her faith is inspiring."
- Patrick Mangan, close friend
---
Kim said she doesn't remember the accident or much after it. 
One of the only things she remembers is feeling like she was in a dream and wanting to "get out of my dream and wake up to my normal life," she said.
Mangan, who has been close with Kim since freshman year of college, said Kim still struggles with some short-term memory loss — besides missing memory from about two months before and after the accident — but this is also improving little by little.
Throughout her stay until October 2016, Kim remained under 24-hour nursing care and underwent multiple kinds of therapy assessing her physical and neurological state. She now lives at home, using a wheelchair and a walker.
Ready for a change 
As a young woman, Kim is ready to leave home. She is appreciative of her family but said living far from her friends in Atlanta and Athens is "complete torture." 
"What is motivating me is my doggone desire to hurry up and get back to being able to hang out with them," Kim said. 
She isn't sure how long it will take for her to be able to walk on her own, however. The medical professionals who work with her also can't provide a timeline.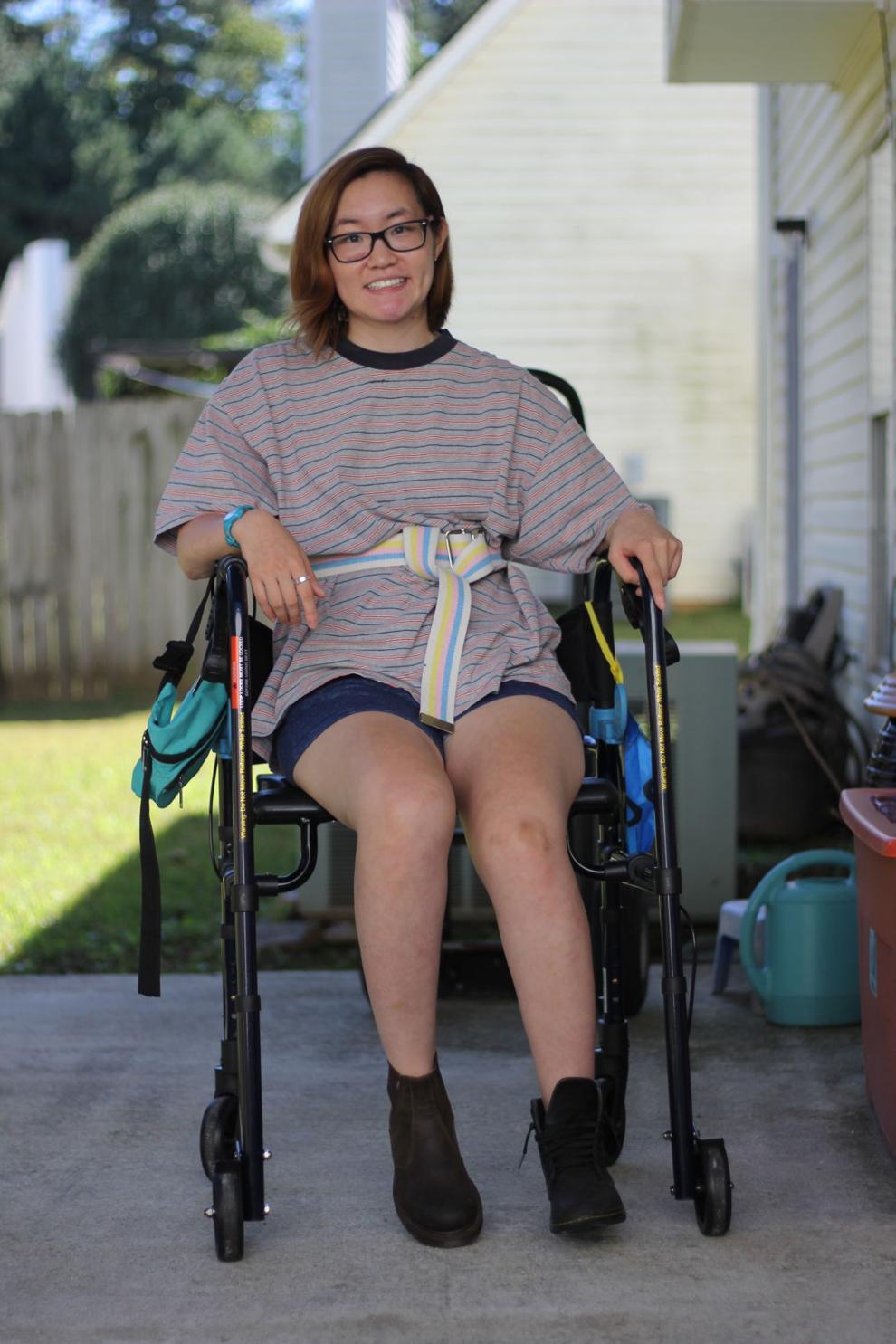 "The very frustrating thing they always say is that no brain injury is alike," Kim said. 
Kim cites balance and a lack of strength in the left side of her body as challenges, restricting her from walking. 
Although being able to walk, drive and move around independently isn't exactly in the near future, Kim's positive attitude obscures the unclear. 
Mangan, who knew Kim throughout her college years, said as a former resident assistant in Russell Hall her sophomore year, Kim cared deeply for the students on her hall. The four women killed in the 2016 crash had been Kim's residents.
"Agnes is a passionate person," Mangan said. "She has an infectious joy for life and a very noticeable love for people. If you know Agnes, then you know you have a big fan."
Kim said a good day is a simple one. 
"Being able to spend the day on my own without either my mom or caretaker by me and having lunch with a friend and having some good, sweet time and conversation," Kim said. "I like to have one on ones." 
Family first
Kim's mother said caring for her daughter requires day-to-day responsibilities that she will continue to need for a long time, such as daily medication, food preparation and constant back and forth driving between home, the gym and doctor's and therapy appointments. 
As the "baby of the family," Kim said her older sister, Cecilia, has provided immense support. Although she lives in New York, her sister tries to call her every day to help Kim escape the monotony spending days at home. 
---
"I want to be encouraging and uplifting, but I'll also say I am pretty bold, and people might tell you I have a good sense of humor,"
- Agnes Kim, accident survivor
---
"I think when you're there, and you get to see it every day, it's not as heartbreaking because you start getting accustomed to it," Cecilia Kim said. "But being so far away now, it is really hard." 
Cecilia Kim moved to Georgia for nine months after her sister's accident, acting as the primary translator between her mother and medical professionals. When her wedding was postponed on behalf of her sister's concerning physical condition, Kim said she felt guilty and has since been planning to raise funds to contribute to the wedding costs. 
For Kim's mother, some things are harder than others.  
"The hardest thing to watch is when [Agnes] gets depressed, from being alone and not being able to have her independence," Elizabeth Kim said. 
Regardless of her obstacles, Kim shows maturity, her sister said. She called her "determined" and "patient," saying she shows a deep desire to improve her health without relying on others. 
"You would think that someone of her age would be like, 'My life sucks,' and instead she was just like, 'You know it happened, and I'm going to deal with it,'" Cecilia Kim said. 
Kim was unable to attend her UGA graduation in 2016, which occurred a few weeks after her accident. She majored in business marketing as an undergraduate and was planning to take a job as a youth pastor in Texas, but has since decided to go back to school to complete her core credits so she can attend an occupational therapy program. 
For now, Kim looks toward the future. She hopes to walk by 2020, a goal she's set for herself.
"I want to be encouraging and uplifting, but I'll also say I am pretty bold, and people might tell you I have a good sense of humor," said Kim, smiling.