More than 200 University of Georgia students gathered around the Tate Student Center Northwest lawn on April 25, spilling onto the sidewalk. The crowd began to grow, as some students began to chant for the plants, blocking the view of the free annuals that attracted the crowd.
At 12:20 p.m., the College Plant Initiative gave away 1,000 free plants in 18 minutes.
On the UGA CPI Facebook event, 229 students marked that they attended the event as of press time.
Proven Winners donated their annual plant of the year, Lemon Coral Sedum, to be used in the free plant drop. Proven Winners is a North American company that sells perennials, annuals and flowering shrubs.
---
"I think [plants] give off a really good energy and just having something to take care of every day keeps you grounded."
- Morgan McCann, UGA junior
---
Morgan McCann, a junior interdisciplinary art and design major from Peachtree City, Georgia, was one of the students in attendance. McCann learned about the free plant drop from signs around UGA's campus and other students discussing the event.
"I think [plants] give off a really good energy and just having something to take care of every day keeps you grounded," McCann said.
While at Bolton Dining Commons, Megan O'Meara and Maddie Olejnik saw students cradling the sprawling, green annuals. They immediately crossed South Lumpkin Street on the hunt for the free plants.
"We literally got up and sprinted," said Olejnik, a sophomore entertainment and media studies major from Woodstock, Georgia.
Olejnik has had a little box in her house that was in need of a plant. Because of CPI's plant drop, Olejnik is excited to transplant the annual in the box. O'Meara, a junior science education major from Woodstock, Georgia, will also incorporate the free plant into her living space.
"I always have flowers and things in my room because it's something I have a responsibility for and it really brightens your day, something to care for every day," O'meara said.
Virginia Frazier, a senior agriculture business major at the University of Florida, is the executive director of the College Plant Initiative. After Frazier graduates from UF next week, she will transition to work full-time as executive director.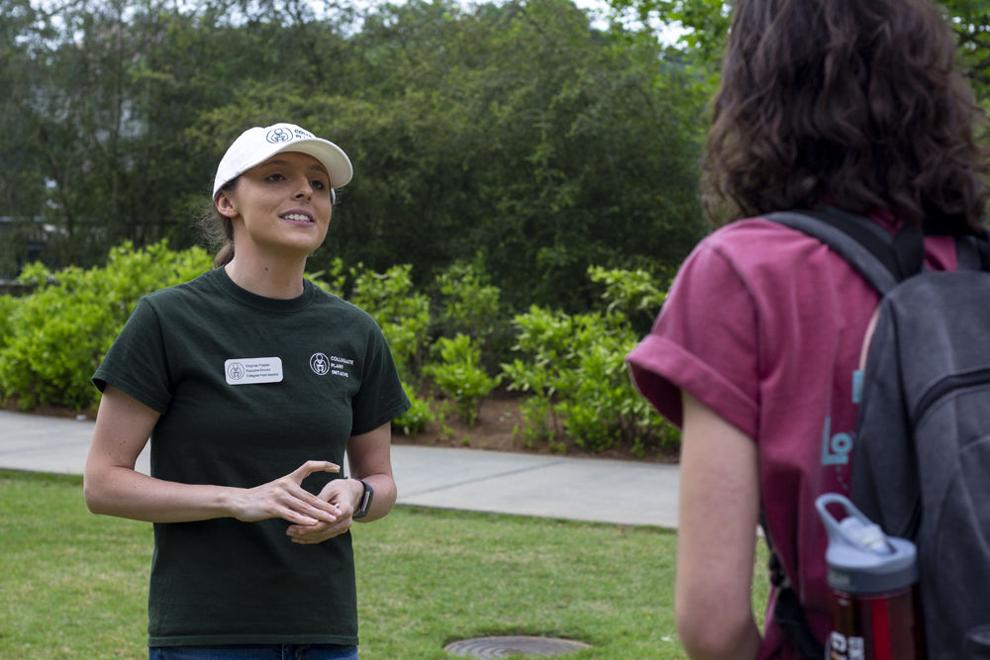 "We really have two goals. First, Making people who love plants and second, is finding plants people love," Frazier said.
After Frazier took an "Intro to Gardening" class at UF in fall 2016, taught by Dave Clark, she changed her major from finance to agriculture business. In the class, students would get a free plant every week of the semester. Frazier would end up bringing an entire flat of trays home each week.
"After I ended up running out of space on my balcony, I really realized that if I can get this addicted to plants just from a lecture a week, other students probably can too," Frazier said.
Frazier and Clark came together to create the "Blue and Orange Initiative" in 2016, which connected students from Penn State University's "Plants in the Human Context" class and the University of Florida's "Plants, Gardening, and You" class.
The Collegiate Plant Initiative bloomed from the success of the "Blue and Orange Initiative" in 2017. CPI is focused on introducing plants to the general student body, rather than just horticulture students.
The mission of CPI goes beyond placing plants into the hands of students. According to the CPI website, the missions includes "curing plant blindness" and "researching which plants students like best".
" There's a lot of plant blindness in the word. People don't realize the value of plants environmentally, psychologically and socially," Tim Smalley said.
Smalley, an associate professor and the interim department head in the Department of Horticulture, was present at the free plant drop.
The Proven Winner annual Lemon Coral Sedum was grown in Charlotte, North Carolina. The CPI picked up the plants in Charlotte and then went to host free plant drops at North Carolina State University and Clemson University before coming to UGA.
"Not only do students get awareness of plants and gardening, but really just to show what you can do with a plant," said Paul Hoffman, the Southeast Territory Manager at Pleasant View Gardens/Proven Winners.
During the upcoming fall semester, the CPI will host free plant drop's at Ohio State University, the University of Michigan and Michigan State University.