Except for the shiny Mac desktop on the corner of his desk, Charles Bullock's office looks as though it hasn't changed much in his 50 years teaching southern and legislative politics at the University of Georgia.
The door to 111 Baldwin Hall, Bullock's office, is plastered with newspaper clippings about internships on Capitol Hill and current changes in law schools across the country. While the inside is relatively large, its short ceiling gives it a cozy feel. It's chock-full of books and posters from old campaigns, and degrees and awards hang on the walls.
Next to his desk is a fresh stack of term papers, which he seems excited to grade. His office is a combination of the past with a thick, encouraging sign of what the future of politics looks like.
"When you go into teaching, it's because you have some vision of yourself kind of helping shape the future in some way, and so that's tremendously rewarding," Bullock said.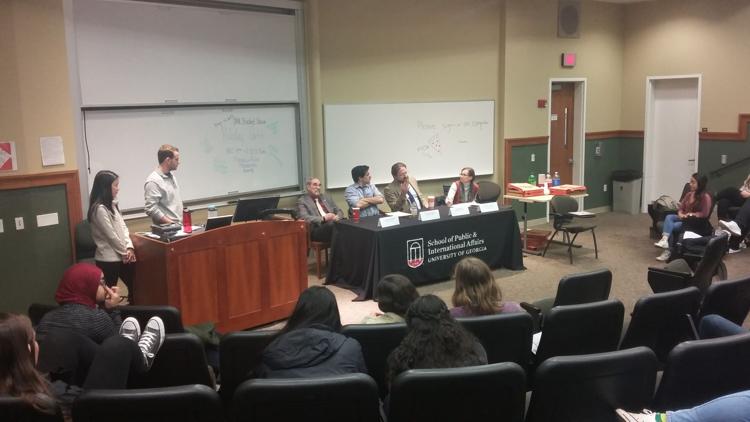 Bullock, the Richard B. Russell Chair in Political Science and a Josiah Meigs Distinguished Teaching Professor, is celebrating half a century of teaching in the School of Public and International Affairs.
"He is a superb colleague and a trusted 'senior statesman' at SPIA," said SPIA Dean Matthew Auer.
New beginnings
Bullock arrived on campus in 1968, just after defending his dissertation from Washington University. He was proud and excited to begin teaching, but his first welcome didn't go as expected.
"I walked in, and the two secretaries in my office were just typing away, so after a while I kicked the desk and said 'I'm professor Bullock,' and they said 'Oh, oh, you look so young we thought you were one of them graduates, and we were just going to ignore you,'" Bullock said. "So that was my first welcome to the department as a faculty member."
Throughout his career, Bullock has mentored many students, helping them get valuable internships at the state Capitol and make connections within the public sector.
"Dr. Bullock was always there for me when I was searching for internships or having trouble figuring out which career path was the best fit for me," said Meredith Stinson, a senior political science and public relations major. "He connected me and enormous amounts of his other students with professionals from his network that helped inspire or launch our future careers."
Bullock has always encouraged his students to dedicate time outside of class to pursue viable career options, specifically through taking an internship or studying abroad trip.
"Two things I tell students they ought to do: one is to do an internship, and the other is to study abroad," Bullock said.
An internship will provide students with the information they need to determine if they really want to follow a certain career path, Bullock said.
"I really hope students will take advantage of every opportunity to pick his brain during office hours and absolutely heed his advice to gain experience outside the classroom through internships and study abroad," said former student Julie Smith, who now works as director of external government affairs for Verizon.
As for study abroad, Bullock believes it's vital to learn not only about another country's culture but also how that country can influence one's perspective of the U.S.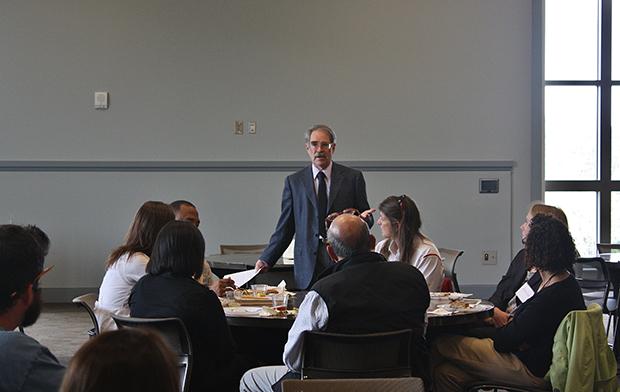 "You will get a different view of someplace in the world," Bullock said. "But you'll also get a different view of this country by looking at it from having been abroad."
Well-known and well-received
Bullock is not only known within the SPIA community for having a superior understanding of southern politics. He's also revered as a dependable and knowledgeable source in key publications like The Atlanta Journal-Constitution and The New York Times.
"He's not only a constant presence in the AJC's pages about today's political scene, but we also rely on him to offer important historical context," said former student Greg Bluestein, who now works as a political reporter for The Atlanta-Journal Constitution.
One of Bullock's favorite memories was from a class he taught about 20 years ago.
"I had the president of the College Republicans and the president of the Young Democrats, and they were literally sitting side by side," he said. "And they were good personal friends. One would usually make a comment, and I'd say, 'Well, what does the opposition have to say to that?'"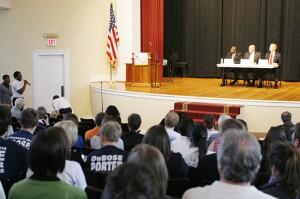 Bullock likes having students from both sides of the political spectrum be able to play off of each other for the benefit of the entire class.
"The students enjoyed it as much as I did, and it was a great way to get the information in front of the class by having members of the class present it," Bullock said.
His former students still remember the inspiring and powerful conversations they had in class.
"His classes were a hot-house of political discussion, where ideas and policies were shaped at a formative time," Bluestein said.
Bullock's sage advice helped propel his students to successful careers, especially in Georgia politics.
"The same faces that dotted his classes are now fixtures in the Gold Dome," Bluestein said. "I sat in the same row as lawmakers, campaign consultants, lobbyists and activists who now help forge Georgia policy."
There are a few things Bullock hopes his students have grasped while sitting in his classes.
"I hope they've learned something about whatever the class has been, but I also hope that they have become better writers. I also hope they have given some thought to their futures," Bullock said.
Students are quick to identify and appreciate Bullock's determination to get to know them as more than just his students.
"At the beginning of every class, Dr. Bullock walks around the room and talks to all the students who had arrived early," Stinson said. "It made me realize how important it was to him to truly get to know the students he was teaching each semester."
Throughout his 50 years, he has remained dedicated to working with them to develop ways they can stand out from their competition.
"The other thing I do is just to inspire the students to do the best work they possibly can," Bullock said.
Bullock doesn't have any plans for leaving or retiring anytime soon. He's spent his entire teaching career at UGA, and he has a hunch as to why.
Before he took the job at UGA, Bullock was offered a position at The University of Minnesota. They wanted him to fly up for an interview in February. At the time, Bullock was working for a congressman, was able to request information from the Library of Congress.
Bullock asked for average temperatures for Minnesota in the month of February, learned they were all in the negatives, and told the people at the university to not even bother meeting him at the airport.
Bullock's expertise and caring personality will continue to be appreciated by the SPIA and UGA communities.
"Dr. Bullock goes beyond being a fantastic teacher and scholar. He offers something more uncommon: he's an incredible mentor, and has literally changed the lives of multiple generations of students," Auer said.