The Red & Black, in partnership with the Center for the Study of Global Issues, conducted a survey of University of Georgia students, faculty and staff's political beliefs and attitudes in conjunction with the 2016 presidential election. More than 4,300 people responded to our survey. Our analysis describes information about the data we found.
It has long been known that Athens is a liberal city in a conservative state. Coming to the University of Georgia can influence a student's political outlook. 
Take the case of Mallie Brossett.
"In high school, I would ride to school in the morning listening to Glenn Beck and on the way home, I'd listen to Sean Hannity. I was very conservative," said Brossett, a Ph.D. candidate in political science from Columbus. "When I got into college, I became more Libertarian."
Faced with less than desirable candidates for president of the United States, Brossett said she will "begrudgingly vote for Hillary" rather than for Libertarian presidential candidate Gary Johnson because there is too much at stake.
A Red & Black/GLOBIS Center Survey, conducted Oct. 3 through Oct. 9, found Democratic presidential nominee Hillary Clinton led Republican presidential nominee Donald Trump roughly 58 percent to 22 percent among more than 4,300 University of Georgia student, faculty and staff respondents.
Our survey also found that about 9 percent of the UGA student, faculty and staff population supported Johnson, and about 2 percent supported Green Party presidential nominee Jill Stein.
But for more than 9 percent of respondents — of which more than 43 percent were not eligible to vote in 2012 — neither candidate has yet attracted their support.
A generational divide
For a large percentage of the UGA campus, the 2016 presidential election is the first major opportunity for students to engage in national politics. 
Graphic/Lindsey Conway
How those first-time voters cast their ballots could reflect a more conservative perspective than students who have been on campus longer or voted before. 
On an ideological spectrum, with 1 being extremely liberal, 4 being moderate and 7 being extremely conservative, the average ideological response decreased from 3.9 for freshmen to 2.8 for faculty members.
That could show a potential increasing identification with liberal ideology as a person's attained level of education rose or as a person distances themselves from living at home.
"The last few years of undergrad into graduate school, I'm getting exposed to a lot more viewpoints outside of the conservative bubble," Brossett said. "That has made me a lot more moderate and more willing to engage with other people's arguments instead of distancing myself from them. A lot of the ideological claims conservatives make don't fly with me anymore." 
Clinton's overall support on UGA's campus is dramatically influenced by faculty members, with almost 83 percent reporting in our survey that they would vote for her as president, compared to 9 percent for Trump.
Graduate students were also overwhelmingly supportive of Clinton, with about 66 percent selecting her in our survey, compared to about 13 percent of graduate students selecting Trump. 
While the gap between Clinton and Trump remains large among undergraduates, support for Clinton decreases to about 50 and increases to about 27 for Trump. 
Although the size of the respondents who said they were staff members is small — 61 people — about 80 percent support Clinton and about 5 percent support Trump.
Graphic/Lindsey Conway
"If you're a professor and in the area of research and creating new thought, your natural inclination is to think about new ideas," said Audrey Haynes, a professor of political science who studies presidential elections. "There's nothing as antithetical to a professor as the idea of going back."
The data also show a divide between respondents and their families.
While about 54 percent of students and faculty identify as somewhat liberal, liberal or extremely liberal, 56 percent of respondents categorized their mother's or guardian's ideology and 67 percent of respondents categorized their father's or guardian's ideology as somewhat conservative, conservative or extremely conservative. 
"Both my parents are fairly conservative. We go to church on Sundays. They vote for Republicans, but my parents are not Trump supporters," Brossett said. "They're both thinking about a third-party candidate, but they're not quite ready to pull the trigger and vote for Hillary."
'Begrudging support'
Though Clinton and Trump claimed the state of Georgia in the primary elections, the candidates did not produce as strong of a performance among the UGA population.
"I want Trump to lose. I want him to lose badly," Brossett said. "I want him to lose so badly that the Republican party has to take a look in the mirror and realize we can't keep doing this to ourselves. We've been choosing people who can't possibly implement the policies we believe in or who don't represent the values we espouse."
But in the primary elections, Brossett voted for Florida Republican Senator Marco Rubio.
"I liked that he tried to work across the aisle on issues like immigration even though he was still a principled conservative," she said. "I liked that he had an optimistic message. He had a story he could tell personally that would show a different side of the Republican party."
Of the 47 percent of respondents who voted in the primary elections, almost 57 percent said they voted in the Democratic primary. 
For the Republican primary, 45 percent of respondents who voted in the primary said they voted for Rubio, followed by more than 15 percent for Texas Senator Ted Cruz and roughly 14 percent each for Trump and Ohio Governor John Kasich.
In the Democratic primary, 64 percent of respondents said they voted for Vermont Senator Bernie Sanders and only 35 percent voted for Clinton.
"I chose Sanders over Clinton because I like his history in regard to racial equality, I prefer his more moderate policy suggestions for gun control, I like his drug policies, and I prefer his economic and tax policies." said Megan Kriss, a senior international affairs and linguistics major from Acworth. "As for the general election, I'm voting for Clinton. I would vastly prefer her to Trump and, ultimately, the differences in policy between Clinton and Sanders aren't that huge."
While most of self-identified Sanders' supporters in the primary shifted support to Clinton, many of those who are reluctant are supporting Jill Stein. 
Of the approximately 2 percent of respondents who support Jill Stein, 42 percent voted in the Democratic primary — 100 percent of which said they voted for Sanders.
Part of Sanders' popularity among students could be found within his policy positions on drugs. 
Almost 63 percent of respondents said marijuana should be legal for both medical and recreational use, with an additional 32 percent saying it should be legal for at least medicinal use.
"While I'd still prefer Sanders over Clinton, I also think that the competition allowed Sanders to bring forward issues that might have otherwise been ignored," Kriss said.
In an Atlanta Journal-Constitution poll conducted between Oct. 17 and Oct. 20 and published Oct. 21, six in 10 voters said they had a negative view of both Clinton and Trump.
Clinton received support from almost 89 percent of respondents who identified on the liberal end of the ideological spectrum while Trump received support from 63 percent of respondents who identified on the conservative end. Among respondents who identified as moderate, Clinton received 49 percent support compared to 13 percent support for Trump.
Hannah Proctor, who has supported Clinton since fall of 2015, the candidate's work promoting human rights first attracted her vote.
"Trends have shown that her approval ratings drop drastically when she is running but improve immensely when she takes office. To me, this demonstrates that she's an effective leader and a great representative for her constituency," said Proctor, a senior international affairs and women's studies major from Manhattan Beach, California. "I'm excited to cast my first presidential vote for a woman I strongly stand behind." 
Breaking from back home
The AJC poll released Oct. 21 also showed Trump leading Clinton 44 percent to 42 percent among likely Georgia voters, pushing the state into battleground territory. 
Exit polling data from the 2008 and 2012 presidential elections show Obama won against Arizona Senator John McCain and former Massachusetts Governor Mitt Romney in Fulton and DeKalb County while the Republican candidates won in Gwinnett and Cobb County. In 2014, Fulton and DeKalb County favored Michelle Nunn for U.S. Senate and Jason Carter for Governor while Gwinnett and Cobb County favored David Perdue for U.S. Senate and Nathan Deal for a second term as Governor.
Charles Bullock, a professor of political science who studies Southern Politics, said UGA had been a "fairly red campus" until the 2014 elections.
"I began to see a change two years ago when it struck me that there were more students who were getting involved with the Democratic party generally or with Michelle Nunn's or Jason Carter's campaign," he said. "That fit with the results of the exit polls from 2014 that showed most young adults in the state did vote for Michelle Nunn and Jason Carter."
Our survey found students from DeKalb, Fulton, Cobb and Gwinnett counties chose Hillary Clinton by at least 70 percent. Every other region in Georgia favored the Democratic candidate but by smaller margins, with the exception of the southwestern and eastern regions of the state, which were heavily influenced by students from Muscogee County and Columbia County. Though the sample size is small, many students who identified as residents in rural parts of the state also supported Clinton.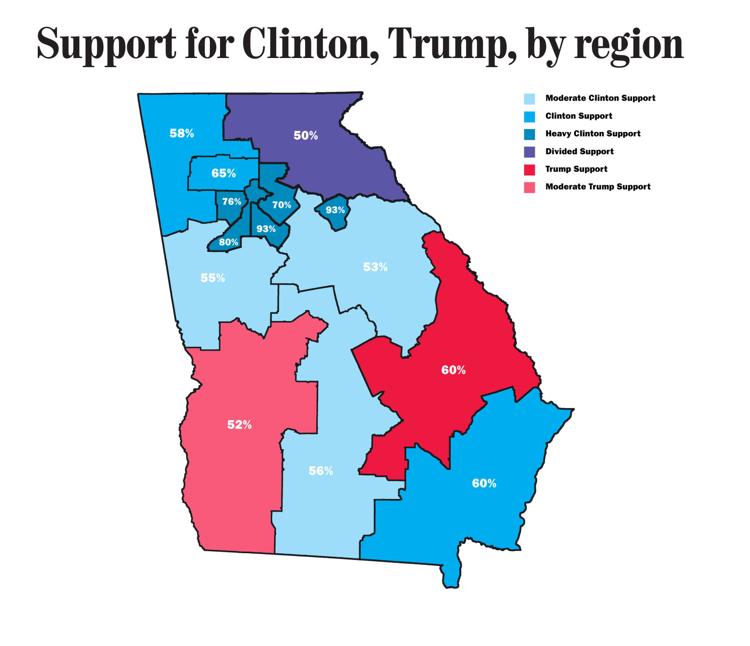 Even students from other states in the South — Kentucky, Tennessee, Texas, Alabama, South Carolina, Mississippi and Louisiana — supported Clinton by a majority. Of the 123 students from those seven states, almost 55 percent chose Clinton.
Students from swing states, including Florida, North Carolina, Ohio, Pennsylvania, Virginia, where Trump stands significant room for growth, challenged his chances, with more than 69 percent of the 164 respondents voting for Clinton. There was not enough representation from Arizona, Colorado and New Hampshire to draw strong conclusions.
"By the time students get to a university, they have really already established a foundation of beliefs," Haynes said. "[But they may] change what they believe because they're coming away from a geographic area that is very different."
In both implicit and explicit ways, local politics are influenced by the UGA population. In addition to proximity to ideas from the university, Athens demographics are affected by the substantial relocation of voters' registration districts. Of the students who told our survey they are registered to vote, 34 percent said they are registered in Clarke County, but only 5 percent are from Clarke County originally. 
Of the 642 faculty members who responded to our survey, 214 live in Clarke County. Nearly 91 percent supported Clinton.
This trend can be found in other college towns located within more conservative states.
"There is clearly a way in which Athens and Austin [Texas] are more liberal than the rest of the state. In this election, both states are moving to the left," said Jeremi Suri, a professor of political science who studies domestic politics at University of Texas in Austin. "That said, both cities draw people who tend to be a little left of center. The environment reinforces what is already a self-selection by those who come."
For Michael Goldman, a Trump supporter, that can feel isolating.
"I feel like people surround themselves with other people who feel the same way as them," said Goldman, a fifth-year accounting major from Sandy Springs. "And Trump supporters are afraid to speak out due to persecution, and I've even lost friends over discussions from people who have just lost it on me. It's upsetting because the country is the way that it is because of our equal right to vote."
In a letter released Oct. 17, the General Assembly of the Georgia Association of College Republicans said "not to bind [their] chapters to promote Donald Trump's candidacy for President."
Major implications
Perspective and area of academic focus also had a profound influence on our survey results.
Of the 13 undergraduate colleges within the university, each favored Clinton over Trump. But nowhere was the margin closer than in the Terry College of Business, with a 38.4 percent to 37.8 percent dead heat.
"I think maybe 5 percent of people around me share my beliefs, but I recognize that we are on a college campus," Goldman said. "Once we graduate and hit the working world, I think my peers will find their views begin to change."
Haynes said the conservative sector within Terry is logical because the college is focused on "supporting businesses and finding ways to make money," ideals usually associated with the Republican Party.
The College of Agricultural and Environmental Sciences, the College of Engineering and the Warnell School of Forestry and Natural Resources trended more toward Trump while the School of Social Work, the College of Environment + Design and the Odum School of Ecology trended more toward Clinton. 
Graphic/Lindsey Conway
Students in other graduate programs showed varying degrees of support for the Democratic nominee.
Law school students favored Clinton about 52 percent to about 22 percent for Trump. Of the 64 students in the College of of Pharmacy, there was an even split between Clinton and Trump support. Students within the Veterinary Medicine program favored Clinton by about 61 percent to 13 percent.
Politics at UGA
For many students and faculty members, the election has been divisive.
Brossett said she doesn't mind being among the minority of conservative thinkers on campus. 
"The more diverse viewpoints you have in the room, the better solutions you're going to have," she said.
---
How we got these numbers 
The Red & Black partnered with the Center for the Study of Global Issues to collaborate on a campus-wide polling project that would provide both institutions with information about the political beliefs and attitudes of students, faculty and staff. Questions were designed by Michelle Baruchman, editor in chief of The Red & Black, and Dr. Ryan Bakker, director of the GLOBIS Center, with input from other Red & Black editors and staff members. The survey was executed using Qualtrics software. We obtained the email addresses of every student, faculty and staff member from the Registrar's Office after explaining our request and proposed use of the contact information and sent our survey to every address on file, giving each member of the University of Georgia population of interest and equal chance of being surveyed. Completion of our survey was voluntary. Personal information regarding names was not viewed or used. We sought to draw descriptions about groups not individuals. Individuals had the option of submitting their contact information to our reporting team. Our survey open Oct. 3 and closed Oct. 9. Two email reminders were sent for those who had not completed the survey. The Red & Black created a social media campaign to encourage participation. Data were analyzed using STATA software and Excel files and fact checked by a team of editors. Sources were contacted by Baruchman. This is The Red & Black's first attempt to conduct large-scale data research about the UGA population's political beliefs. Constructive feedback is always welcomed and appreciated.     
Your numbers: The questions we asked produced a vast amount of information, a large portion of which is described in our story, but there are countless more questions we could ask our data. What would you like to know? Email your data questions to The Red & Black at tellus@randb.com, and we may include the information in a follow-up story.