Larkin Stiles said she wouldn't have been able to attend the University of Georgia if it wasn't for dual enrollment.
The freshman, who's a junior by credit hours, earned her associate's degree in biology from Georgia Military College around the same time she received her Dodge County High School diploma.
Without this head start, she said she couldn't have afforded UGA — and may not have even graduated from high school.
Stiles' anxiety caused her to be homebound her sophomore year of high school, and she said the independent and unrestrictive nature of dual enrollment allowed her to continue her education.
She recommended dual enrollment to all her friends, but now she worries a bill going through the Georgia Legislature will take away opportunities, affecting rural students the most.
"My town is really, really rural, and it's hard to get ahead," said Stiles, who grew up in Eastman, south of Warner Robins. "Honestly, it's a miracle that I ended up at UGA. But the fact that I would get an opportunity that [other high school students] won't be able to get just doesn't sit right with me at all."
The Dual Enrollment Act, or HB 444, passed the Georgia Senate in late January and is pending passage in the state House. The bill caps possible dual enrollment credits at 30 hours.
Any high school junior or senior could take university courses, but sophomores must have an SAT or ACT score high enough to meet Zell Miller Scholarship requirements — a minimum of 1200 on the SAT or 26 on the ACT. All students except freshmen are eligible for technical college courses.
The act also narrows the types of classes students can take to include eligible HOPE scholarship courses and eligible Career, Technical and Agricultural Education courses. This change ensures students receive postsecondary credit for the courses they take, said state Sen. Brian Strickland, who sponsored the bill.
The bill amends the 2009 Move On When Ready Act, which started dual enrollment, to curb the rising costs of the program, Strickland said. As the floor leader, Strickland sponsored the bill because it came from the Governor's Office in collaboration with the Georgia Student Finance Commission.
A previous version of the bill passed the House last year. Strickland predicts this revised bill will pass and said it had bipartisan support last year.
Tackling rising costs
The dual enrollment program rose in cost from $49 million in fiscal year 2016 to $105 million in fiscal year 2019, according to GSFC annual reports.
"Everyone knew this had to be addressed in one way or another," Strickland said.
Dual enrollment accounts for less than 1% of Georgia's spending on public K-12 and higher education, according to the Georgia Budget Policy Institute.
It's the program's rise in popularity among students that has created the cost increase, but Stiles said this is exactly why they shouldn't curb the program.
"I think that they're being very short-sighted by eliminating it," Stiles said. "I'd be ashamed to hear that it happens just because of a money issue when the return on investment is likely to be so much greater than what they're spending."
About 9% of public high school students took dual enrollment courses in 2019, according to GSFC data.
The dual enrollment program serves a couple purposes for students, Strickland said. It keeps students who otherwise may not finish high school engaged by allowing them to take other courses, and it gives higher-achieving students a challenge beyond the high school setting.
"Something that I say sometimes is that I've had senioritis since sophomore year," said Shehza Anjum, a Walnut Grove High School senior who takes a computer science course at UGA. "I think it's good for people to push themselves, and I think it's good for people to shake things up when they're presented the opportunity, and I was, so I did."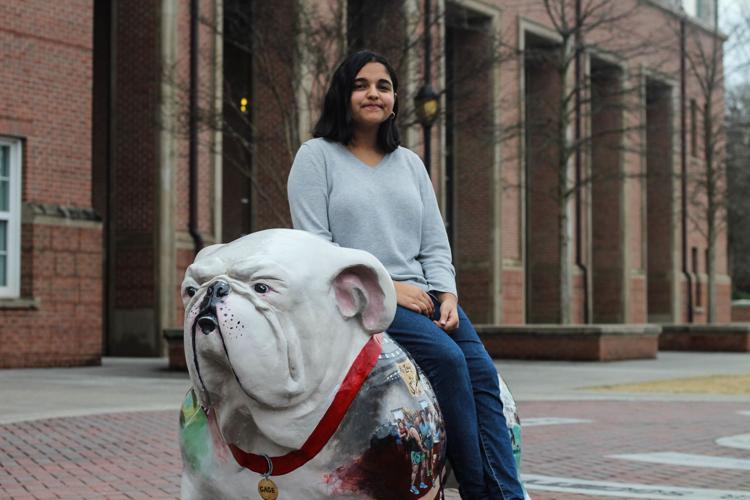 Potential dual enrollment students have to get parent and high school approval, and they must meet the admission standards set by the university they want to attend. For UGA, students must be from the greater Athens area, have a 3.90 GPA or higher and have a 1450 SAT or 31 ACT score.
Anjum has also taken courses with Georgia State University, as well as almost all the Advanced Placement courses her school offers. Not only has the program given her a head start on college, she said it helped her become less shy and more independent.
The state funds the program, so it pays universities and colleges any tuition, fee or book costs associated with the dual-enrolled student. Students can attend college classes for free, which has shown particular benefits for rural and low-income students in the state.
Strickland said the program's current, unrestricted growth goes beyond the intentions of the original version of the Move On When Ready Act.
"It's starting to head toward the way that high school was starting to be irrelevant for some kids," Strickland said.
Effects on rural students
Stiles said dual enrollment allowed her to get ahead without sacrificing a typical high school experience.
Dodge County, where Stiles grew up, had one high school with about 800 people total, she said. Not many AP classes were offered, so she felt like dual enrollment was the best path to college.
Peyton Lee, a junior agriculture business major, said her high school in Pike County offered a constantly fluctuating number of AP courses. Lee took almost every AP course offered along with about 50 credits of dual enrollment courses at Gordon State College.
Because her high school didn't offer many clubs or extracurricular activities, she said this course load made her competitive for college admissions with urban and suburban students.
In 2019, nearly a fifth of high school students living in school districts not adjacent to metro Atlanta — mostly rural school districts — participated in dual enrollment, according to the GBPI.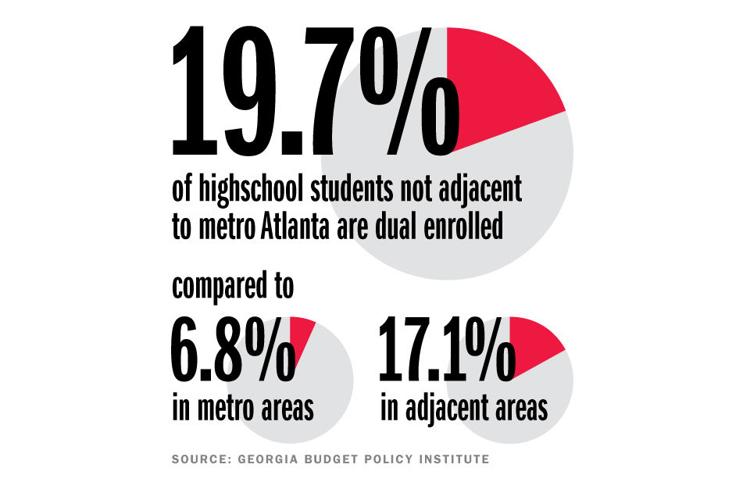 A slightly smaller percentage of students in districts adjacent to metro Atlanta were dual enrolled during the same year. By comparison, 6.8% of metro Atlanta high school students were dual enrolled.
Stiles said coming to UGA is hard enough as a rural student without having to worry about financial need. She's the director for outreach for RISE, or Rural Students Igniting Success in Education, because she found a network of students with similar backgrounds helpful in acclimating to Athens.
RISE has drafted a letter to House District 117 Rep. Houston Gaines to voice the organization's opposition to the bill, said Lee, who is the vice president of RISE.
"I think they're just failing to consider outside the metro [Atlanta] area," Lee said.