A hippo, an elephant and the world's largest collection of minke whale skeletons — all boxed up and nowhere to go.
The University of Georgia is home not only to the State Botanical Garden of Georgia and the Georgia Museum of Art but also the Georgia Museum of Natural History — 11 different collections scattered around campus and the greater Athens area.
"The first thing that anyone says to me is, 'Where is the museum because I didn't know we had one.' That's all I've heard so far," said Taylor Davis, a senior biology major from Cornelia. "But all my friends are really interested in seeing it and really a bunch of them are asking about going to it and I haven't dissuaded them, of course, but I just let them know you can go to the back of the Statistics [and Computer Services] Building and see the show room but there's not much to it because it's so small."
Davis and Erika Brewer, a senior biology major from Statesboro, work at the museum as interns — helping to maintain the collections of fish, birds and mammals in the museum's storage annex.
"I was talking with Taylor and Nikki [Castleberry] one day a couple of weeks ago about how it's a shame we don't have our own building on campus because the things we have, I feel like students would be interested enough to come without a class just on their own."
Castleberry, assistant curator of the vertebrate collections at the UGA museum, said the problem was space.
"Right now we don't have anywhere that we could [display a larger portion of the collection]. We would love to and that's been something the museum's been trying to push for a long time, and it just hasn't happened. Funding for any building just has never come through."
The main display space is now situated in the museum's main lobby in the basement of the Statistics Building near the Physical Plant.
The museum would need plenty of space. She said last spring it received a collection of 30,000 land and 1,500 marine mammals from Northeastern University in Boston, nearly doubling the number of animals they had previously. The warehouse annex on Atlanta Highway where the collection was unloaded last year is still stacked full of boxes that have yet to be processed by Castleberry, other curators and an assortment of interns.
"Natural history museums should be seen as a window into time," said Byron "Bud" Freeman, director of the museum. "We can't go back to the 1800s and collect those birds that we got from Northeastern. And maybe some of the first starlings that dispersed from the initial introduction in New York City are in that collection. There's no way to go back in time except through a museum."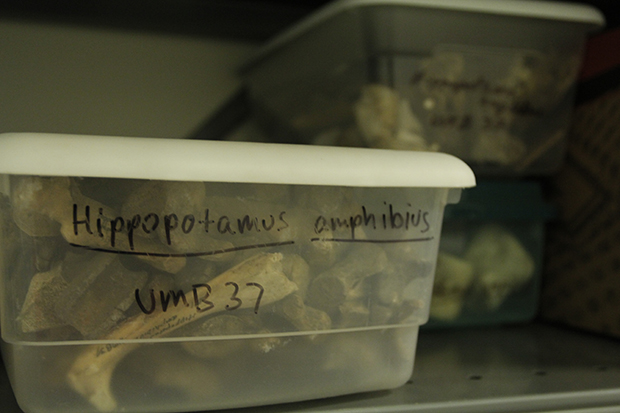 Growing collection in the basement
The number of natural history collections is getting smaller, but the collections themselves are getting bigger.
"As technology gets stronger there's more and more that people are able to do with these collections and, unfortunately, the value of these collections over time isn't appreciated as much as it used to be," Castleberry said. "So it's been something that people are struggling with all over."
She said when Northeastern's curator retired and the university decided to reclaim the space used to house the collections, both the Smithsonian Institution and Harvard University found they didn't have the room for them.
"We didn't really either, but we decided we'd try to make it work," she said, gesturing to the stacks of unpacked boxes.
The items come from different museums, researchers and collectors around the world — the Northeastern collections contained specimens from the University of Puget Sound and some of the birds that belonged to A. C. Bent, a famous ornithologist.
Castleberry said the museum could put in requests to the U.S. Fish and Wildlife Service for certain species missing in their collection. If the service seizes taxidermied specimens in a raid, after the prosecution is finished they can be permanently loaned to the museum.
"It would be folly to throw stuff away just because we haven't exactly mastered really great genomic techniques that will let us learn stuff," Freeman said.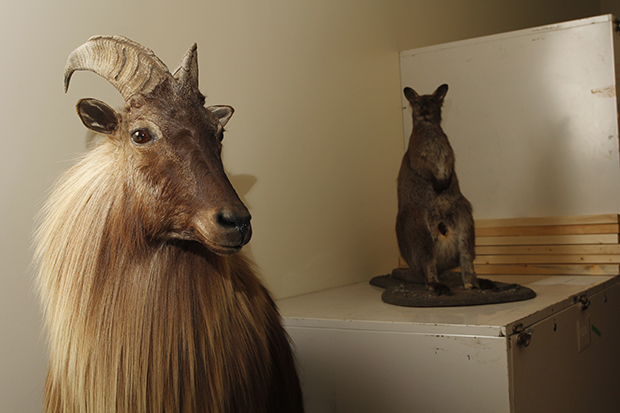 'Destination attractors'
As technology improves, collections such as the one at the museum become more invaluable for researchers.
"A lot of the time they're looking at differences in individuals across space or time," Castleberry said. "So, if you wanted to compare individuals of one species in Georgia to something that might have a wide range in the northeast, then they could come and make some comparisons and see if there's size or coloration [differences] or anything like that. One of the really fast growing areas of these collections is being able to use tissue — toxicology work — so actually looking at pollutants and things that might actually be stored in feathers or in fur or in the tissues."
These samples can also be used to trace genetics.
Freeman said he studies bass hybridization in the wild and is able to genetically test specimens collected in the 1950s that originally came from Georgia State University's collections.
Kylee Duberstein, an assistant professor of animal and dairy sciences, teaches an equine anatomy and biomechanics class. She said she wanted to give her students a chance to see where and how muscles would attach to the bones of a horse, but the department only had a cow skeleton for a model.
"I just sent an email and asked about the possibility of coming over and looking at some of the horse skeletons," Duberstein said. "Dr. Reitz at the museum, she was very gracious and she let me come over and look in the boxes. I asked her about the possibility of maybe setting up a horse skeleton for the class to view and she was great — she set that up for us. We've done that the last few years."
She said although she had never realized UGA had the museum, the resources it provides for her students make the lab consistently the best one of the whole semester.
"It's very hands on," she said. "They're able to pick up and touch the bones. Some of the concepts that they might have trouble understanding, like how the different bones articulate at the joints and where the muscles might tie in, they can actually pick up the bones and look at them."
The economic implications of a strong museum presence in Athens are also intriguing, Freeman said.
"These become destination attractors, if you will," he said. "People could visit the State Botanical Gardens, the State Museum of Art and the State Museum of Natural History in the same visit. The economic part you can see. People will drive here, they'll decide to eat a meal downtown or spend the night in Athens and then they'll go home. That becomes part of tourism."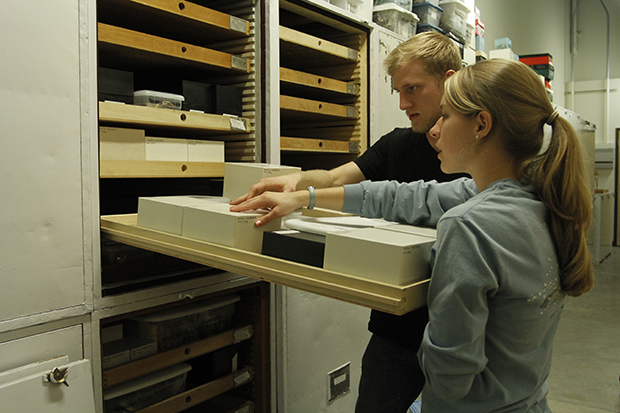 Lack of space
Freeman said the museum estimates that in total the perfect building would be 100,000 to 120,000 square feet, which would include space for exhibits, collections, classrooms and a lecture hall.
"There's sort of a rule in thirds with museums, a third of your space should be office and staff space, a third for your research collection and a third gallery space," Castleberry said.
Exhibit space at the Florida Museum of Natural History is split between McGuire and Powell Halls, with a third building for research and collections.
Collections such as the ichthyology collection are stored in jars, immersed in formaldehyde or ethanol, and require specially built rooms because of the danger of fire. Other space would need to be provided for working on the collections and research.
"You go behind the scenes at any conference center, you've got the rooms where people are meeting but go behind that wall and here's all the kitchens, staff and all this stuff," Freeman said.
Wilf Nicholls, director of the Botanical Garden, said while working on a master plan of the garden — which is part of UGA's Public Service and Outreach — for future projects the planners included space for the museum adjacent to either side of the existing conservatory, the other space would be taken by a porcelain collection that will be willed to the museum by a patron.
"The Museum of Natural History is not in public service and outreach but the Botanical Garden is, so obviously there would have to be a lot of looking at that sort of relationship," Nicholls said. "But we felt like it was just a natural — it made perfect sense for this facility to have both the Botanical Garden be a place for education and research and then also have this Museum of Natural History be a place for education and research."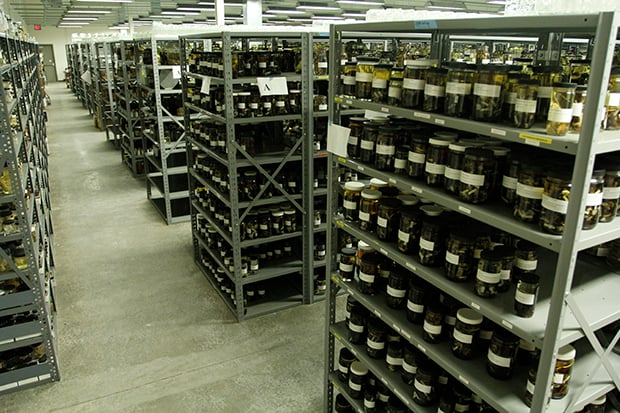 Funding for the future
Raising the money would be the responsibility of the museum. The museum is part of Franklin College of Arts and Sciences, and both Castleberry and Freeman said there had been some internal discussion about trying to raise money, but Linda Bachman, assistant dean of college relations for Franklin, said she hadn't heard of any.
"It would be wonderful to have a dedicated museum building, but I am not aware of any current discussion of building plans for the museum," Bachman wrote in an email to The Red & Black. "There is a long list of competing priorities and limited resources, as you know. When UGA does build new buildings, it is now typical to have a public-private partnership, where private gifts augment state capital funding to varying degrees -- and the planning processes are lengthy and detailed."
Hillary Brown, director of communications for the Georgia Museum of Art, said the $20-million complex was built entirely through private donations and fundraising.
Nicholls said as part of Public Service and Outreach, 60 percent of the garden's funds come from the state through UGA — usually around $1 million — and the rest the garden has to raise on its own an additional $700,000.
But the funding for any new developments, for example the planned children's garden, the Botanical Garden must pay for out of pocket.
Paul Ramey, assistant director of marketing and press relations at the Florida Museum of Natural History, said his museum built up in stages, with the most recent installment, the McGuire Hall exhibit space, funded in part through private donations. Most of the state money given to the museum is used to pay salaries.
"We're kind of the university museum and the state museum so we're part of the University of Florida. Our director reports to the provost just like the dean of a college would, but we're also the state museum so anytime a panther, for example Florida panthers, gets killed in south Florida it's sent here for a necropsy," Ramey said. "We do a lot of other work for invasive species."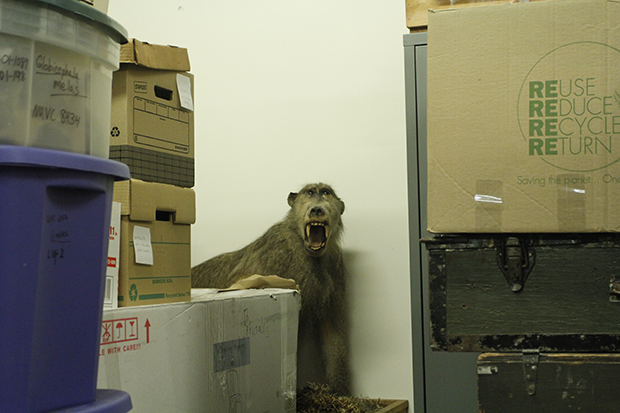 Immediate future
For now, the Natural History Museum staff said they would make due with what facilities they have, using the exhibit space beneath the Statistics Building as well as the annex.
"We're probably going to try to do an open house for the public once it gets warmer, and we don't have to worry about Saturdays being snowy," Castleberry said. "So probably like March, if I had to guess, we'll try to do a big open house."