A new scuba diving class was approved this semester at the University of Georgia as an upper-level marine sciences elective for two hours of class credit.
Students in the class will be able to find the class listed on the UGA bulletin under the generic course number MARS 3900 until January when its official course numbers MARS 4740 and MARS 6740 will take effect, said Scott Noakes, diving safety officer for the University System of Georgia's scientific diving program.
"They go through all of the training for open water certification," said Noakes,  an associate research scientist for the UGA Center for Applied Isotope Studies. "As they do this course, they can get their open water certification out of it."
The course is a graduate and undergraduate course that Noakes, who is also an instructor for Scuba Schools International, said he has thought about for a long time. The course will offer situations such as a shipwreck lab and working with line reels in order to teach students not only diving skills, but the ability to use their hands while on a dive.
"It's a lot further than just getting scuba certified," he said. "We are actually teaching them to do skills in the water aside from the scuba skills. They couldn't concentrate on diving, they had to concentrate on what they were doing."
A lot of the students came in with no diving experience and no certification, but the course is flexible. There was one student, Noakes said, who was already open water certified who was taken through advanced training alongside her classmates who received basic training.
"It's a skill they can keep forever," he said, noting the certification never expires.
Though students need not have any diving experience, Noakes said for safety purposes everyone has to pass a swimming test given during the drop/add period. Additionally, the class is split into groups and supervised by one of three instructors and usually a dive master.
---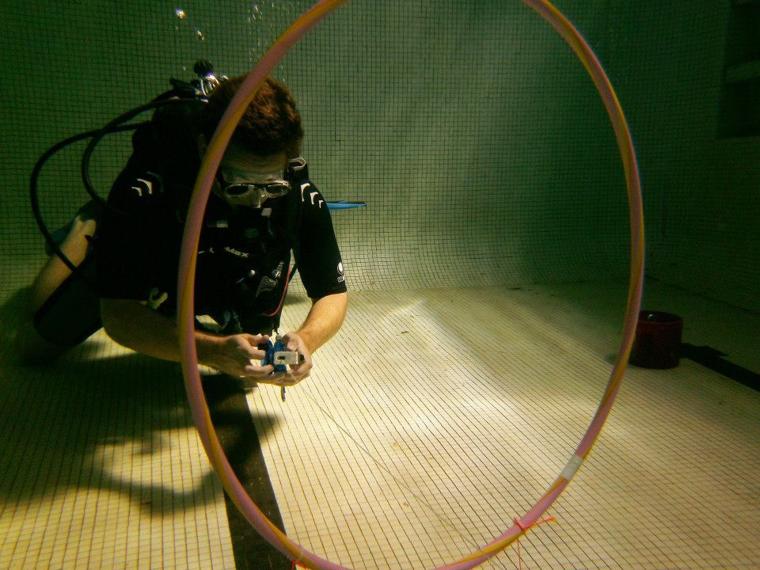 Photo courtesy Scott Noakes
---
"We split them up into small groups when they are doing their skills so one person is only watching about three or four people," he said.
Two of the instructors come from Dolphin Dive Center, which UGA teamed up with for this course. The class itself consists of an hour and 15-minute lecture on Tuesdays and two hours in the Department of Marine Sciences pool on Thursday afternoon for hands-on practice, and is open to all majors.
So far, Noakes said the response has been extremely positive. The class' 16 spots for this semester filled up in one afternoon, he said, so in the spring the course will offer 25 spots.
Noakes said students who are in the class truly enjoy it, and those who have heard about the class have been interested in the idea.
Chris Markham, a freshman intended economics major from Davidson, North Carolina, said it is a class he would be interested in taking.
---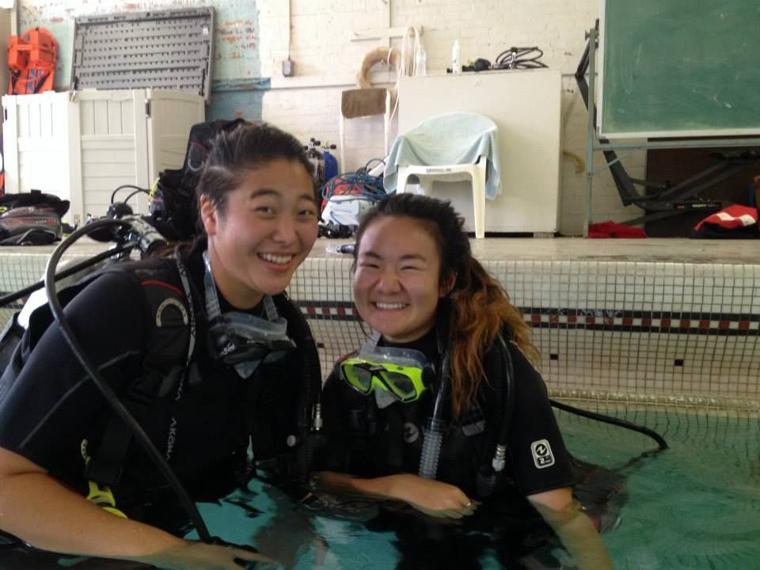 Photo courtesy Scott Noakes
---
"Yeah, I mean if it fit in with my time I'd definitely take it. It sounds like a fun class," he said. "I'd take it."
And though Wyatt West, a sophomore entomology major from Adairsville, said the course is not one he personally would take, he understands the appeal.
"I'm not much into scuba diving," he said. "I don't know if I would take it necessarily but it sounds like a cool idea and getting certified would be cool. It would be a stress relieving-type class I feel like with the other workloads students have to take."
One of the course's biggest benefits, Noakes said, is it gives students more than an open water certification and fun class credit.
"This gives them not only an appreciation for diving, but just an appreciation for the whole marine environment. So we might be able to shake their concept of the marine world," he said. "[And] of course, who doesn't want to do scuba?"