At 5:30 pm on Oct. 18, college students joined together at the Polo Club Athens for the second annual "I Have No Friends Meetup."
Last September, University of Georgia student Aidan Gallagher, a junior entertainment media studies major from Fayetteville, designed the event to meet new people.
"I had just moved here to Athens, and I knew no one," Gallagher said. "And I was sitting on the bus one day, and I was thinking 'What is the quickest way to make a lot of friends fast?'"
Gallagher and his roommate at the time made flyers to advertise, but it was students posting and sharing his event on social media that made it popular. The attendees were able to meet new people, play games and enjoy themselves at The Redland apartments.
"Last year, we had around 80 to 100 people show up," Gallagher said as students began rolling in at the beginning of Friday's meetup. "But this year I don't know how many people are gonna show up."
By sunset, after a couple of hours of activities such as volleyball, large-group ninja and a bean dip-filled pinata beheading, the group had grown to about 30-40 people.
"I think it's cute," said Rachel Askin, a junior French major from Marietta. "It's cool that people come from so far away to come to this event."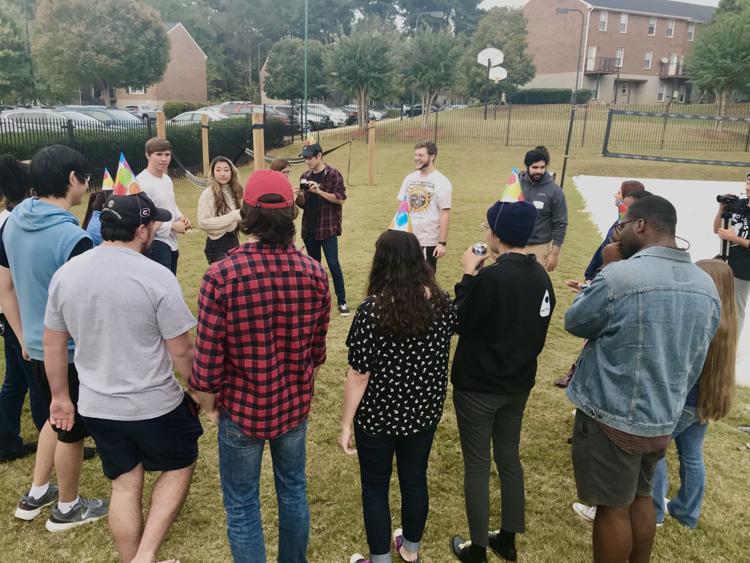 Two students from Charleston Southern University in South Carolina trekked nearly four hours just to come to the meetup.
"My [resident assistant] saw this thing about this dude who has this 'no friends meetup' on YouTube, and she said we should come," said Susanna Seigler, a freshman music therapy major at CSU.
In fact, Gallagher gained much of his popularity through his Youtube channel, Valspire Family, where he chronicles his and his friends' lives in videos. The channel has 89,000 subscribers, and its videos have more than 4.3 million views.
Originally, the meetup was designed to help newcomers to UGA find new people and form friendships. Gallagher hopes this new tradition will continue and expand even after he has left college.
"I think it'd be really cool for other people around other campuses to do their own thing," Gallagher said. "I've heard many other people saying that they want to do it at their colleges all around the United States. Next year, I'm hoping we can get a bunch of them to come together at the same time, which would be crazy."
As the evening went on, attendees began spreading to the basketball court, hammocks, and pool of the Polo Club to hang out.