In a Dec. 5 email from ArchNews, the Student Government Association laid out its plan to work towards college affordability by attempting to decrease textbook costs.
"One of our main objectives this year has been addressing college affordability. We are looking forward to working more on this next semester, as the issue will continue to be a priority of SGA this year," SGA President Houston Gaines said in the email. "A key way that we've found we can be most useful in this area is by reducing textbook costs. Currently, we are developing a plan and structure to work towards such a goal."
Such a plan has been in the works for years, but this year's SGA board has emphasized the goal.
"We knew from our first day that we wanted to focus on making college more affordable. It's a huge objective, so we've found two key ways to tackle this issue: textbooks and student fees," Gaines said. "Our goal is to transition large lecture classrooms that currently use expensive textbooks to Online Educational Resources." Online Education Resources are typically at a free or reduced cost.
The Center for Teaching and Learning has been an important ally in SGA's efforts. The CTL launched a free textbook initiative in 2013, and since then it has saved students approximately $2.4 million in textbook costs, according to Edward Watson, director for the CTL.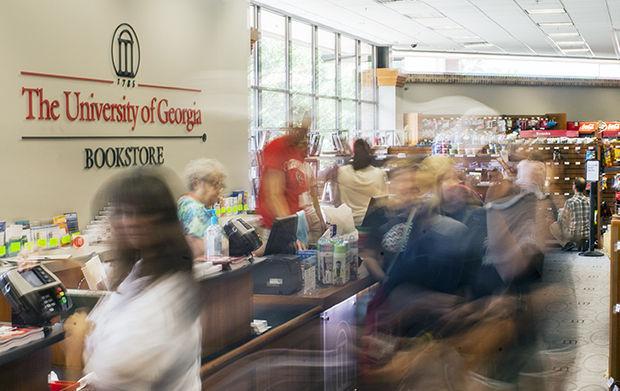 "There are two very clear ways that OERs benefit students. The most obvious is that they save students money," Watson said. "A second benefit is that all students receive access to course materials at the same time. This makes a course using OERs more fair and equitable from a learning standpoint as well."
The Dec. 5 email also included tips on how to save when buying textbooks. One suggested alternative to buying expensive textbooks was to rent them.
 "[Textbooks] almost prohibitively expensive almost to the point where people just aren't buying the textbook for the class," Garrick Widdowson, a sophomore history major from Newnan said.
Widdowson has personally gone out of his way to avoid getting a textbook for a class because of the price. "We're all, at least a good majority of us you know, don't have that much money to throw out. Anything to reduce costs for us would be very welcome," he said.
The University of Georgia Bookstore also suggests selling used books back for up to 50 percent of its original price and offers a price match guarantee. However, there are specific guidelines and limitations, which can be found online.
Some students avoid the campus bookstore altogether. Tessa Green, a sophomore journalism major from Leesburg said she rented her chemistry book, which was approximately $600 brand new from Amazon for about $20.
Students such as Green and Widdowson hope that the cost-cutting initiatives will be effective for future semesters.