At one football game, a disabled fan needed to charge his wheelchair, but he left his charger in his car. Instead of having to make that journey, a Silver Dawg offered to run all the way to his car, grab his charger and bring it back for him.
Easily identifiable by their straw hats and silver shirts with a name tag, the University of Georgia Silver Dawgs is a collection of game day ambassadors stationed outside Sanford Stadium during game day to welcome attendees to the university and to answer any questions. If they don't have an answer, they'll work hard to find it.
The creation of the Silver Dawgs is attributed to a similar hospitality group at Notre Dame. When Georgia visited South Bend, Indiana, during an out-of-conference game last season, there were people dressed in green coats all around, welcoming the Bulldogs to their home with open arms.
This received incredible feedback from the Bulldogs, so much so that UGA decided to do the same thing for Notre Dame when they visit Athens during the 2019 season.
Following the visit, however, retired UGA professor and emeritus member of the Georgia Athletic Board, William Barstow, recommended that UGA do it sooner rather than later.
"We were talking after our first meeting in the fall, after they came back from Notre Dame and they said, 'We got to do something for Notre Dame, for the way they so nicely treated us' so I said, 'Why don't we do it now, not wait until the Notre Dame game in 2019?'" Barstow said.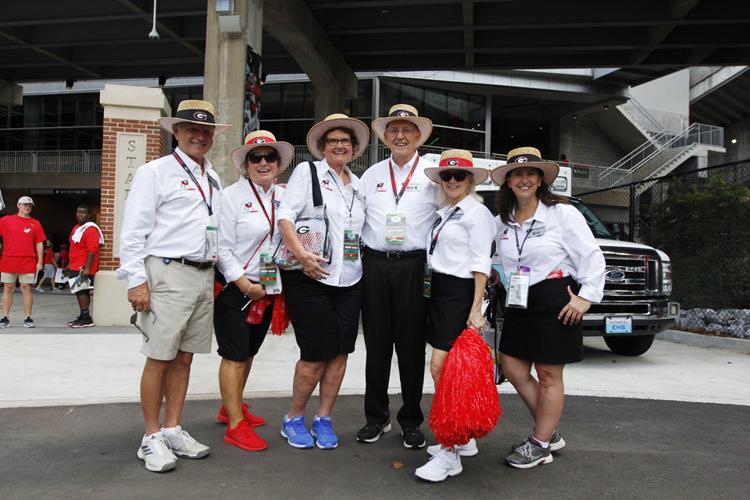 After that meeting, Barstow, who is also a member of the Osher Lifelong Learning Institute, put out a call to his fellow OLLI members, discussing who would like to be a part of a hospitable group to others before and during the football games.
With an overwhelming positive response, Barstow knew he had a good idea going.
Barstow then set up a meeting with Elizabeth Clark, the assistant director of facilities and event management for the UGA Athletic Association, who was immediately on board with the idea.
"I went to school here, I lived here since I was a freshman in college and I've been to plenty of games. And from a fan perspective, I knew this was going to be a hit from the minute I heard about it," Clark said.
With overwhelming support, the Silver Dawgs program got the green light, and it took off.
The Silver Dawgs had a soft-opening during G-Day 2018 to test out the program and see if the it would work out. This received incredible feedback from fans, Clark said.
"The mission of the Silver Dawgs is to be a welcoming, hospitable, helping hand to guests who visit the University of Georgia campus and Sanford Stadium on game weekend," Clark said.
The Silver Dawgs want people to feel like guests and want to give them a great experience so that when fans of the opposing teams go back home, they'll have nothing but exceptional memories and thoughts about their visit at Sanford Stadium.
"I'm hopeful that other SEC schools are going to say Georgia is leading, not only in football but they're leading in hospitality," Barstow said.  "They want everybody to have a good time at the game."
Other Division-I programs, such as the University of North Carolina, have gotten in contact with UGA about the Silver Dawgs program, expressing their desire to have a similar program at their football games.
Although the Silver Dawgs are Bulldog fans, they do not discriminate against those representing a rival school.
"It's catered to the visitors but also we're friendly to everybody," Barstow said. "But we want people coming in for the opposing team to go back home and talk about what a good experience they had with Georgia."
Clark said the program is going better than she originally expected, and the fans have responded well to their presence.
"I definitely think it's exceeding expectations," Clark said. "The fans have just received it so well. It's gotten to the point where they'll say, "Oh  you're a Silver Dawg! I heard about y'all thank you so much for what you're doing.' And I think that makes our group feel so good about what they're doing during game day or the night before."
For the Silver Dawgs themselves, this is a something they love doing and are happy to be the ones to welcome everybody to Sanford Stadium.
Beryl Dixon, a retired Georgia educator, is a Silver Dawg and has been a UGA season ticket holder since 1976, but she believes this program doesn't take away from her normal life at all and how she enjoys her time.
"I love it. The only thing it's taking away is normally I would sit at my seat at the ball game, like 45 minutes before kickoff for warm ups. I gave that up but I don't care," Dixon said. "I love seeing people and telling them to have a good time and welcome [them] to Sanford [Stadium]."
Another Silver Dawg, Rita Marable, who is also a retired educator, said this program has had such a positive impact in her life, giving her a chance to meet new friends and make a new family.
"The people I've had a chance to meet, I'm with a good group of people. We have common interests, from all aspects of life. I just feel like you're doing so much when people come up to you and to me it's just rewarding to share," Marable said.