A graphic novel edition of Ayn Rand's "Anthem" adorned the seats in Tate Theater on Tuesday as Dennis Prager shared with attendees why he believes the political philosophy of socialism pumps out selfish individuals.
The University of Georgia chapter of Turning Point USA hosted Prager, the co-founder of conservative nonprofit organization Prager University and radio host of "The Dennis Prager Show."
Approximately 400-450 attendees from across the ideological spectrum listened to Prager's personal beliefs on socialism and left-wing politics.
U.S. Rep. Jody Hice, who represents the majority of Athens-Clarke County and Oconee, Oglethorpe and Barrow Counties in Georgia's 10th Congressional District, joined the attendees. Georgia House District 117 Rep. Houston Gaines, among other Georgia legislators, were also in attendance.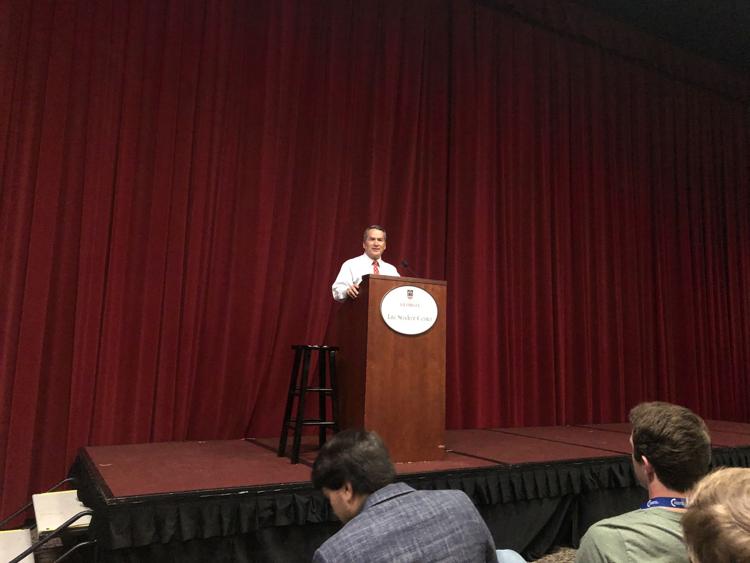 "The American way"
Socialism leads to selfishness when citizens become dependent on government, Prager said.
He said rather than doing it "the American way," where individuals have an obligation to care for one another, socialists expect the government to do the heavy lifting and provide for its citizens by helping them, to which Prager said the left has "a broken moral compass."
"Which is going to produce a more decent human being?" Prager said. "The person who believes I have moral obligations or the person who believes I have rights?"
In sharing his own reflections, Prager said he's unsure if socialism causes bad people or if bad people join socialism. And in the same spirit, he also said he's unsure if socialism rids people of gratitude or if ungracious people support socialism.
Prager said socialism allows an easier livelihood in theory, which is why people subscribe to the philosophy, and human nature craves someone to provide for them. He said socialism tugs at the worst behaviors of human nature and leads to a loss of morality.
In his critique of left-wing politics, he said the left loves to bash America, even though America "is the least racist country" and the left treats libeling America as "an art form."
Prager said anyone who states "I'm damn lucky to be an American" is likely a Republican, whereas anyone who states "America stinks" is likely a Democrat.
Dill Shelton, a sophomore English education major from Jasper, asked Prager during a Q&A session about hypocrisy in his argument against socialism. TPUSA gave audience members copies of one of Ayn Rand's books, but she herself, a well-known anti-socialist, said individuals must be selfish. Prager responded by saying individuals should be selfish to the extent they do not think solely of themselves.
Hayes Way, a sophomore double mathematics and physics and astronomy major from Hawkinsville who identifies as liberal, attended the event to "hear what some of the most influential opinions in America are saying."
Way plans to vote for Bernie Sanders in the Democratic primary election in 2020 and said Prager utilized "straw-man arguments" in his rhetoric against the left.
On the other side of the ideological spectrum, Ted Koval, an 11th-grade homeschooler, attended the speech in support of the Republican Party. Koval agrees with Prager's take on socialism and said, "Socialism is a great evil in the world right now; it promises a short-term gain for a really bad long-term."
Abortion, homosexuality and censorship
After Prager said the left treats pregnancy as "a pimple," an attendee asked Prager for his thoughts on the Georgia heartbeat abortion bill, which passed the Georgia General Assembly in March. Abortion is the only thing from which the left wants the government to stay away from, Prager said, and the only freedom the left wants to give women.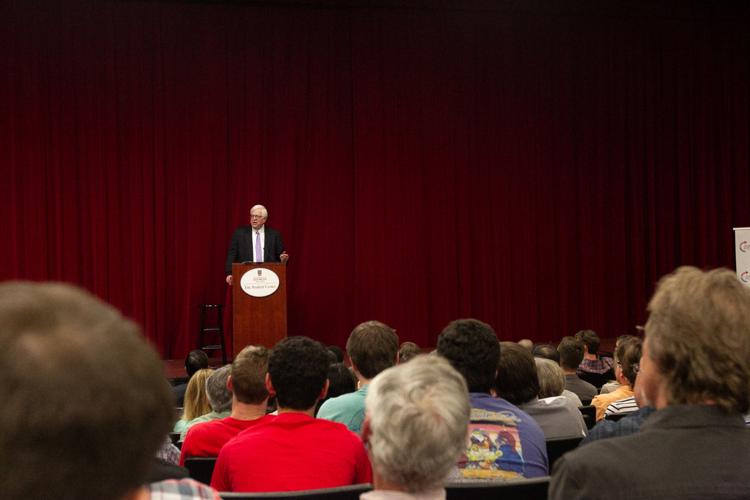 In addition to his thoughts on abortion, Prager also shared his thoughts on same-sex marriage after a UGA student referenced the LGBTQ flags in Tate Student Center. The student asked Prager his thoughts on why Tate did not place a heterosexual pride flag in the student center if they chose to hang LGBTQ flags, to which the audience clapped in response.
Prager said a board member of Prager University and close friend of his identifies as gay, but Prager himself would not celebrate homosexuality. He said the ideal marriage is between a man and a woman, to which he added, "I will not hurt society by denying that, that is the ideal."
Facebook removed controversial content from Prager University's page, which led to the social media website's apology to Prager in 2018. Facebook said it had made a mistake, but Prager said the removal was "deliberate" and an "attack" on conservative ideas, according to BBC News.
A year earlier in 2017, Prager University sued Google for placing age restrictions on the organization's content posted on YouTube. A judge dismissed the case in March of 2018.
Prager University's following totaled approximately 3.2 million Facebook followers and 2.1 million YouTube subscribers as of April 17, 2019.