During the fall 2018 final exam season, University of Georgia student John Smith said he sold more than 500 Adderall pills to other students. Smith describes the months of November and December as "peak season" for selling the drug.
He sold the drug every finals season since 2016. Smith, who has since stopped selling the drug, has seen an increase in demand from former customers and other sellers.
---
Editor's note: John Smith is a fake name used to protect the identity of the student — who spoke with The Red & Black on condition of anonymity — from prosecution by law enforcement or disciplinary action by UGA. 
---
"It's the study drug on campus. People want to have hyperfocus during their exams," Smith said. "They think this drug can keep them studying for hours on end."
Adderall itself is not one drug but the brand name of a mixture of two synthetic stimulants — amphetamine and dextroamphetamine. The effects of amphetamine stimulants on the body are similar to cocaine, though they last longer, according to the U.S. Drug Enforcement Administration.
Adderall was approved by the U.S. Food and Drug Administration to treat attention deficit hyperactivity disorder and narcolepsy in 1996. The FDA has also classified Adderall as a Schedule II federally-controlled drug, which means an acceptable medical use for the drug exists but use of the substance can lead to abuse.
"At UGA, it feels like everyone is using Adderall during finals," Smith said. "It's become really normalized by students."
Finals, stress, pills
In high school, Smith resorted to caffeine and energy bars to get through tests and projects. He soon turned to Adderall pills to "survive" final exams. Smith recalls hearing the sound of computer keyboards and study groups talking overnight and witnessing students exchanging pills in the dorm hallways during his freshman year of college.
"The atmosphere changed during finals, there's always so much pressure," Smith said. "You have to ace your exams at any cost."
While some UGA students abuse Adderall, others are prescribed the drug to combat their ADHD. According to a 2016 survey by the Centers for Disease Control, more than 6 million children had been diagnosed with ADHD.
At age 12, Jessica Garcia was prescribed Adderall when her parents said she needed to "organize her brain." Since then, she's taken two 10-milligram pills a day.
Once enrolled at UGA, Garcia asked her doctor to increase her prescribed dosage of Adderall. She did this on account of the "enormous" pressure she felt to focus and study for exams. Garcia said her parents supported the change after noticing how completing coursework and finals was affecting her well-being.
Just last month, Garcia's friend attempted to offer her money in exchange for a week's supply of her prescribed Adderall. This wasn't the first offer Garcia's received, and every time her answer is the same.
"I say 'No' to people who want to buy my prescribed Adderall," Garcia said. "It's my medicine, it's vital to my day-to-day life. It's not candy to buy."
On campus, Garcia hears Adderall referred to as a "study drug" or the "A-plus drug," but said the drug should not be taken lightly, calling it "stifling" and "draining." She experiences daily side effects including mood swings, loss of appetite and "loses" parts of her personality.
Once she turned 18, Garcia attempted to wean off of Adderall — the resulting withdrawal caused severe migraines, cravings and a lack of ability to focus.
"Medically, I need Adderall to focus and learn," Garcia said. "It's frustrating to see people abusing and taking it lightly."
Health risks
According to the DEA, long-term abuse of Adderall can result in symptoms of schizophrenia, such as paranoia, hallucinations and violent and erratic behavior.
"College students use the drug for temporary results but don't realize the long-lasting side effects of unprescribed Adderall use," said Dr. Patt Brooks, medical director for The Athens Addiction Recovery Center.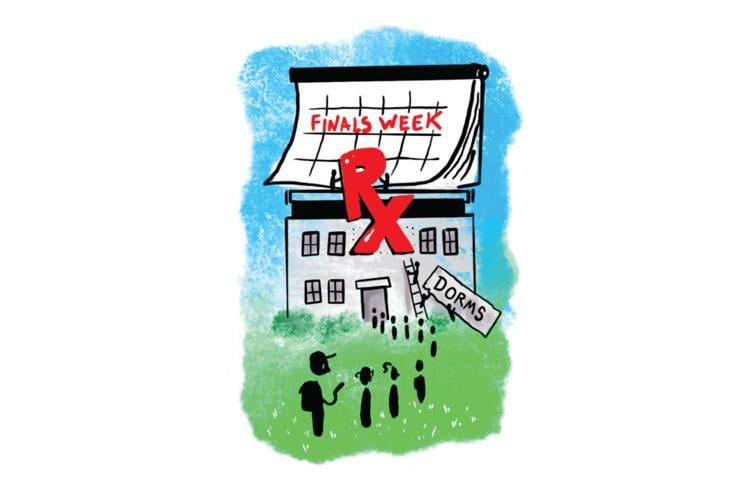 The FDA noted reports of sudden deaths, strokes and a higher likelihood of cardiac abnormalities in adults who use the drug at usual doses than in children. Skin disorders, vitamin deficiency, convulsions and malnutrition are also potential side effects, according to the University of Maryland Center for Substance Abuse Research.
"Adderall is made to affect the chemicals in your brain," Brooks said. "It can be good when prescribed, but it can be very bad when it's not."
Brooks said the painful phenomenon known as the "Adderall crash" refers to the adverse effects when the drug wears off. The stimulant is prescribed in doses between 5-30 milligrams.
After the allotted time, Brooks said he noticed his patients who had abused Adderall complained of severe migraines, signs of depression, loss of appetite and more. An increase in blood pressure and heart rate is seen in Adderall users as well, Brooks said.
The FDA reports users can experience "new or worse" aggressive behavior, hostility or bipolar illness.
Smith first took Adderall his freshman year. The following year, he was admitted to a rehabilitation center after "incessant" use of the drug led to a dangerously high heart rate. A month later, Smith said he had his stomach pumped after doctors found more than 50 milligrams in his system. The FDA's maximum recommended dosage is 30 milligrams per day.
"I couldn't stop, the study drug became my everyday drug," Smith said. "Eventually, no amount was enough."
Brooks said he sees dangerous side effects most commonly with users who are not prescribed the medication. He has advised students to not use any drug not directly prescribed by their doctor — he said any unprescribed drug can damage one's body.
University programs
The UGA University Health Center's "#DawgsTakeAsDirected" program encourages students to only take prescription drugs, such as Adderall and Xanax, as directed by a doctor. The campaign advises students to take notes and create typical study habits instead of relying on prescription medication for study help.
UGA Counseling and Psychiatric Services offers treatment for individuals diagnosed with ADHD if they provide documentation to prove they have the condition. Garcia now receives her medication through CAPS and said the center helped her find the "healthiest" dose.
"The university helped me find the right prescription, but they also educated me on not sharing or leaving my pills open for others to find and abuse," Garcia said.
Peak season preparations
Each December, Brooks organizes an informational meeting with recovery center staff on how to spot patient dependency on Adderall. He said the signs of dependency are an increase in anxiety levels, vomiting or tremors.
According to the FDA, signs of Adderall abuse include insomnia, decreased appetite, hostility and blood pressure.
"We watch out for the signs and we try to educate colleges and teachers on them too," Brooks said. "Sometimes we can't stop the usage, but we can decrease the abuse."
Smith said he weaned himself off of Adderall going into this semester's finals season, seeking healthier alternatives such as meditation, coffee and tutors. He stopped selling Adderall, but was approached by "dozens" of students in November.
Smith recommends those with similar "harsh" experiences with Adderall to tell users and friends about the risks of the drug. He thinks the way to stop Adderall abuse is to open the conversation about its widespread popularity among college students.
"It's a silent struggle people don't talk about," Smith said. "This thing we call 'the study pill' can ruin your life."