The massive turnout for a discussion on race relations at the University of Georgia forced the event to be moved from the Tate Intersection meeting room to the Miller Learning Center on March 25. Students nearly filled the room's 300-seat capacity.
On March 22, a video originally filmed on Snapchat went viral due to its racist language and message. The video involved four UGA students, part of the university chapter of the Tau Kappa Epsilon fraternity, who appeared using racial slurs.
PHOTOS: UGA students speak up during 'In Solidarity' discussion following racist video
Following a video released featuring members of the University of Georgia fraternity chapter of Tau Kappa Epsilon using racist language and "engaging in behaviors that mock the suffering of enslaved peoples," the UGA Student Government Association held "In Solidarity," an event to discuss the effect the video had on students at the University and actions that could be taken following the incident. Here's what a few students had to say.
The University of Georgia chapter of the National Association for the Advancement of Colored People hosted an event on the evening of March 25 "In Solidarity" to provide students with a space for discussion regarding the incident. The event was also hosted in part by the UGA Student Government Association.
In light of the video, the UGA Xi-Lambda chapter of Tau Kappa Epsilon was suspended on March 22 following a statement released by SGA which said an investigation is underway. According to another statement released by the national fraternity on March 23, the four men who appeared in the video were then expelled from the UGA chapter.
"We wanted to create a space in which everyone could express their feelings in a way that was appropriate and that people that may not know what it feels like to see something like that video, you have an understanding of what it's like as a student of color," Kaela Yamini, president of the UGA NAACP organization.
For about an hour and a half, students were given a platform to share their thoughts, personal experiences and feelings regarding how UGA responds to incidents of racism and discrimination against minorities. The air in the room conveyed a majority consensus: a feeling of frustration.
"This isn't a thing that you can tell students to write an essay about … This is bigotry, this is racism," student Mark Norris said. "I feel like we're kind of treading over the tracks, treading over the water, when we should be plummeting into it."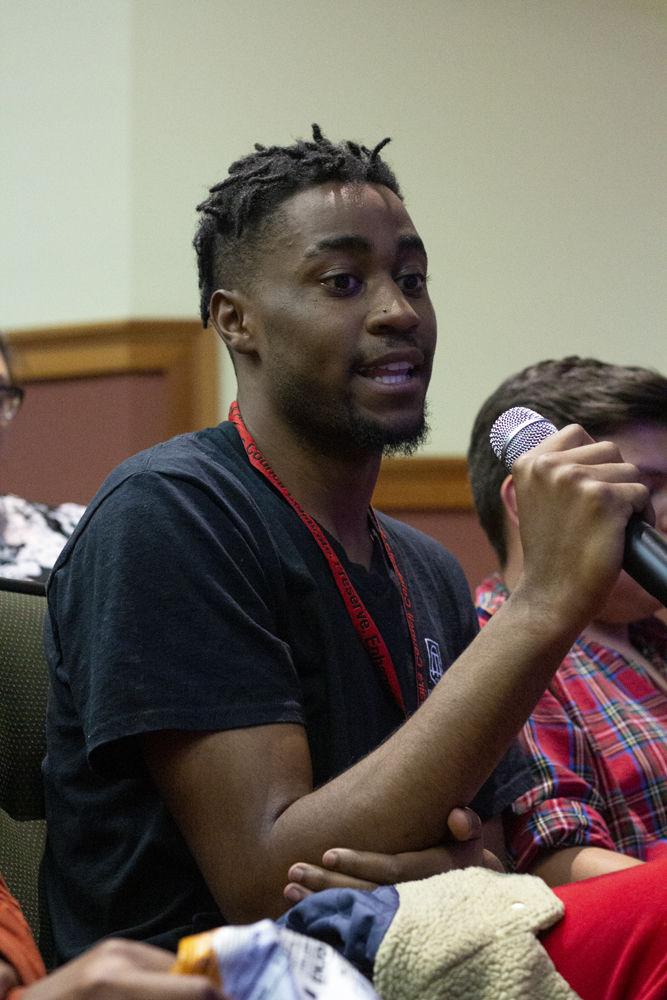 Norris said he feels UGA regularly applies a "regurgitated statement" in response to campus events involving racism and said that the actions of the men in the video require a "significant consequence."
SGA President Ammishaddai Grand-Jean and Vice President Charlene Marsh said UGA President Jere Morehead could not make the event because of late notice. However, Morehead did meet with the president of National Pan-Hellenic Council hours before the event took place, Grand-Jean said.
"He is aware; he is concerned. He does care about what's happening," Grand-Jean said.
Of the students who spoke, the majority said they have experienced incidences of microaggressions on campus more than once relating to their race. UGA senior Cameron Coleman recalled an incident where the only seat available in a full bus was next to her and everyone decided to stand instead of taking the open seat.
"To be a black student and constantly have to question yourself everyday … you don't want to have to worry about school on top of worrying about if you're being discriminated against," Coleman said. "Do you see how exhausting that is?"
One student mentioned he heard about the video from a friend in Boston, emphasizing the video's nationwide impact. Marsh helped in organizing a list of student ideas in order to help develop a more comprehensive plan to be presented to UGA administration and the president. All of the action plan items aim to implement changes to the university's overall treatment of racism and discrimination.
Action items included modeling UGA's prevention, training and response models to that of other schools. It was recommended that the university develop a mandatory training module, similar to Alcohol EDU, regarding training and preparation in multiculturalism. Other ideas included implementation of town hall meetings with upper administration, adjustment of digital media and marketing and official recognition of UGA's history with slavery.
"Change starts at an individual level. Call out your friends. Say, 'Hey, that's not cool.' It shouldn't take someone making a reference to slavery for people to say, 'That's racism'" Coleman said.
---
Correction: In a previous version of this article, it was written that UGA SGA Treasurer Destin Mizelle said that UGA President Jere Morehead could not attend the event. It was actually UGA SGA Vice President Charlene Marsh who took part in this announcement. This error has since then been corrected. The Red & Black regrets this error.