When the University of Georgia Turning Point USA Chapter President Erin Cooke first heard of the Instagram handle @the_typical_liberal, she thought it was a person.
"I didn't know who they were until the Donald Trump Jr. event," Cooke confessed.
Turning Point USA, according to its website, is a youth organization that promotes the principles of fiscal responsibility, free markets, and limited government. The organization hosted their Campus Clash Tour featuring Charlie Kirk, Candace Owens and Donald Trump Jr. 
At a Turning Point USA meeting on Feb. 26 in the Miller Learning Center, meme creators Grant, who runs @the_typical_liberal, and Erin (not to be confused with UGA Turning Point USA Chapter President Erin Cooke) who runs @always.right, spoke with students about the influence of political memes.
Both declined to share their last names for security reasons. 
A match made in meme heaven
Erin (@always.right) entered the scene when she was 14 years old. Coming from a conservative background with politically vocal parents, she didn't have a problem expressing her views on social media.
One of the first accounts she followed was Grant's, and she began virtually debating other users in the comments section of his posts. Now, the two have been dating for almost three years.
"She was in the comments roasting these leftists, and I was like, 'I like that!'" Grant said.
Grant made his first meme in 2014 just for fun, he said. He didn't realize it would turn into a career.
---
"One simple meme that we make and we share could go viral and touch millions of people."
— Grant, self-proclaimed meme lord 
---
"I just kept speaking my mind and kept having fun with it," Grant said. "I never realized that there was money involved because I never did it for the money, but now at this point, it's a full-time job."
Finding and creating content takes up most of Grant's time, but he also receives about 200 direct messages per day.
"People don't understand the impact a meme has," Grant said. "I think it's funny when we call ourselves 'meme lords' because we're actually joking but we're kind of serious. One simple meme that we make and we share could go viral and touch millions of people."
So what does it mean for a meme to go viral?
For reference, in his last 20 Instagram posts, which included both videos and photos, Grant's account averaged 741 comments per post, received an average of 144,000 views on his last 14 videos and averaged 21,000 likes on his last six posts. After just two hours, his most recent post has tallied 6,976 likes.
The account is just shy of 900,000 followers.
Jack of all trades 
The ease with which young people can use social media to spread a video or meme makes it extremely powerful, Grant said.
"It spreads like a frickin' virus," Grant said. "That alone has more power and more potential than any of these establishment leftist or right-leaning organizations. They don't understand the power of it."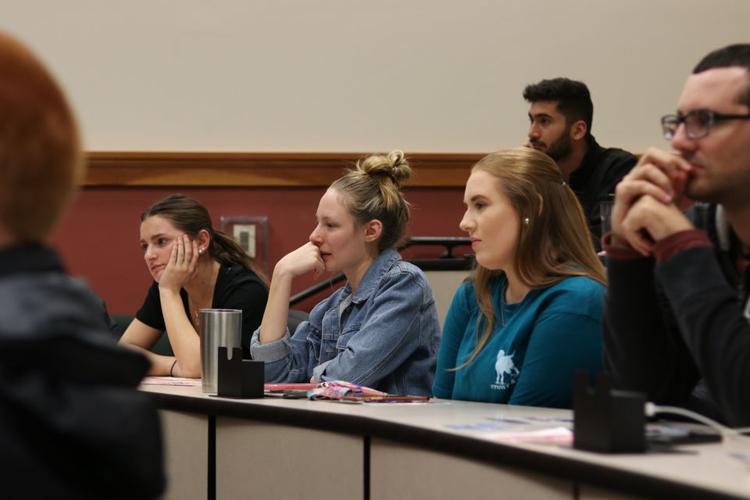 Funny and engaging content is what interests young people and encourages them to be a part of the political conversation. Memes evoke emotion and are far more fun to look at and share with others than graphs and statistics, Grant said.
According to a Pew Research Study from 2018, almost two-thirds of Americans get at least some of their news from social media.
"It's important to know how they're growing and something we need to be up-to-date on and know more about," Cooke said. "Having someone who's in this industry and knows a lot about what goes on behind the scenes is good for our members to know as we grow and get out of college."
For now, Grant and Erin hope to continue to connect with followers and spark political dialogue in a form that excites the next generation.
"The part that I like best is going through my DMs and sometimes people will just send me a message saying I helped them with this or that in their lives, and that's very humbling and flattering," Erin said. "I just enjoy sharing my thoughts and seeing what people have to say."
Both Grant and Erin enjoy voicing their opinions but don't see working in the political arena in their future.
"I believe God 110 percent put me in this position. I do it because I love it, because I feel it is right," Grant said. "If people were asking me to run then maybe, but I'm really good at criticizing politicians, that's just my talent I guess."