In an auditorium crowded with politically involved students, the University of Georgia Young Democrats and College Republicans took to the stage to debate several issues, such as the economy, health care, immigration and criminal justice. The Great Debate was on.
"We don't declare a winner, maybe the crowd may informally declare a winner," said Sebastian Puerta, editor in chief of the Georgia Political Review. "If there's any winner it's the people that came and that are involved in the discussion, and that listen and treat their fellow students respectfully."
The event, presented by GPR, took place in the Fine Arts Building on campus on Oct. 18 starting at 6 p.m. Each group had a table with three participants who took turns responding to questions. For each question, the groups switched off in presenting their point, offering a rebuttal and hearing another response from the opposing group.
Approximately 100 people attended. The audience was not allowed to interrupt those speaking and had to wait for a complete response before shouting, heckling or clapping.
Puerta, who opened the stage, jokingly called the event "the great death match." Simran Modi, operations director for GPR, mediated.
"We're looking forward to sharing with you the values of our party, which is that America is an exceptional country," began College Republicans Chairman, Ethan Pender. "We believe very much in the constitution and the rule of law."
Pender introduced his party as strongly supporting effective national defense programs, a free market partially dictated by capitalism and personal liberties for all people.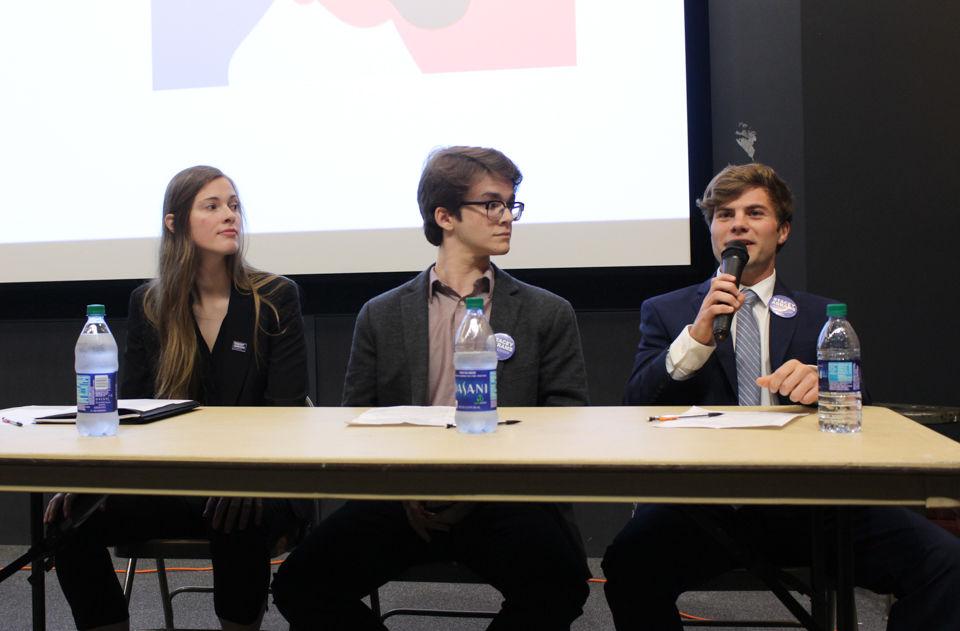 Anna Gerbsch, president of the Young Democrats began with a slightly more aggressive approach.
"You see, the Republican Party is the party where policy is founded in fear, apathy and cruelty," Gerbsch said.
Among the first topics presented were immigration and the midterm elections. Questions focussed on the treatment of immigrant children and families –– amid heated controversy regarding the separation and reunification of immigrants entering the U.S –– as well as what trends may be behind higher expected voter turnout among the younger generation, according to the GPR.  
Gerbsch spoke about the Trump administrations zero-tolerance policy –– where any person caught crossing U.S borders illegally is criminally prosecuted –– while Nick Lewis, fundraising director for College Republicans, refuted illegal immigration and the exposure of children crossing borders to dangerous conditions, such as sex trafficking.
"We do believe that there is a place for empathy and compassion in American politics," Lewis said. "A lot of the times, people want to say the Republicans just don't care about other people, that we're bad people and we want bad things to happen to good people. And that is just totally false."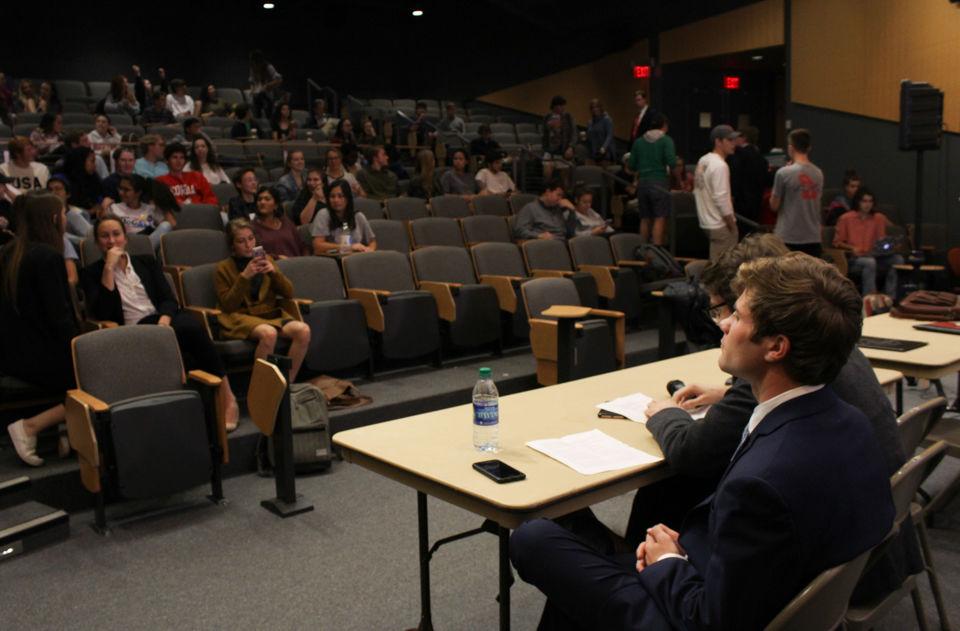 A question posed to speakers suggested that young people are expected to vote Democratic, whereas older people lean toward the Republicans. Salina Patel, executive director for College Republicans, disagreed.
"I think that it is misleading to say that all young people are progressive or all young people are voting for Democrats in this election," Patel said. "There is a rising number of young people voting conservative and we're happy to see it." 
Patel expressed distaste and frustration for the grouping of minorities into a Democratic bubble. As an Indian-American woman, she said she has felt personally attacked multiple times when Democrats have assumed her to be part of the Democratic party.
"And then when they find out that I'm a Republican, they call me names like 'stupid' or an 'uncle tom', or a traitor to my own race," Patel said.
Pender applied Patel's experience to what he believes is a "changing" Republican party, one where more minorities are joining and running for office as Republicans.
Jack Decker, Young Democrats Communications Director, said that while the Republican party may be hopeful about young voters, the numbers don't lie. According to a survey conducted by NBC News/GenForward, over 45 percent of the roughly 2,000 millennials included in the survey said they plan to vote Democrat. Less than 30 percent plant to either vote Republican or not at all.  
"People are clearly tired of conventional politics, and this isn't just the young idealistic kids, as the Republicans might try and paint it, but this is the entirety of these millennials who are coming back to take back their country from the evil that they've seen it fall into," Decker said.
Panelists were asked to debate on the new NAFTA agreement presented by the Trump administration, the recently passed Tax Cuts and Jobs Act, the possibility of fare-free public transportation in Athens-Clarke County and recent legislation passed overwhelmingly by both parties to combat the opioid epidemic in the U.S.  
For the most part, College Republicans stuck with modern Republican ideals: supporting tougher trade tariffs, large tax breaks and a free market with "trickle down economics" they believe will succeed instead of government implemented regulations and programs.
"Anything that the government can do, the private sector can innovate and do better, and for cheaper," Pender said.
The Young Democrats also stuck with their guns, pushing criminal justice reform, universal and improved health care –– including strong support for Medicaid –– and free college education.
"It's not free, it's about instead of giving money to corporations who are doing fine and returning favors to their big donor friends which is what you Republicans do, let's actually invest in students and make public colleges and universities and tuition free," said Zane Malas of the Young Dems.
Both sides agreed on several issues through a different lens, such as addressing the opioid epidemic, solutions to increasingly expensive college tuition, decreasing mortality rates through improved healthcare, the protection of free speech –– especially on university grounds –– and an end to the imprisonment of non-violent, first-time drug offenders.
Still, political ideals differed greatly.
"In modern American history, it is the Democratic party that has moved the envelope a little bit closer to those ideals of justice, equality and maybe most importantly hope," Malas said in closing statements.
"The way to fix these problems is not with more government," Lewis said in his closing statement. "As Republicans, we believe that government is not the solution to the problem, it is the problem."  
Audience reacts
"I think it's so important to really look at the issues in this country and see it from both sides, and tonight I got to hear both democrats and Republicans and I got to form my own opinion about what I think is right for this country," said Nick Stojkic, senior sociology major.
Stojkic said he identifies as a conservative, but was proud to see attendees cheer or clap for ideas they agreed with, regardless of who proposed them.
He thought both parties were respectful and that the audience did a "great job" of keeping their cool, listening to the conversation without disrespecting speakers.
"Not letting partisanship destroy our democracy," Stojkic said. "I'm all about lifting the democracy."
Peyton Hayes, freshman animal health major, came in support of the Young Democrats. However, she still enjoyed the bipartisan nature of the debate.
"I wanted to hear what both sides had to say, I identify as Democrat but I still like to hear what the Republicans have to say and just know that there are people here that share the same values," Hayes said.
Puerta said GPR views the event as an important part of getting students involved. He strongly pushes voting across the political spectrum, especially among the younger generation, arguing that only through voting will legislation fulfill needs of young people.
"To show that we care," Puerta said regarding organizing the debate with GPR.