The Geography-Geology Building's Green Roof Garden has recently gained a new addition to the existing flora: three honeybee hives. Those bees will join the other existing wild hives to pollinate across UGA's campus.
Senior biology major Joshua Grier is a 2019 grant recipient for campus sustainability and received $3,000 for his "Urban Pollinator Project." The basis of the project is to raise awareness of bees or pollinators and create learning opportunities.
"If you can go somewhere and you can see these organisms doing their daily thing, then you're going to be a lot more conscious about what you're doing that affects pollinators," Grier said.
Grier used to help his grandfather raise bees and sell honey in Savannah when he was around nine years old. Over time, especially in college, he's learned more about the importance of both bees and urban agriculture.
He along with Aileen Nicolas, a senior geography major and Grier's capstone partner, introduced thousands of honeybees to the rooftop on March 29 as part of their capstone project to earn their sustainability certificate, Nicolas said.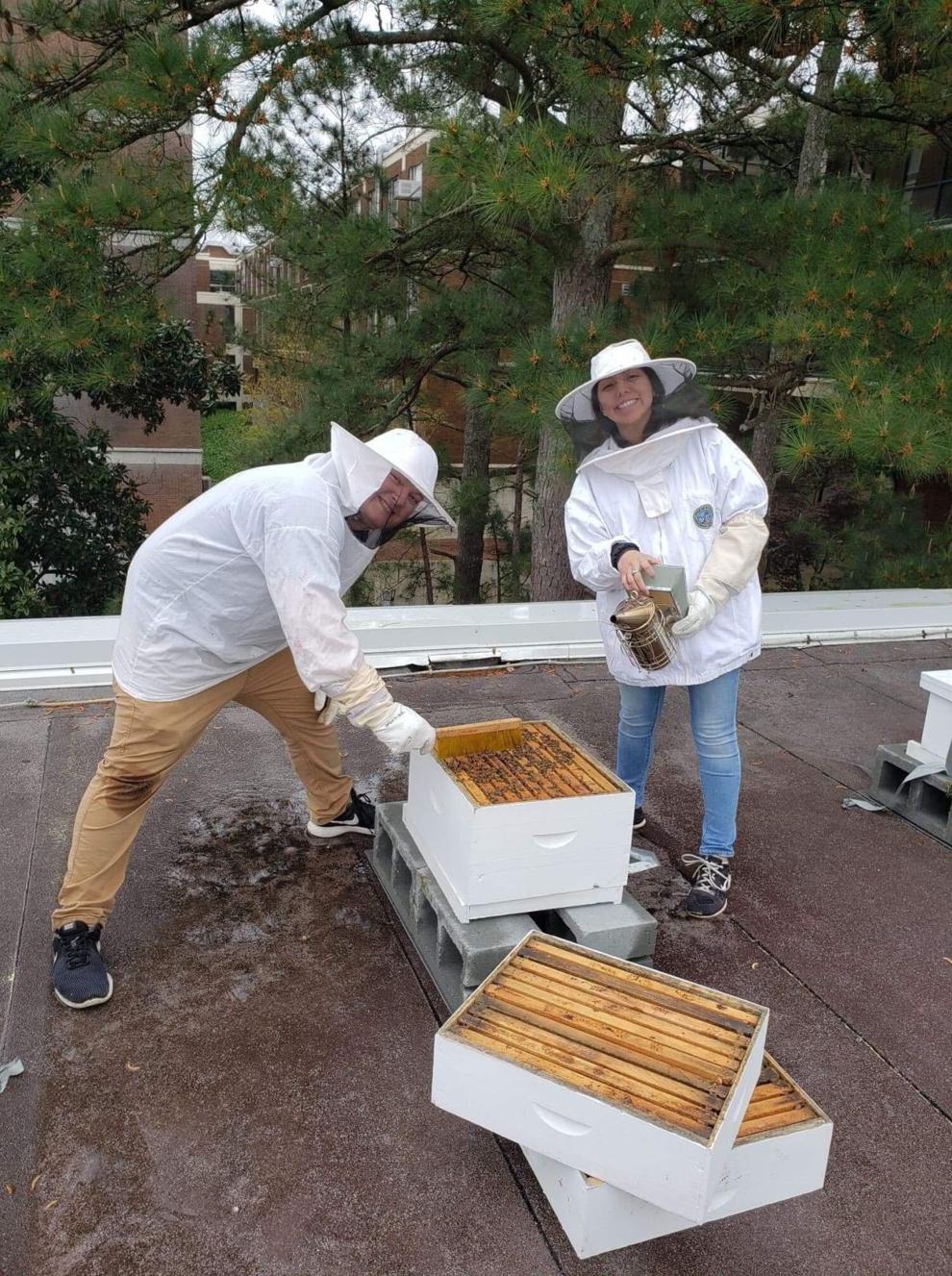 Within the project's goals, Grier and Nicolas are creating the UGA Honey Bee Club which is expected to start by next fall; however, they are leaving the club to upcoming leadership. Grier will be graduating and Nicolas will simply provide support for the club as she has decided to focus on her master's.
They are not worried about the club's membership, due to receiving over 30 responses to leadership applications. The club will be open to anyone, as it is intended to bring people together to learn and interact with the honeybees.
"[As] someone who does not have a lot of experience with bees, I will say that I'm really thankful for this project because I used to be really scared of insects," Nicolas said. "Now I am so close to them."
Equipment and other supplies funded by the grant to maintain the bees is being provided to club members. As for the honey the bees will produce, Grier is leaving it up to the club to decide whether or not to sell it. However, he would love to see them use money from honey sales to eventually fund future projects, Grier said.
They also hope to see the club expand to other rooftops and green groups around campus as others have already expressed interest.
One of those people who has expressed interest is Marianne Shockley, a faculty member in the department of entomology. Shockley worked with Grier as his faculty sponsor for the project, and she is actively working with the club as the faculty advisor.
Shockley's service learning class installed rooftop beehives on the Biological Sciences Building around 10 years ago; however, they had to move them due to reroofing. Grier eventually found her as she was looking for an opportunity to partner with students again and it seemed as if the stars aligned, Shockley said.
"I see an opportunity for people to learn about bees, to learn about beekeeping, to learn about the other products that we can extract from hives: like wax, candles, or the moisturizer for lip balms," Shockley said. "[We can] look at this as a model for what universities can do to add to the idea of sustainable agriculture on our campuses."
From maintaining beehives to participating in outreach programs and teaching summer camps, Shockley is looking forward to the new opportunities the club and hive brings. It will serve as a learning experience for those of all ages.
"Humanity has grown so dependent on honey bees," Grier said. "I'm really into the whole integration of agriculture into urban environments, and I think bees are a really good way to bring that kind of into focus."