Coffee, food and free hugs were available to students Wednesday as part of the annual 101 Things to Do in Athens event in the Memorial Hall Ballroom.
Local organizations including Java Joy, Crunch Fitness, Mama's Boy, Athens Farmers Market, and CiCis Pizza all took part in the annual 101 Things to Do in Athens event organized by the University Judiciary.
The event is thrown every year by the University Judiciary to help connect students with businesses and activities in the Athens area. More specifically, the event focuses on educating students about opportunities that do not involve the use of drugs or alcohol.
While University Judiciary is the organization responsible for holding student conduct hearings, they also host events to inform and promote lawful habits among the student body.
"A lot of times people have the idea that we just like to get people in trouble, but we're really more focused on education," Executive Director Joseph Atkins said. "We're responsible for keeping people informed about the code of conduct, and drinking underage is part of that code."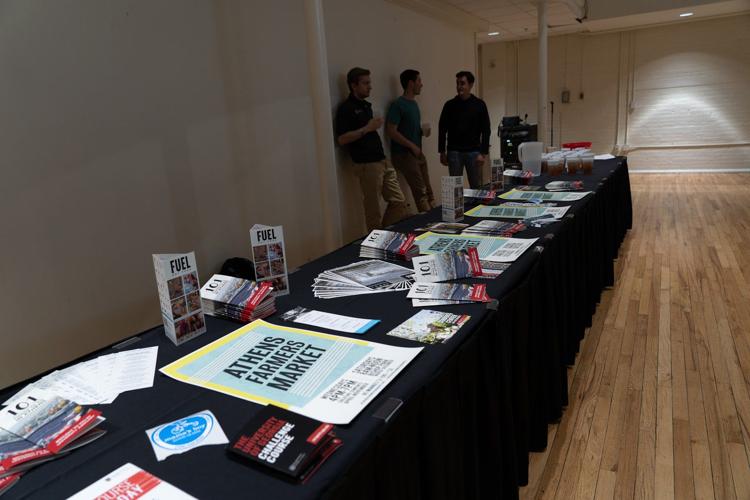 University Judiciary decided the best way to fulfill this responsibility would be to directly connect students with local businesses that offer these kinds of activities and events.
Claire Kimbrell, a junior English and religion double major said the Judiciary members helped prepare for the event by rounding up support from local businesses.
"We asked them for a bunch of food and coupons and stuff to give out to students to make sure they're aware of their opportunities in the area," she said.
After the food was served, the Judiciary members in attendance spread around the room to talk to engaged students and help staff the information desk. Athens Improv, one of the groups that partnered with the Judiciary for the event, took the stage and launched into a performance.
After a handful of improv scenes, the group left for a quick recess and Judiciary Director of Public Affairs Reed Hennessy took the stage to call out the winners of the raffle. Winners with tickets drawn from a bowl won gift cards to businesses such as CiCis Pizza and Target, as well as coupons such as a week of free access to Crunch Fitness.
Shortly afterward, as most of the students began to file out, Athens Improv went up for a final act. As they left, many students took with them Java Joy coffee, stickers and flyers for various Athens businesses and organizations, and the knowledge that there is something in the Athens community that can fulfill each one of them.