As the hysteria of the spring semester begins to heighten, members of the Zeta Pi chapter of the historically-black Alpha Phi Alpha fraternity are trying to find suits for their 50th celebration. Well, suits more formal than the ones they normally wear.
Stretching across a four-day weekend, the Zeta Pi chapter will celebrate the fiftieth anniversary of its founding from April 4-7, during which brothers, founders and advisers "who have firmly established the importance of Zeta Pi" will partake in several social events, including an archives ceremony in the Special Collections Library, a formal gala at the Classic Center and a cookout in the Myers Quad.
Established in 1969, the Zeta Pi chapter of Alpha Phi Alpha was the first African-American student organization — fraternal or otherwise — founded at the University of Georgia, and, according to Ron Jones, a 1995 alum and former president of the Gwinnett County and Metro Atlanta alumni chapters, the first chapter in the fraternity's history to be founded at a predominantly white major institution.
What remains 50 years later is a half-century of legacy and distinction—or, in the words of senior Alpha press secretary and outgoing SGA Treasurer Destin Mizelle, "brotherhood, support, inspiration, platform and just a bunch of love."
Breaking new ground
The chapter's founding was a significant feat for the university. Only eight years prior to the Zeta Pi chapter's founding, Hamilton E. Holmes and Charlayne Hunter-Gault, the university's first two African-American students, were admitted to the university.
The Zeta Pi chapter has a prominent alumni network of African-American firsts — the first black president and vice president of SGA, editor of The Red & Black, homecoming king and ROTC pilot, among others. The chapter's alumni network also consists of two current university presidents, former UGA football player and television actor Omari Hardwick, and U.S. Olympic-qualifying track athlete Mel Lattany.
---
"When I think of black history at UGA, I think of Alpha history." 
— Destin Mizelle, SGA Treasurer
---
The national organization's membership roster also boasts several African-American men of distinction, including Thurgood Marshall, W.E.B. DuBois, Jesse Owens and Martin Luther King Jr.
Although not a member of the Zeta Pi chapter, Holmes was an Alpha at Morehouse College before enrolling at UGA. His son became a Zeta Pi in 1987.
"When I think of black history at UGA, I think of Alpha history," Mizelle said. "It's not because I'm an Alpha — when you look at the first black milestones, they're all from Alpha men."
Movers and shakers
Members of the Zeta Pi chapter cannot sit still.
In addition to serving as mentors for the Boys & Girls Club, volunteering at homeless shelters and running a food truck at Hill Baptist Church every second Saturday of the month, the chapter sponsors the annual Miss Black & Gold Scholarship Pageant, an annual event aimed at educating students on social issues affecting the African-American community, as well as a "stepping and strolling" competition for other historically black Greek chapters.
The chapter also awards a scholarship in memory of a deceased brother Larry Leroy Golden to one freshman male at the Alpha-sponsored Black & Gold Ball every spring.
"We don't do things for the picture," Mizelle said. "A sense of genuineness comes from doing something and never receiving recognition for it."
The chapter's biggest and most high-profile event of the year is a pajama party that attracts nearly 3,000 students from all over the southeast every spring, according to the event website. Known as "Pajama Jam," a portion of the ticket sales from the party are donated to March of Dimes.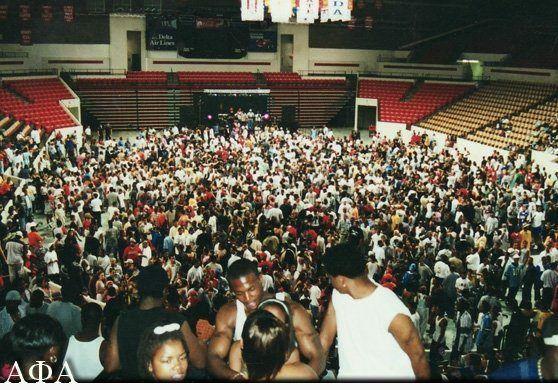 "Being in a fraternity, we did a lot of positive things and we did pursue our grades, but we partied," Jones said. "I'm not saying they guys can't party as great as we do, but I would challenge their ability to go back to the glory days of Georgia. I'll give them the books, we'll take the party."
Thinking on your feet
Over its 50 year course of history, the chapter's philanthropy, traditions and standards have changed minimally, but it has had to adapt to the changing pace and pulse of the student body, current chapter president Jeffrey Hendricks said.
Hendricks provides the chapter's longstanding "In His Memory, In Her Honor" program as an example.
Prior to his time in Alpha, the program, which is hosted by the chapter and designed to recognize the desegregation of UGA and Holmes and Hunter-Gault's journey entering the university, was "just a lecture series, where you sit down in a room and look at a PowerPoint and we tell you what happened," Hendricks said.
Seeing a decline in attendance for similar lecture-type programs, the fraternity responded by partnering with the Black Theatrical Ensemble to turn the program into an immersive, 4D experience where every attendee is treated as if they were Holmes or Gault.
"We're realizing what campus wants, or just what they don't particularly want, and trying to not be close-minded," Hendricks said. "We're willing to change and adapt. We're keeping our traditions and honoring them, but adding a twist to it to make them more engaging for the people who are here now."
Noting the fraternity chapter didn't have as many physical or social resources as other IFC or Panhellenic chapters during his time, Walter Kimbrough, president of Dillard University and a 1989 alum, said creativity and resourcefulness came along with the Zeta Pi membership—skills he still uses as a college president.
"We figured out how to do things that people had never done before," Kimbrough said. "That encompasses my entire memory of our chapter at Georgia—how do we do the things that nobody has ever done before?"
50 years and counting 
Fifty years of continued brotherhood is a monumental feat, but the fraternity still has room to grow, Kimbrough said.
"To celebrate that first black Greek chapter at UGA is another one of those milestones," Kimbrough said. "It's a moment in time where you have to look and say that 50 years later, what's the state of black Greek life at UGA? Student life? The percentage is still low. It's a moment in time to recognize, but it's not a time to note where we are and where we should be going."
Although Kimbrough noted chapter numbers have dwindled significantly since its first 10 years, of which Jones said were the strongest in the chapter's history, Hendricks attributes this to the chapter's prioritization of quality over quantity.
For black students at UGA, affiliation with a black Greek organization means so much more than siblinghood.
"What I think Alpha does and what I think black Greek life does, in general, is amplify who you already are," Mizelle said. "If you're a really good person, it's going to put a spotlight on you, and give you a platform that you need to make that action change."
Mizelle says the platform the chapter provides is the driving force behind most of the accomplishments he has achieved since joining the organization. Mizelle's affiliation led him to begin working with the Boys & Girls Club and to start his own scholarship for students at his high school, which is now in its second year.
---
"We used to laugh because people would always say 'Those damn Alphas,' and that was the best compliment you could get because there are very few of us."
— Walter Kimbrough, 1989 graduate of UGA
---
Hendricks also notes his affiliation with Alpha has played a significant role in a number of his academic and personal achievements. When he was in the interview process for his job as a football recruiting specialist at UGA, the employers were looking for applicants who were involved in different aspects of campus life and community. Hendricks's involvement with Alpha was a perfect fit.
"We used to laugh because people would always say 'those damn Alphas,' and that was the best compliment you could get because there very few of us," Kimbrough said. "Like how could they be doing all of this? You wanted people to say that because you were achieving at a level that people just couldn't believe."
Hendricks attributes the longstanding success of the chapter and its endeavors to their solid alumni network, "who set a good foundation 50 years ago, and they made sure that foundation wasn't lost."
"The only time you hear Greek life on the news is hazing allegations, or this person died or this person's in court—you only hit the negative when it comes to Greek life," Hendricks said. "There's still just as much good that comes from Greek life as those bad moments. When you get anniversaries like your fiftieth, you should take the time to honor them because they don't come around very often."