Tommy Valentine relayed his journey from being a "battle rapper" to a candidate for the ACC commissioner for District 9 at the Young Democrats of UGA meeting in the Zell B. Miller Learning Center on Wednesday, April 3. He lost to Ovita Thornton in the 2018 race for District 9 commissioner, 63 percent to 37 percent. 
Valentine, now the executive director of the Athens-Clarke Heritage Foundation, opened by candidly sharing the origins of his interest in politics and providing advice for those looking to run for office.
From college dropout to candidate
When Valentine was 20 years old, he dropped out of Georgia State University after dealing with depression and anxiety. He moved back to Athens, his hometown, and started a record label. Interested in politics but still "figuring [himself] out," he said he met Bobby Saxon at AthFest. Saxon was running for Congress and hired Valentine as his campaign manager when Valentine was 21 years old.
"For me, campaigns were a way you can find yourself," Valentine said. "And that's what happened to me."
After going back to school at UGA and working outside politics, Valentine decided to return to politics in 2014 after meeting with then-State Representative Stacey Abrams. Valentine said he started attending many ACC Mayor and Commission meetings and became friends "with almost every commissioner."
Valentine said the moment where he realized he wanted to run for office was when he was idling in traffic near Mama's Boy and saw a man "in rags, just in rags, in Dickensian level of poverty."
Valentine said he saw the man and sympathized with him, but moved on to work on a paper and forgot about the man. Once he was done with the paper, he walked down the stairs of the MLC and noticed that the janitor was the same man he saw earlier.
"Suddenly everything zoomed out," Valentine said. "Things I think I had been denying to myself became very relevant."
Months into Valentine's preparations to run for commissioner in 2016, Thornton announced she was running for commissioner.
"It's a weird situation to be in," Valentine said. "You have a campaign that's being led by [Valentine's campaign manager] Mariah Parker on progressive ideas. But then every night I go to bed thinking that if I wake up the day after the election and I've won, then that means a woman of color is not sitting on the commission."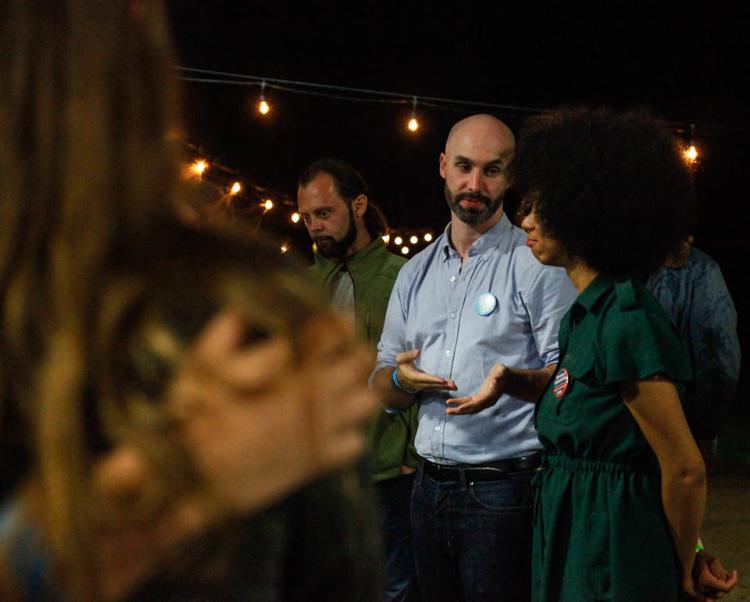 Valentine said despite losing the race to Thornton, "I still got to feel proud." Valentine shared an interaction from his campaign where he knocked on a woman's door. The woman cried, telling him he was the first candidate in 30 years to knock on her door.
"When you run as a progressive candidate, even if you lose, you win," Valentine said. "You knock on doors that people haven't knocked."
Advice for future candidates
Encouraging those in attendance who want to run for office, Valentine said not to let past mistakes overwhelm.
"You don't have to be better than everyone in the world," Valentine said. "You need to be better against whoever else is in your race."
Valentine offered a paradoxical reason why attendees should run for office: they are both special and not special. He said no one is special in that people have shared experiences, but that everyone is special in that everyone has unique capabilities. Valentine encouraged attendees to run for office on issues and not focused on opponents, mentioning that 2020 Democratic presidential candidates should not focus on an anti-Trump message.
The meeting was filled with attendees including William Harris, a freshman political science and international affairs major from Atlanta who enjoyed Valentine's discussion.
"I feel like it was really powerful and inspiring," Harris said. "You could really feel how genuine he was being in telling his story, how raw and vulnerable he was with us."