When Stephen Moore, an economic adviser to President Donald Trump, began his speech on "Why the left hates Trump's economy" he asked if anyone had a negative opinion of Trump, and no one raised a hand.
"Oh, nobody? Alright. You're my kind of audience then," Moore said.
Moore spoke to an audience of 30 attendees at an event held by The Young Americans for Freedom at UGA on Nov. 15. The economic analyst has been travelling the country to speak at YAF chapters about economics, said YAF at UGA chair Hannah Payne.
"We wanted to bring someone in who students could engage with and have a conversation. We thought he was a great person to do that," Payne said.
Moore discussed a range of topics such as the national debt, the economic relationship between the U.S. and China, free market economic policy and his relationship with the president.
Moore and the president
"The coolest thing I've done in my life… [I] was privileged to serve as a senior economic adviser to Trump during the campaign, which was a lot of fun," Moore said. He said he does not serve in government, but works on the White House economic council.
Moore said he had never met Trump before 2015, when the two met during the early stages of the 2016 presidential campaign. Moore said he knew all of the major Republican candidates except for Trump, whom he had "a negative opinion of" before they met.
"I thought it was a joke, I thought it was a publicity stunt or something like that," Moore said, referring to his first impression of Trump's campaign.
However, Moore said Trump "had an x-factor" in the sense that the then-presidential-candidate could convey a message to people in a powerful way. Moore compared this personality trait to that of former presidents Ronald Reagan, Bill Clinton and Barack Obama.
"I'm not here to sell you on Donald Trump... I always say there's the good, the bad and the ugly when it comes to Trump," Moore said.
Moore then praised Trump's energy level and said he enjoyed visiting states across the country on the presidential campaign.
Besides serving as an economic advisor to the president, Moore is a Distinguished Visiting Fellow at the Heritage Foundation, a conservative think tank. He previously worked with President Ronald Reagan's administration. Moore has appeared on national news networks such as CNN and Fox News as an economic analyst and has served on The Wall Street Journal editorial board.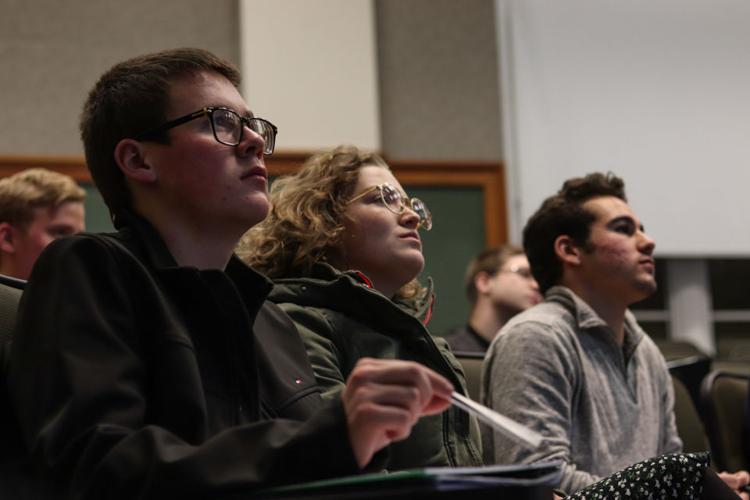 Economic discussions
When asked what the biggest economic issue was, Moore said it was the United States' economic competition with China.
"We're in a 'cold war' with China right now. … I don't have a problem with that if they can outcompete us, but they're doing it in ways that are… sort of cheating and stealing," Moore said.
Moore said China is increasing the size of its military and is stealing intellectual property of the U.S., saying it is "almost impossible" for U.S. companies to enter Chinese markets.
"We need to outcompete China, and we need to make sure they're playing by the rules. This is a good time to pick a fight with China because … we have a very strong economy right now and their economy is faltering," Moore said.
He said the second biggest economic issue was the $20 trillion national debt and privatizing the social security system.
Moore said the biggest factor that drives the national debt is "the aging of America," and the instability of programs like Social Security, Medicare and Medicaid. He said the Baby Boomer generation will retire in waves, which he called a "demographic time bomb" in terms of the effect on the national debt.
"If you look at these projections, it's kind of scary. Everyone's saying the debt's going to go through the roof," Moore said.
To reduce the national debt and federal spending, Moore advocated for the privatization of the Social Security program, the healthcare industry and education. He said Americans could opt of of Social Security and instead be required to allocate 10% of their paychecks to a personal retirement account. Moore urged the audience members to advocate for this reform as young people.
"The worst investment that you all will ever make... is Social Security. It's a horrible deal for you. You can do so much better if you just put your money into this private account," Moore said, "We believe as conservatives to let people have options."
Free markets
Moore criticized the economic policies of "the Left" and said that a free market system is superior to other economic systems. He claimed 52 percent of college students believe socialism is superior to capitalism. Moore said that fascism, socialism and communism "[are] all the same."
"I love when they call us fascists- they're the fascists. We want smaller government- they want more government control," Moore said.
The Trump economic council member disagrees with the president over issues such as tariffs and free trade. He called the current steel and aluminum tariffs "a total disaster" and said they are hurting American manufacturing. When he called the president a "protectionist" in a meeting, he said Trump became defensive and said he just wants "fair trade" and to make sure "other countries are playing by the same rules."
Audience reacts
Aubrey Gehle, a freshman landscape architecture major from Suwanee, said she "gained more awareness" from Moore's speech.
"I think I definitely have more respect for Trump and politics. I know my parents have been screaming about how the economy is a lot better, but I didn't really think about it much," Gehle said.