"We are more alike, my friends, than we are unalike," said Dawn Bennett-Alexander, quoting the poet Maya Angelou at the start of the gun policy discussion between Turning Point USA at UGA and UGA NAACP. Bennett-Alexander, the moderator and a professor of legal studies in the UGA Terry College of Business, stressed the ability "to disagree but not be disagreeable" as the purpose of the discussion.
"I believe that a part of our responsibility at UGA is to provide a space for a range of views to engage in reasoned, intelligent discussion, analysis and critical thinking on all sorts of things, and this happens to be one of them," Bennett-Alexander said in an email prior to the event.
About 70 students attended the discussion on Oct. 30. Both organizations had panels comprised of four speakers, who each had dialogue time. Time for audience input was also allotted. Along with the student organizations, UGA Student Affairs Multicultural Services and Programs department also facilitated the discussion.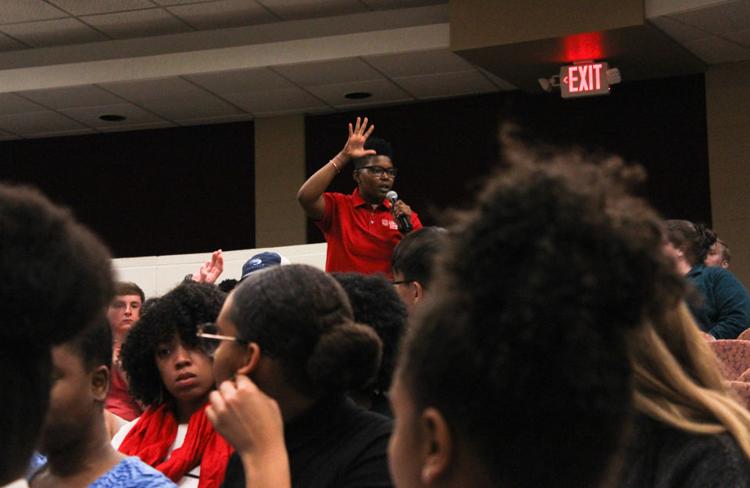 Over nine questions were posed to the panelists and also given to the audience for further input. The NAACP panel argued that a feeling of fear is generated by campus carry laws, which allow concealed carry permit holders to carry guns on college campuses in the state of Georgia.
"I don't think students should be in an environment that they don't necessarily feel safe in," said Asim Ahmed, an NAACP panelist.
However, Turning Point members argued that restricting guns on campuses infringes on the Constitutional rights guaranteed by the second amendment and that students feel safer when carrying guns.
"I want the opportunity to defend my own life, even if I'm not a trained soldier. I believe I have that right," said Benjamin Haws, a TPUSA panelist.
The conversation shifted to gun-free zones, or areas where guns are not allowed by law, with exceptions such as police officers.
"I don't think everybody should be guns ablazin' 'Wild West' … but I do think people would benefit from the right people having guns in their hands, carrying in public [and] making sure that they could stop some of these things from happening," said Anna Tankard, a TPUSA panelist.
TPUSA argued for the abolishment of gun-free zones in places like schools, claiming armed people can protect the occupants of current zones with guns.
Ahmed countered the claim that armed people can "save the day" when it comes to emergency situations. He challenged the legitimacy of TPUSA's data, calling it "cherry-picked."
"This idea of creating facts and creating statistics to push your agenda is something this side [TPUSA] constantly does. That was something that was just done clearly," Ahmed said.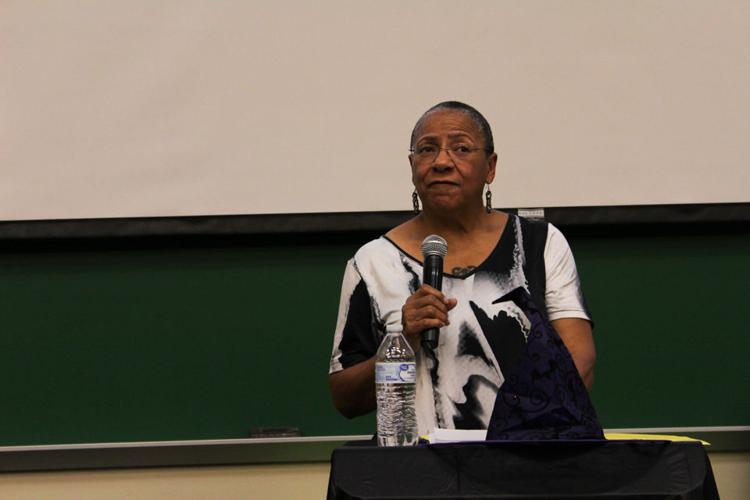 Yet Bennett-Alexander cut in, saying she didn't want terms like "this side" or labels prescribed in arguments. She interrupted NAACP panelist Zane Malas later in the discussion when he said members of TPUSA, the GOP and the NRA do not support stricter gun regulation.
"That's not what we're here for," Bennett-Alexander said.
While Malas tried to recover, TPUSA panelist Haws interjected.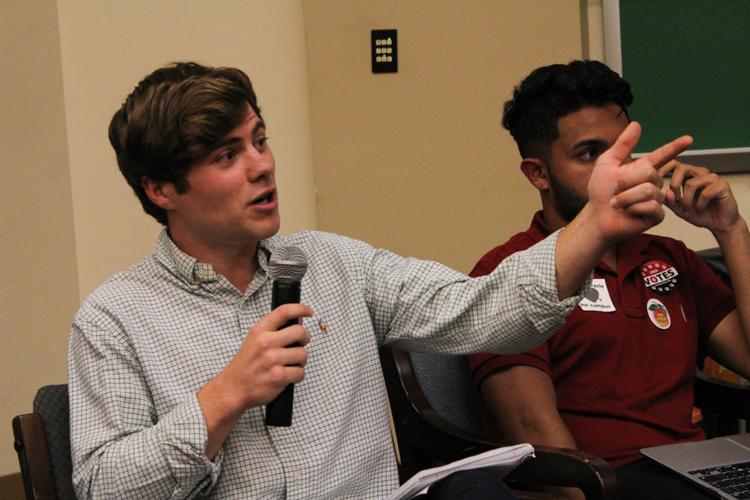 "You're incapable of completing an argument without resorting to an ad hominem attack," Haws said, with the applause of some audience members.
Areas of agreement
Despite obvious differences, TPUSA and NAACP members agreed that action was necessary in multiple fields concerning gun policy, from mental health reform to concerns that mass shooters perform attacks due to mass media coverage of shootings.
"I do believe we all agree on regulation. No one believes in a complete gun ban, like somebody said they want less guns," said Yunus Ahmed, a TPUSA panelist. "I don't think anybody is arguing for more guns. We just need specific regulation to be able to keep our country safe."
Ahmed repeated the importance of "defining [gun legislation] terms" and interpreting the second amendment, especially through the judicial process.
Along with the panelists and Bennett-Alexander, audience members said the discussion was constructive.
"I thought it was great. I thought both sides made a lot of great points and that this kind of discussion needs to be happening at a national level," said Parker Marlow, a junior business management major from Cumming.
In her closing statement, Bennett-Alexander said the purpose of the discussion was fulfilled.
"I have worked on Capitol Hill and I have worked in the White House," Bennett-Alexander said. "Let me tell you how incredible what you did is because even at those levels, that's not what's happening. People are not listening to each other. People take their passion and run away with it."