Charlie Kirk received applause after denouncing the methods of teaching at U.S. colleges and universities.
Schools are forcing students to take classes in courses not directly related to their major, he said, before criticizing professors for making students buy textbooks that they themselves authored.
"We have useless degrees in humanities and sociology that are absent of any sort of critical thinking," Kirk said.
Kirk, founder and executive director of conservative organization Turning Point USA, was speaking to a crowd of about 200 in Sanford Hall as part of his "Hard Truths" tour across college campuses.
The event, held at 7 p.m. on April 3, was put on by the University of Georgia's chapter of TPUSA. Kirk and the audience members argued about a variety of issues, including immigration, gun control, economics, healthcare, race, the Israeli-Palestinian conflict and the Republican Party.
Erin Cooke, president of UGA's TPUSA chapter, was pleased with the event's size and conversation.
"I think it was a great turnout," Cooke said. "I think there were great questions on both sides of the issues, I think that Charlie was really challenged, and I think that was great, I love to hear that dialogue."
The organizers of the event distributed flyers, stickers and buttons promoting TPUSA's ideals. Large posters at the front of the room bore slogans like "Commies aren't cool" and "I'm pro-choice. Pick your gun."
A conservative conversation
Cooke also noted students would be able to relate to Kirk more since, as a 24-year-old, he's only a little older than most college students.
"I think that having a young person come to campus and talk about issues that we care about is very important," Cooke said.
Speaking on race issues, Kirk claimed that black people are worse off now than they were in the 1960s, justifying it with statistics about black single motherhood.
"White privilege is racist. White privilege is a lie," Kirk said.
Regarding immigration, Kirk said that Democrats should compromise on Deferred Action for Childhood Arrivals by supporting the building of a border wall in exchange for the Dreamers, or DACA recipients, to stay in the U.S.
"[Democrats] want another 10 million illegal immigrants to have five kids each, and be the future base of the democratic party," Kirk said.
Going after media organizations, Kirk called CNN "fake news" and referred to the Washington Post as "the Washington compost."
The audience, consisting of supporters and detractors, lined up to pose questions or challenge the speaker. Although Kirk started off with somewhat of a structured speech, he spent most of the time debating those in the crowd, as the audience steadily dwindled. In total, the event lasted almost three hours.
"I think Charlie Kirk is very articulate but extremely misguided," UGA advertising major Tyler Boozer said.
One speaker identified herself as a member of the Libertarian Party in Athens. Kirk advocated for libertarianism as an influence on mainstream conservatism but said libertarian candidates can be harmful by splitting the vote on the right.
"I think the best use of libertarians is to try to make the Republican Party more libertarian, which has been successful," Kirk said.
When arguing with a student who was a self-identified Marxist, Kirk claimed Marxist professors were widespread among U.S. colleges, and that Karl Marx was taught more than capitalist theorists like Adam Smith.
"[Marxism] is the predominant philosophy in most colleges and universities, and postmodernism is a blend and a tangent of Marxism," Kirk said.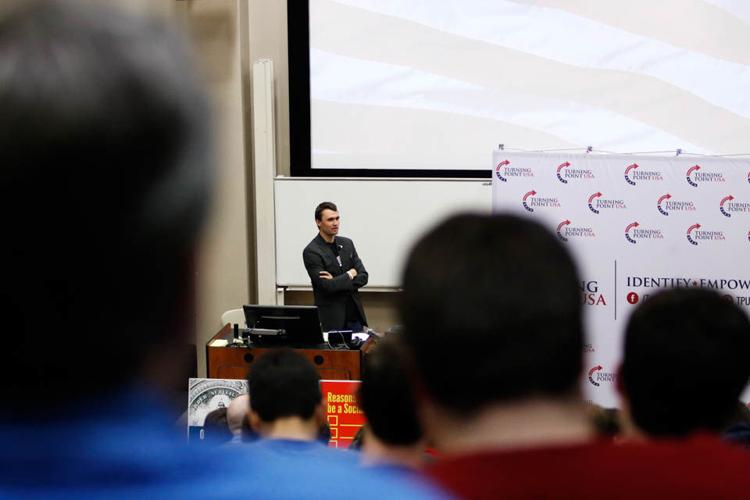 Involvement on campus
The recent Student Government Association election at UGA involved controversy concerning TPUSA. Andrew Lawrence, former presidential candidate of the Deliver ticket, said he was offered campaign funds by the organization as part of their "Campus Victory Project."
He was also the social media chair for the UGA chapter of TPUSA before resigning to run for office. Representatives from the campus organization supported his ticket, but the organization did not officially endorse him.
In a December 2017 New Yorker article, a brochure obtained from a former TPUSA employee outlined the "Campus Victory Project," detailing a plan to fund Turning Point allies in student government races to win top positions at a host of colleges.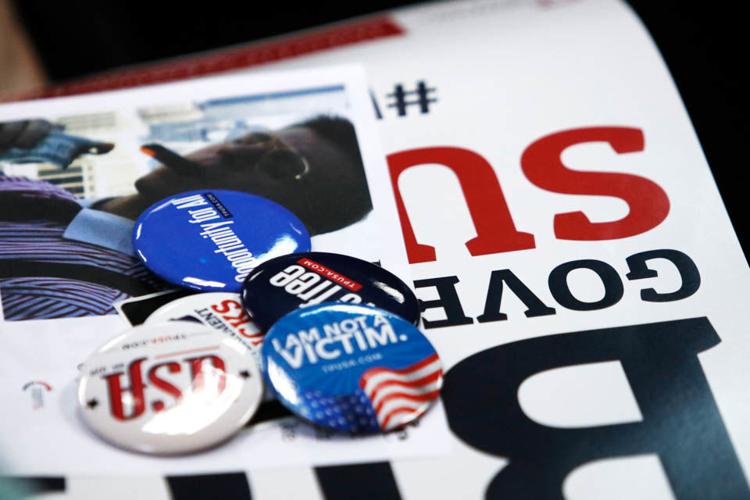 Once in power, TPUSA wants its allies to promote specific policies, such as defunding progressive organizations, removing barriers to hate speech and blocking boycott, divestment and sanctions (BDS) movements, according to the documents obtained by the New Yorker.
At the University of Maryland, candidates have been disqualified because of TPUSA assistance. A similar incident at Ohio State University resulted in the resignation of several campaign operatives.
The brochure also listed over 50 universities across the country where TPUSA had won victories in 2016-2017, including UGA, though former SGA President Cameron Keen denied receiving help from the organization.
The SGA election code was updated this year to specifically bar candidates from receiving physical assistance from 501(c) groups, Political Action Committees and registered student organizations at UGA.
Kirk initially would not give comment to The Red & Black regarding student government elections, but said, "We support our students to defeat radical leftists on campus."
TPUSA offered to fund the Deliver campaign at the Turning Point Student Action Summit in West Palm Beach, Florida, in December, though Lawrence said he did not accept the offer and the representative did not give him a name or contact information to follow up.
"No name, nothing. It was a very strange encounter. It was almost as if they were weary of my motives, interacting with them, whether or not I would just … turn on the organization," Lawrence said.
According to financial disclosure forms for the Deliver ticket, Lawrence financed the campaign in full, providing $1,500, the maximum amount allowed for a campaign to spend, set by the SGA Elections Code.
"I don't care what the hell [Lawrence] says, I don't know who he is," said Kirk, when asked if his organization supported the Deliver ticket.
---
Olivia Adams contributed to this article.