"Negro Students Prepare for Wednesday Classes."
On Jan. 10, 1961, The Red & Black ran an extra edition of the paper with that headline printed in large type across the front page.
Tom Johnson, who covered the story, recalled the palpable tension on campus, with "the eyes of the nation on Athens."
"Most of the students recognized that this was a significant moment in the university's history," said Johnson, who went on to serve as the president of CNN. "There was such widespread publicity and enormous presence of national media in Athens at the time."
Johnson was a student at UGA from 1959-1963 and watched as Charlayne Hunter, now Hunter-Gault, and Hamilton Holmes desegregated the university after a federal court order that narrowly prevented the governor from cutting off the university's funding.
On Thursday, Feb. 18, United States Congressman Sanford D. Bishop Jr. will deliver the 31st Holmes-Hunter lecture, named for the trailblazing students and scheduled as part of UGA's Black History Month programming.
---
"If anyone had given [Hamilton Holmes] and me a crystal ball into which we could have looked to the future 40 years hence and seen only six percent students of color in a student body of 34,000, I think we might have sat down under the Arch and cried."
-Charlayne Hunter-Gault
---
Fifty-five years after the  desegregation and the gradual increase in diversity that followed, those who witnessed the event still see room for growth.
"I don't think that any university in the country has really met the expectations of the people who were fighting for equality," Hunter-Gault said. "I think we have a long way to go to reach the point where every child can look forward to an education at the highest levels that are offered in this country."
Phases of change
The 1960s were a tumultuous time across the United States and one of rapid changes for African Americans — including those in Athens.
Anna Simmons was born in Athens in 1931 and moved to Boston when she was young. Each year, she would return to visit the Classic City.
Once, when she was visiting, she walked to the back of a bus, only to be told by her brother that she could now sit wherever.
Whites saw and felt the changes too.
Chemistry professor emeritus Norman Allinger left Detroit in 1968 to come teach at UGA.
"In Detroit, there were more black students than here, but you could look around and see fires burning all the time [because of race rioting]," Allinger said.
When Holmes and Hunter were registering for classes at UGA, Johnson remembers state legislators calling fraternity members, urging them to resist the integration.The Red & Black referred to the desegregation as a "crisis."
Eventually, Johnson said the campus settled down, but the racial composition of the student body did not "change a great deal."
---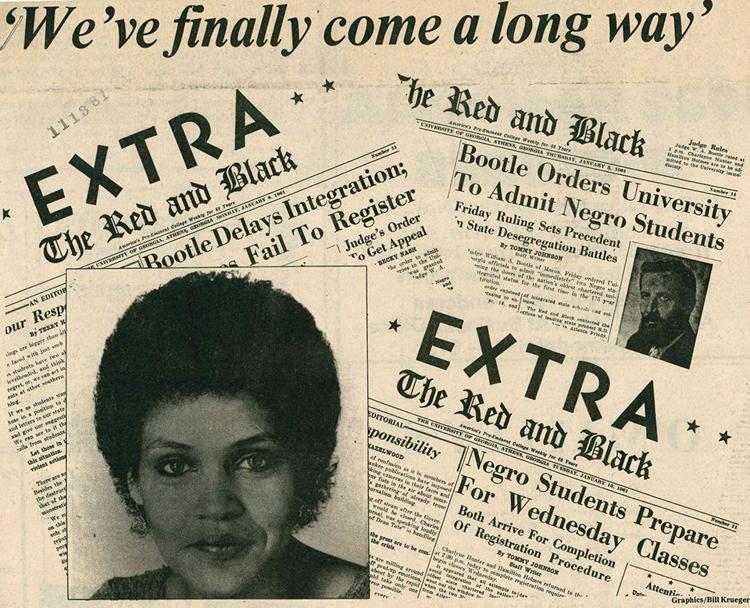 1961 Red & Black
---
In 1972, when linguistics professor Jared Klein started teaching at UGA, only about one in 30 students in a classroom was black, he said. He was first struck by UGA's lack of diversity at the time when he read about Horace King, one of the first black football players at the university.
"Black students were reticent to come," he said. "Beside the first pathbreakers that came, the average African-American parent was not keen to send kids somewhere without students that looked like them."
Victor Wilson said he was terrified when he started at UGA as a student in 1977.
"The reason it was terrifying for me wasn't because I was an African-American student coming to a predominantly white institution, because I went to high school where most of my friends were white," said Wilson, UGA's vice president of student affairs. "It was terrifying because of the inordinate amount of mostly African-American folks who told me not to come here."
Wilson said people referred to attending UGA as going "up there." Despite this, Wilson was a pre-med student and fell in love with UGA after visiting for a high school conference.
But in his first days on campus, he experienced racism.
"In the first few days, I went downtown and was walking down Lumpkin [Street] when someone yelled out of one of the fraternity houses and called me the n-word," Wilson said. "I kept walking and thought, 'I am OK and they are the ones that are really ignorant.' It was like an eggshell had been broken. I could survive it and be bigger."
The eggshells did not break so easily in classrooms though, where Wilson said race was a taboo subject.
"Students today are so lucky that whether it is tense or easy or painful, you all can talk about it," he said. "We didn't talk about race. The black students didn't talk about it because we were so happy to be here. We were only 16 years behind the university being desegregated. We didn't talk about race because we knew it wasn't a top agenda item for our student colleagues. Everyone just kind of got along."
Around the university's bicentennial in 1985, when Holmes returned to the university as a UGA Foundation trustee, Wilson began to see a shift toward more open dialogue about diversity.  
"When Hamilton Holmes first came back to the university, that was really symbolic for a lot of black students," Wilson said.
After the addition of the HOPE Scholarship in 1993, Klein said he also saw an increase in diverse enrollment at UGA, calling it a "watershed moment." He said it made UGA financially attractive for students considering historically black colleges and universities.
Wilson said he is most proud of helping convince former UGA president Michael Adams to have the Academic Building on campus renamed to the Holmes-Hunter Academic building in 2001.
Relationship with the community
While the university slowly began to look more diverse after 1961, the community in Athens had always been multiracial.
As a student, Holmes lived with a black family in Athens and "would play ball" in the black community, Hunter-Gault said.
"When he would leave school, where he was doing stellar work, he had a lot of interaction with the African-American community," she said.
On the contrary, she had been told to be careful and stay on campus until hostilities died down. However, on campus she was met with taunts and a brick thrown into her dorm room in Myers Hall.
Those in the community were aware of the violent situation on campus.
Mary Thrasher grew up in Athens during the Great Depression and remembers hearing about UGA's integration.
"I remember when me and my husband lived in Oconee County and when we came down Lumpkin Street, you almost wondered if you were going to see a fight," Thrasher, who is white, said of 1961. "Things seemed to calm down once [Holmes and Hunter] got in."
Even in later decades, the city remained divided along racial lines.
Chester Malanoski moved from New York to Athens in 1976 and said students today would not believe the attitudes at the time.
"There was some belief that you couldn't associate with black people, and I couldn't buy into that personally," Malanoski said. "The differential seemed like it was an accepted fact of life that I saw in the students."
When Wilson attended UGA, he said many black students felt more comfortable in the Athens community, going to church and getting their hair cut off campus.
"For a lot of black students to find their black community and to hear their music they had to go off campus to local establishments," he said.
In the 1980s, Wilson also saw a dichotomy between UGA and the community.
"There was a little bit of angst," he said. "Some people in the black community saw us as sell-outs. I used to say, 'It isn't a white institution if I am there. The only way to change it is to have more of us here.'"
With events like the annual Martin Luther King Jr. Freedom Breakfast and more students of all races volunteering in Athens, Wilson has seen the community attitude change.
"The proverbial fence has come down," he said. "I don't think students here are seen as whitewashed anymore."
What's left to accomplish 
In 2001, when Hunter-Gault delivered the annual Holmes-Hunter lecture, she shared her disappointment in the low percentage of students of color at UGA.
"If anyone had given [Hamilton Holmes] and me a crystal ball into which we could have looked to the future 40 years hence and seen only six percent students of color in a student body of 34,000, I think we might have sat down under the Arch and cried," she said at the time.
Sixteen years later, the student body is 8 percent black out of approximately 36,000 students. But Hunter-Gault still sees progress.
"There are many institutions where the percentages are smaller than they can or should be, but students of color have found a home and found a place where they could realize their dreams," she said. "I know there are issues that young people of color are facing on campuses, most recently highlighted by the issues at the University of Missouri, but I have heard of microaggressions for many years."
---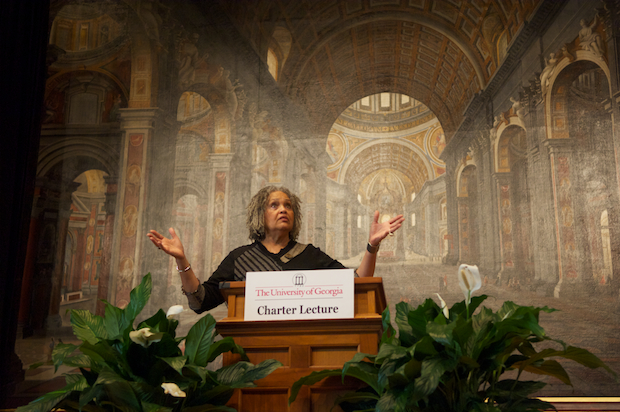 Photo by John Roark
---
Wilson has also seen others, like himself, find a home at UGA.
"I tell students of color all the time that their reservoir of loving this place is no different than anyone else's. You can come here and 'woof, woof, woof' just as loud as anyone else and that doesn't change because of the color of your skin," he said.
In the future, Wilson would like to see a greater critical mass of African-American, Hispanic and Latino, and Native American faculty members at UGA, in addition to greater financial support from African-American alumni.
"I know alums who said they had a wonderful experience but aren't giving," Wilson said. "I am a donor so I go to donor events but it is frustrating because I am sometimes the only African American there. We need to get those alums from the '70s and '80s back and engaged."
Despite the numbers, Hunter-Gault said she believes UGA has shown a commitment to increasing diversity. And Wilson agreed
"There is an old quote that goes something like, 'I may not be what I should be, I may not be what I want to be, but thank God I am not what I used to be.' I think that applies to the University of Georgia," he said.