On Oct. 8, senior computer science major Richard Red's walk to class was interrupted by the sound of a gunshot, "someone screaming their lungs out" and a woman sprinting out of a room to get help. A few minutes later, senior computer science major Jack Towery recalled the smell of gunpowder in the hall and frantic shouts of "gun, gun!"
A University of Georgia student had accidentally shot himself in the leg in a student lounge in the Chemistry Building just before 2 p.m., according to a UGA police report.
UGA police responded to a call for assistance to the building, according to UGA spokesperson Rebecca Beeler. The student was transported to a hospital after emergency medical services responded.
"Oddly enough, everything went back to normal. No lockdown, just back to class," Towery said. "With no UGA alerts, the day went on as if nothing happened."
On Oct. 14, UGA police issued an arrest warrant for the student for one misdemeanor charge of reckless conduct, according to a second police report.
UGA spokesperson Greg Trevor said the investigation found the student "unsafely handled the weapon outside of the holster, which caused the accident to occur" in an emailed statement.
The incident drew attention and questions from UGA students on social media. A portion of students admitted they didn't know the campus carry legislation existed while others misinterpreted the details of the bill.
Dagney Crowley, a sophomore biological engineering major, was not aware of the bill until the recent accidental shooting on campus.
"No one told me about it. I didn't receive any emails or training," Crowley said. "Without the recent incident, I wouldn't have known."
House Bill 280
House Bill 280, widely known as the "campus carry" law, allows any licensed individual to carry a concealed handgun on public college and university campuses. The legislation went into effect more than two years ago on July 1, 2017.
In 2016, former Gov. Nathan Deal vetoed the first proposed campus gun measure, House Bill 859, after lawmakers refused to include restrictions to the legislation. After negotiations to bar guns from on-campus child care facilities, faculty and administrative office spaces and disciplinary meetings, Deal signed HB 280 in May 2017.
Ten other states have also adopted similar laws allowing concealed guns on college or university campuses, including Mississippi, Oregon and Texas. In 23 states, such as Arizona and Ohio, the decision to ban or allow guns on campus is left to the individual university or college. There are 16 states that ban carrying a concealed weapon on campus, such as North Carolina, Florida and South Carolina.
The legislation allows handguns on campus but not other types of firearms. Handguns are restricted from areas such as buildings and properties used for athletic sporting events in which intercollegiate games are held. 
Student housing facilities, fraternity and sorority houses on UGA property as well as spaces used for childcare are also areas where concealed carry is prohibited. Handguns are not permitted in faculty or administrative offices or rooms utilized for disciplinary hearings.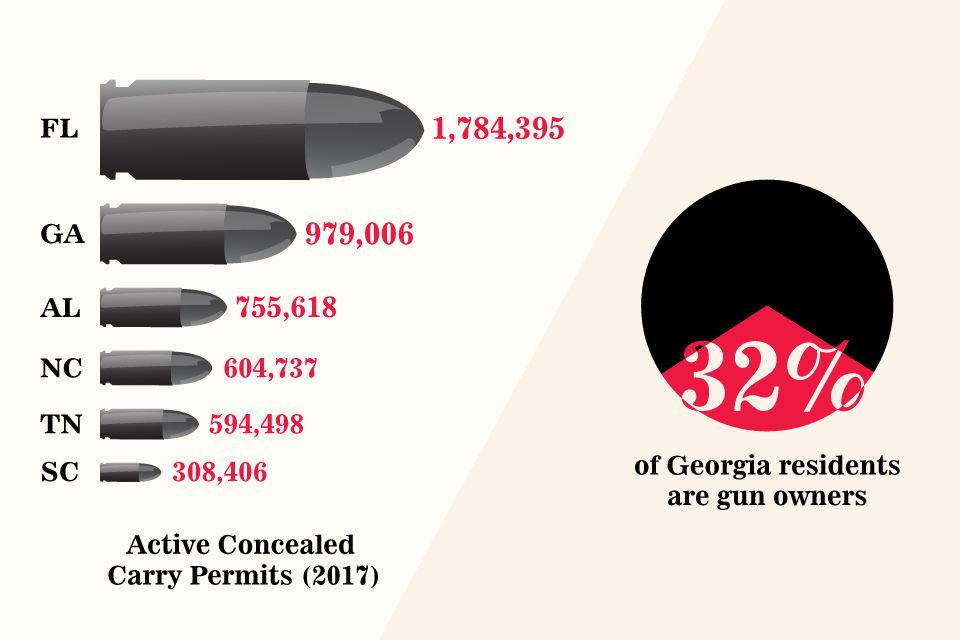 A divided student body 
On the day of the Chemistry Building incident, Red posted news of the shooting on a Facebook group page. The post received hundreds of likes and comments — some students debated the safety of the bill, others supported it. 
While the Facebook post went up almost immediately, the university did not send out any immediate response to the incident.  
Crowley engages in "shooting as a hobby" and said guns on campus don't make her feel any less safe. She argued the debate should be focused on gun training, not whether guns on campus should be allowed.
"I just believe those who will carry on campus should be registered with the school and take a training on safety precautions," Crowley said.
The idea of promoting gun training for licensed owners rings true for Parker Marlow, a senior business management and international business major and the president of UGA's chapter of Turning Point USA, a conservative activist group on campus. Marlow said an accidental shooting "should never happen if you know how to carry correctly."
An advocate for campus carry, Marlow has undergone NRA gun safety training and recommended the program to others. Though he does not believe training should be required by law, he agrees it is the logical "right step" for those who choose to carry on campus.
"Society should say, 'If you're going to carry, you should do these things,'" Marlow said. "It's about being smart."
For others, training is not enough to subdue their worries with campus carry legislation.
Tanisha Ghosh, a senior health promotion and behavior major, said the bill negatively impacts the health and safety of students.
Only a year ago, Ghosh heard of the campus carry law and felt as if she had to "watch her back" on campus. She said the accidental shooting on campus "proves" the bill was a mistake and many others could've been hurt.
Ghosh said there is an irony with UGA lab policy barring students from wearing shorts or open-toed shoes in a lab ­— yet the state allows handguns into a science building or lab.
"I hope more people pay attention now. Gun violence is a public safety issue and its impact on mental health is irreversible," Ghosh said.
Fears in the classroom
Ivan Ingermann, UGA faculty member and founder of "Keep the 'G' Gun-Free" Facebook page, was raised on a farm in Florida in a family of gun owners. However, he doesn't believe guns belong on university campuses.
Ingermann was among a group of faculty who rallied against the proposed campus carry bill in 2016.
"I opposed the bill then, and I still believe it's ridiculous," Ingermann said.
Ingermann teaches graduate students and said he worries for the safety of his students and himself during lectures. Sujata Iyengar, a UGA professor and member of Moms Demand Action in Georgia, an organization that advocates for tighter gun restrictions, shares the same concerns.
"I've had students come in with anxiety about guns in the classroom," Iyengar said. "The law affects academic learning."
In Iyengar's home, the campus carry law has a broader effect. She said her children kiss and tell her they love her each morning before she leaves to work because they know "where mommy works, guns are allowed."
Both professors are also advocates for a movement in gun safety training. When Ingermann first heard of the accidental shooting on campus, he thought to himself — "so it begins." He said his fear that the law would yield dangerous results came to life.
Iyengar hopes the recent incident in the Chemistry Building brings the issue of gun violence to light.
"I used to say I could advocate for my children to enroll at UGA 100% — now I can't," Iyengar said.
Next steps
Marlow hopes Turning Point USA will host another school event with an NRA representative to give a workshop on firearm safety. He said his parents "drilled" him about firearm safety and treating firearms with "respect" — he hopes others become educated as well.
Ghosh aspires to rally those opposing the campus carry law to bring about a change in Georgia and its legislation. She said she will not feel fully safe or comfortable as long as guns remain on campus.
"I hope the public takes an active role in holding our state governments accountable for this hazardous piece of legislation," Ghosh said.
---
Correction: A previous version of this article incorrectly stated that Georgia was the first state to allow campus carry. The Red & Black regrets this error, and it has since been fixed.