Abby Short, a local woman driving a two-door Chevrolet Cobalt, made a call to 911 around 9 p.m. April 27.
"The car swerved in front of me, and I couldn't stop," Short said in the call.
Kayla Canedo, Brittany Feldman, Halle Scott and Christina Semeria were in the other car, along with the driver Agnes Kim. The women lived in Russell Hall with Kim, who was their resident assistant last year — the four women's freshman year at the University of Georgia.
Canedo and Semeria joined Greek life as sisters of Alpha Chi Omega. Scott joined Delta Delta Delta and Feldman joined Pi Beta Phi. The women and their former RA all became involved in other organizations around campus, but a year later the Bulldog Nation came to know all five girls more than anyone expected.
Loss of life
At 8:55 p.m., Kim's Camry crossed the center-line on Highway 15 in Oconee County, crashing into Short's car, which was oncoming in the opposite direction.
The Oconee County Sheriff's Office was dispatched to the scene at 9:05 p.m. and arrived at 9:25 p.m.
Canedo, Feldman and Semeria were found dead at the site of the accident. The three had been seated in the back of the car, but according to the report none of the back airbags deployed.
Scott was seated in the passenger seat and was transported to Athens Regional Medical Center where she later died.
Kim, the driver of the Camry, was transported to Athens Regional Medical Center, where she remains in critical condition as of press time.
"During this time of tremendous sadness, let us come together as a UGA family and take care of each other," President Jere Morehead said during his press conference at the UGA Administration Building on April 28.
One family
Around midnight Wednesday, April 27, word about the accident began to spread throughout the UGA community, and students started to gather at the Young Life center on Baxter Street. Though the names of the students involved had yet to be released, students pieced together what they knew and recognized who was missing from the community.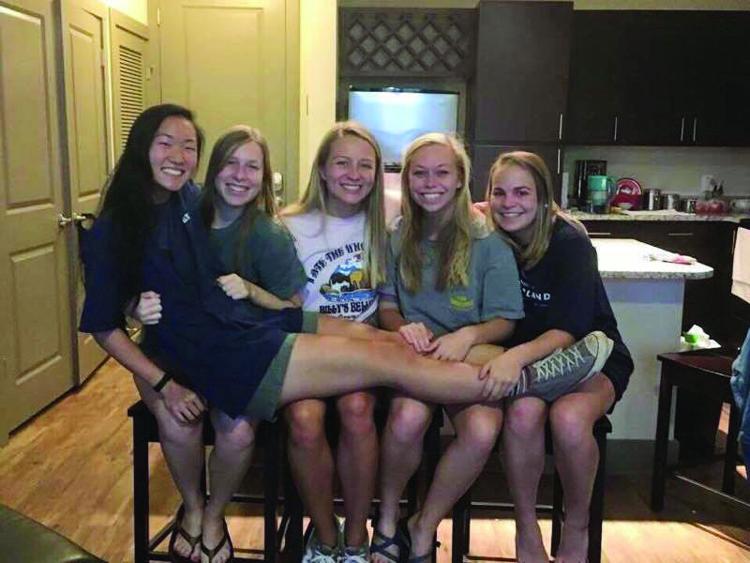 People remained at the Young Life Center throughout the night, praying for the families of the girls who had died and for Kim's recovery.
As the day began April 28, students gathered together across campus in places such as the Tate Student Center Plaza and at different sorority and fraternity houses to pray, reflect and remember their fallen and injured classmates. The largest of these crowds overflowed Tate Plaza around 5 p.m. April 28, as hundreds of students came to celebrate the lives of the four women who died and to pray for Kim to recover.
"This size crowd shows the strength and resolve of our community and our ability to come together in the face of unspeakable tragedy," said Houston Gaines, president of the Student Government Association. "To end the year and the semester this way is so painful for our campus to experience, [but] to see our community coming together with such strength however gives hope and makes us all proud to be part of the UGA community."
The feeling of the campus was solemn and a cloud hung over the students as they cried for the four women who died and wished for the recovery of the fifth.
The women's sorority sisters spoke about their lives and how the loss would be felt in the community.
All along Milledge Avenue, where many Greek houses are located, other sororities and fraternities showed their support for Alpha Chi Omega, Delta Delta Delta and Pi Beta Phi, and for the families of Canedo, Feldman, Scott and Semeria by hanging black banners from their houses in a statement of solidarity and mourning.
Both Scott's and Semeria's brothers are members of the fraternity Sigma Nu.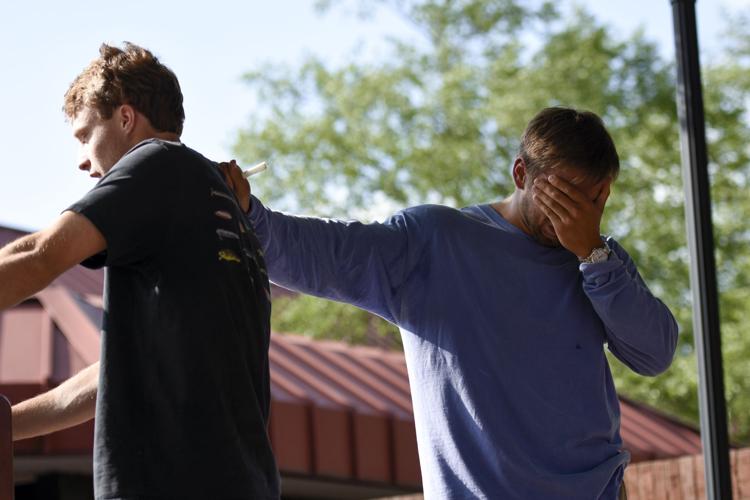 All five girls were involved in other campus organizations, and many of these­­­­­­­­­—even ones the four girls did not participate in—showed their solidarity by posting messages on Facebook.
The UGA Catholic Center extended its condolences to the families and loved ones of the girls who died.
"The loss of any person is truly saddening, especially when they are part of our UGA community," the center's Facebook post read.
Student athletes such as Jacob Eason and Brice Ramsey as well as Georgia head football coach Kirby Smart and head women's and men's basketball coaches Joni Taylor and Mark Fox also expressed sentiments for the families on social media.
At 11 a.m. April 28, Morehead released a statement about the accident.
"We are deeply saddened to learn of the heartbreaking and tragic loss of four students and critical injuries to another student in a terrible car accident," Morehead said in the statement. "We extend our deepest condolences to the families and friends of our students who were victims. We ask that you keep these students and their family and friends in your thoughts and prayers."
UGA strong
The morning of April 28, Morehead spoke to the grief of students and the way the UGA administration would help students in mourning. The University Health Center's Counseling Support Services were detailed on the homepage of the Student Government Association's website as well.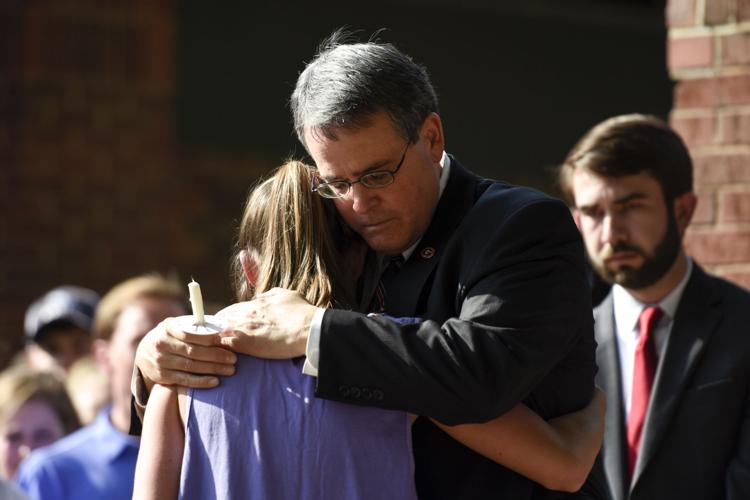 And the loss was felt through the state, as Gov. Nathan Deal ordered flags to be flown at half-staff and other universities reached out to show support.
Georgia Southern University, which lost five of their students in a car accident on April 22, 2015, tweeted and also made a statement. On the university's licensing page, it included a feature photo of an eagle with a single tear, recognizing and understanding the loss felt by UGA.
"We know how deeply this impacts a campus and a community," the photo's caption read.
In addition, the editor-in-chief of Georgia Southern's student newspaper, The George-Anne, wrote an email to the editors of The Red & Black showing its staff's support for the paper during its coverage of the tragedy, as well as its support of the UGA community during a time of loss.
As news organizations covered the tragedy, many made their own graphics with hashtags such as #PrayForUGA and #UGAStrong.
And support across the country had not dwindled as of press time, with families still in mourning and Kim recovering in the hospital.
Moving forward
With finals and graduation approaching, a tragedy of this magnitude was the last thing on anyone's mind.
Kim is set to graduate. Canedo, Feldman, Scott and Semeria had more college memories ahead of them. As the school year comes to a close and students go home, there will be a feeling of melancholy and loss in the hearts of the Bulldog Nation.
Multiple funding pages were created to cover funeral costs for the families and to support causes that the girls would have supported had they still been living, such as a campaign started by the YMCA in honor of Canedo and Feldman to send underprivileged children to Camp High Harbor. Both girls worked for the camp during the summer.
Student despair remained evident on campus even through the weekend. Some students went home to attend memorials and visitations for Canedo, Feldman, Scott and Semeria.
A visitation for Scott was held May 1, one for Semeria May 2 and a joint memorial service was held on May 3 for Canedo and Feldman, who by many accounts had been inseperable since childhood.
Other students who remained in Athens over the weekend continued to send thoughts and prayer for Kim, as she has remained in a coma for more than 120 hours 9 p.m. May 2.
A prayer service was also held April 29 to show support for Kim who remained in the hospial as of press time.
"It's been a hard day for a lot of people. We're here to come together and pray for healing for our dear friend," Huffman said. "We are fighting, but she is fighting so much harder."
CORRECTION: In a previous version of this article, it said Halle Scott was a member of Pi Beta Phi and Brittany Feldman was a member of Delta Delta Delta. The Red & Black regrets this error.