Over two weeks into a fall semester that's been massively altered by COVID-19, the University of Georgia is still attempting to control the spread of the coronavirus.
UGA's current contact tracing plan is a partnership between UGA and the Georgia Department of Public Health, according to documents from July. Dr. Garth Russo, UGA's COVID-19 point of contact, is supposed to report any cases to the DPH and conduct an initial case interview. The DPH will then conduct a more thorough case interview and investigation, according to July guidance to UGA. 
Sam Lindner, a junior exercise and sport science major, tested positive for COVID-19 on Wednesday. He said someone from UGA called him Friday and asked about where he was quarantining and how long he was going to stay there.
"They didn't really ask who I was in contact with or anything like that," Lindner said. UGA students are required to give a list of anyone they've been in close contact with in the past 14 days when they log a positive COVID-19 test result into DawgCheck, UGA's screening and notification tool. 
"You could almost not even write down anyone if you really wanted to," Lindner said, adding that the professors of anybody you write down would be notified. 
Contact tracing is usually an after-the-fact process — tracers work to find and notify people who already had contact with someone who tested positive for COVID-19. An app called NOVID that students at the Georgia Institute of Technology are using this fall aims to warn students if there are positive cases around them before they come into contact with them.
UGA is not currently using a contact tracing app. It's unclear whether the university plans to endorse one in the future. Instead, it uses the COVID-19 screening and notification tool DawgCheck, UGA spokesperson Greg Trevor said in a Sept. 3 email. 
UGA community members are required to report a positive COVID-19 test into DawgCheck, which is composed of several Qualtrics surveys. Students, faculty and staff are supposed to complete the Check for Symptoms survey, which asks if they have any COVID-19 symptoms or have been in close contact with someone who's tested positive, every day. There are no consequences if they don't.
NOVID uses Bluetooth to find other phones that are using the app. Once it finds a phone, it sends high frequency sounds to determine how far away the phone is, said Po-Shen Loh, the app's creator. If a user is within 6 feet for 15 minutes of someone else who is running the app on their phone, the app logs it anonymously. 
This network of connections is visualized in the app and lets people know how many cases there are up to 12 people away without revealing anyone's identity. Loh said the preemptive nature of the app was unique and lets people see what COVID-19 looks like in relation to themselves. 
"You get to find out if it's getting COVID hot right around you," Loh said. "And if you see that it's getting hot, then you might actually want to make sure you've got that mask on before you go out."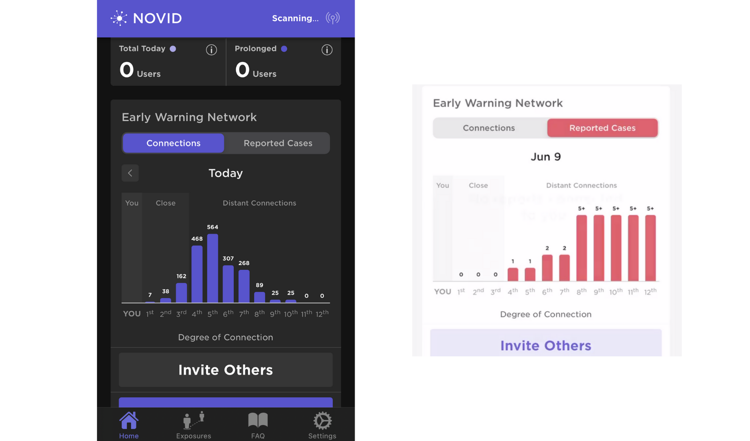 NOVID also sends exposure notifications after the fact. If someone later logs a positive test result into the app, NOVID sends an alert that users may have been in close contact with them and gives advice on isolating and getting tested for the virus.
The app was endorsed by Tech's Student Government Association and approved by the university administration. Loh said Tech's administration reached out to him to review the app before promoting it to students.
UGA sophomore Mira Ratchev said she thinks UGA should also encourage students to use the app. She said people in her dorm were sent into isolation, which she only heard from her dorm's GroupMe. If students were using NOVID or a similar app, Ratchev said she might have seen it and had a better idea of whether she needed to isolate herself. 
"I definitely think UGA should encourage everyone to download [the app]," Ratchev said. "I think it would either help give people peace of mind or make people a little more aware, maybe a little more healthfully paranoid."
Not a perfect app
NOVID does have some drawbacks — some students say its effectiveness decreases because not enough people are using it, and the app could be more user-friendly.
Sophia De Lurgio, a third-year industrial design major at Tech, said she downloaded the app with the intention of using it when she was out in public. However, she said she doesn't let it run often after discovering it drained her phone's battery quickly.
"A lot of people just have it but don't use it that often because they're kind of in the same boat as me, where it really just is burning through your battery," De Lurgio said.
Another issue students encountered is knowing when the app is active on their phone. Christina Whetzel, a fourth-year chemical engineering major at Tech, downloaded the app the week before school started. She figured out two weeks later, during the second week of classes, that the app wasn't actively scanning for most of the time that she had been out because she didn't have it on the necessary standby screen. 
"Unfortunately, the app isn't really clear about the fact that you have to have it open all the time for it to be doing anything, and so I think a lot of people aren't using it correctly," Whetzel said. "And then on top of that, I don't actually know how many people took the time to download it."
Solutions in sight
Although NOVID isn't a perfect app, some students and the app's creator are optimistic about NOVID's use on college campuses to help contact trace and slow the spread of the virus. NOVID is currently only in use at Georgia Tech.
Around 3,700 people are part of Tech's community on the app, Tech spokesperson Blair Meeks said in an email. The university can't tell if the users are students, faculty or staff. If all the users were students, it would mean around 10% of the student body, which was 36,489 people in fall 2019, was using the app.
Loh said NOVID would be helpful on campus even if only 10% of a student body was using it. He said ideally, every person who used the app would connect with two people, who also had two people each on the app, and so on. The exponential growth of connections is what makes the app powerful, Loh said. 
Loh also said the app has a lock screen display that works around Apple's privacy rules, which caused Whetzel's problem of not knowing when the app was active. Additionally, if someone has the app just open and not scanning, if they come close to someone with the scanning screen open, the app still downloads their connections.  
Loh hopes that NOVID will help on campus at Tech and UGA, and at other colleges and big cities as well. He compared dealing COVID-19 to driving at night in a forest — NOVID is a way to turn on the headlights and find your way out.
Whetzel said she downloaded around 2,000 connections from one of her friends when they turned the app on at the same time. Now she'll be notified if cases among her connections are rising, and if she comes into close contact with any of them that later test positive for COVID-19, she'll know to self-isolate. 
"If everyone did download it, and if everyone used it really well, it would be a really good way to contact trace," Whetzel said.