The Centers for Disease Control and Prevention recommends that people remain six feet apart from others who are not in their same household to reduce the spread of COVID-19. Photos from Greek life recruitment events have sparked local conversation and anger showing students not following social distancing guidelines provided by the University of Georgia and student affairs. 
Photos have surfaced on social media sites showing house parties on Milledge Avenue and sorority recruitment participants gathering too closely both in the Tate Student Center and at sorority houses. 
In an Aug. 16 Facebook post from the Overheard at UGA group, a photo from the University of Georgia's Panhellenic Instagram story shows members of the Phi Mu sorority house remaining socially distant. A private [Snapchat] story posted by one of the sorority's members from the same day shows a much larger amount of women in front of the house without any social distancing precautions.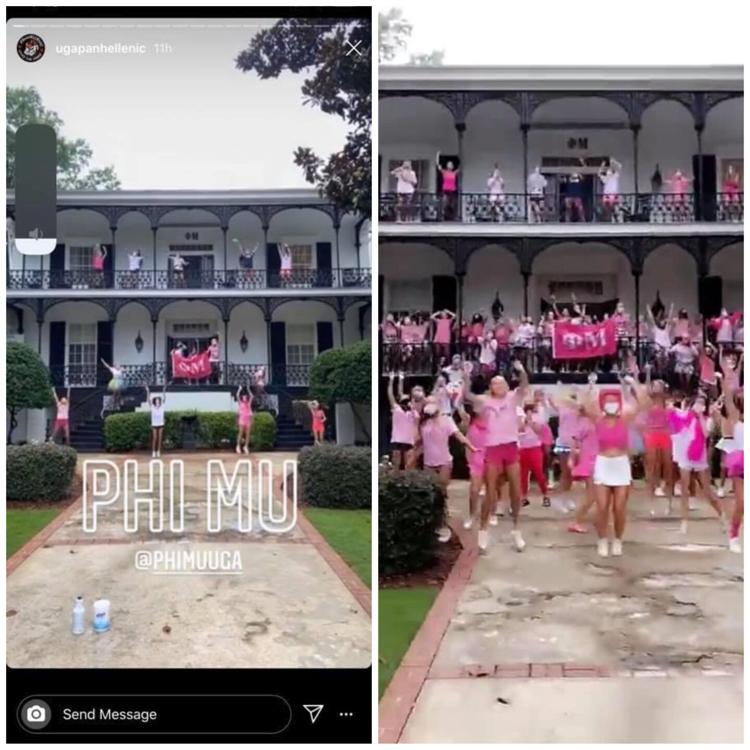 UGA Panhellenic President Jennings Brooks did not say how Panhellenic is enforcing social distancing guidelines during the recruitment process. 
Athens resident and recent UGA graduate Brooke Atherholt was "disgusted" when she saw the photo in the Facebook group. 
"It's obvious that they're not taking into account the community around them and only thinking about their own Greek life community," Atherholt said. "You can't be selfish in a time like this when the health of other people is being risked just for you to have fun."
Georgia surpassed 5,000 COVID-19 deaths on Aug. 22. The state has a 7-day positivity rate of 11.8% as opposed to the United States' 6.3%, which suggests that Georgia is not testing milder or asymptomatic cases, according to John Hopkins University. 
Greek life organizations have garnered national attention for their in-person recruitment efforts. National publications such as the New York Times, U.S. News and the Washington Post have written about the COVID-19 outbreaks in Greek life. The New York Times identified at least 251 cases of COVID-19 tied to fraternities and sororities at the time of publication.
UGA student affairs spokesperson Stan Jackson said in an email to The Red & Black that the staff in student affairs and the Greek Life Office, along with student leaders, "are working to swiftly correct non-compliant individuals or groups." 
"Panhellenic has been in constant communication with Gamma Chi's, chapter leaders, and current members to ensure clarity on expectations for distancing and other health practices," Jackson said in an email. He did not mention any fine or social distancing policy other than UGA's set of expectations.
Response from council heads
As part of Panhellenic's recruitment contingency plan, Jennings said the preferential round of Panhellenic's sorority recruitment and bid distribution were moved online — originally, these events were intended to be in person. 
The decision to move online was reached in conjunction with the UGA administration, the National Panhellenic Conference and the UGA Panhellenic Council in order to "maintain the health and safety of all constituents to the best of our ability," Jennings said. 
Gamma Chis — sorority members who help potential new members through the recruitment process — are also now supposed to be meeting with new members in a virtual format, Jackson said.
The Interfraternity Council President Brennan Cox said in a statement that IFC is enforcing social distancing guidelines. IFC passed a bill on Aug. 12 which prescribes a $1,500 fine for social distancing violations during all fall events. 
Fines can be issued for violations in both indoor and outdoor events, and each subsequent violation will add an additional $500 increase. A similar bill was passed in regards to summer recruitment events, where a fine of $5,000 was issued to a fraternity for social distancing violations. 
In order to ensure minimal potential for COVID-19 exposure, fraternity chapters will host invite-only events, Cox said.
Member chapters of the Multicultural Greek Council mostly begin recruitment events after the semester starts, and masks will be required for every in-person event, according to a statement from Multicultural Greek Council President Anusha Khan. 
Most MGC organizations are doing online recruitment, Khan said. If parts of recruitment are online, each organization is required to have an equal amount of online events as their in-person events. 
Justin Nixon, president of UGA's National Pan-Hellenic Council, said that recruitment processes are dictated by each individual chapter within the council. Each organization has its own national guidelines. 
The Alpha Kappa Alpha sorority does not have a recruitment process, but all of its events will be hosted online to encourage social distancing starting on Monday, Aug. 24. Their first program will highlight ways to navigate the semester with topics such as campus organizations, Black-owned student businesses and Zoom etiquette, sorority president Morgan Jackson said. The Delta Sigma Theta sorority does not have a recruitment process either, according to president Jayla Johnson. 
Other organizations under NPHC did not respond to our inquiry. Nixon did not indicate whether there would be universal social distancing guidelines for chapters under the council.
Impacting Athens
Although Greek life events are related to UGA, many sorority and fraternity houses are located on Athens property. If these events aren't socially distant, students and Athens citizens alike have a higher potential to contract the virus.
"Every effort to act safely has to be taken, especially by UGA students," Mayor Kelly Girtz said about Greek life events in town. "Challenging though it is, this isn't a 'normal' year where commonplace things can happen."
Though Atherholt didn't participate in Greek life when she was a student at UGA, she had friends who did. Though she understands that recruitment is an integral part of the Greek life experience, she said that "right now is not the time to put that first."
"It's just for the greater good of everybody to take these precautions, do virtual recruitment and not host big events," Atherholt said. "That's just not what the CDC has told us to do in order to prevent the spread of [COVID-19]."
Athens-Clarke County had watched its COVID-19 cases rise. Athens reported 330 new COVID-19 cases in the week of Aug. 3-9. There have been 2,473 cases in total.
Cox said that, although fraternities have not been perfect in reducing the spread of COVID-19, he is encouraged by how IFC has responded to ensure that social distancing guidelines are enforced. 
"Moving forward, it's on the fraternities and sororities, Greek students and non-Greek students alike, the bars and restaurants downtown," Cox said in an email. "It will not be easy, but it will be worthwhile to ensure that we can remain in the college town we love so much."
---
Clarification: The Delta Sigma Theta sorority at large does not have a recruitment process, including the Zeta Psi chapter. Every event hosted by the chapter this year will follow CDC and UGA guidelines, according to Zeta Psi chapter president Jayla Johnson.
Correction: A previous version of this article misstated Eta Xi's online recruitment process. Eta Xi does not have a recruitment process. The Red & Black regrets this error, and it has since been fixed.