When his wife checked her student account to pay for her health insurance, Mike Lord found out in late July that he would either have to pay more than 3.5 times more per month or go without coverage. 
Being a small business owner, Lord relies on his wife's health insurance plan, which she has through the University of Georgia as a graduate student. 
His new rate will cost him $640 a month, a jump that's left Lord at a loss for what to do next. 
"If they knew that price was going to be [3.5] times higher, I wish they would've just told me, and I never would've signed up for it in the first place," Lord said. 
Lord is considered a dependent under university health care plans as a spouse of a graduate student who has university health insurance. Graduate students have to have insurance either through the university or a comparable insurance.
Graduate students with a qualified assistantship, which includes Lord's spouse, are required to enroll in university health insurance, according to UGA Human Resources. Because of this, Lord decided to switch to UGA's plan in January of this year.
His plan went from about $1,300 for January through July 2018 to about $4,400 for January through July 2019 — a 338 percent rate hike — which must be paid in one lump sum at the beginning of each semester. In month-to-month costs, his plan went from about $186 a month — cheaper than typical marketplace plans available on healthcare.gov — to about $629 a month.
On Aug. 1, however, when the new semester began for health insurance coverage, Lord said he felt as if he lost coverage.
When it came time to renew the policy for the five-month semester, his wife logged on to pay for her health insurance plan, which isn't affected by the rate increase, and noticed his total was significantly more than their budget allowed. 
"This is not only just out of the blue, but we don't have an extra $5,000 in our budget, particularly because one of us is a grad student," Lord said. 
The only choice he has for insurance is to enroll through the marketplace, Lord said. However, the open enrollment period is no longer open for 2018, unless he can prove a loss of coverage. 
"Otherwise, I can't register for insurance at all," Lord said. 
After discovering the price changes, Lord reached out to UGA and the University System of Georgia. 
"Kind of what the university has done is worse, because they're going to try to argue that it's not a loss of coverage on one hand, but then they made it so unaffordable that essentially it is a loss of coverage," Lord said. 
The 350-percent rate hike affects all graduate students' spouses and children who are on university health insurance under USG, not just at UGA, according to Annette Ogletree-McDougal, executive director of communications at Board of Regents at USG. 
The rate was negotiated in late 2017 with UnitedHealthcare StudentResources, an insurance company that specializes in providing students health insurance, Ogletree-McDougal said. 
The rates increased because there were more spouses signing up for UGA health insurance.   
"A rise in spouse claims increased the cost of the plan for all students regardless if a student has a spouse covered on the plan," Ogletree-McDougal said.
In other words, all graduate students' costs were affected by spouses' costs. Dependents account for 7 percent of plan participants within USG, Ogletree-McDougal said. 
"With this change in the premium plan, the majority of students covered under the USG student health care plan will no longer financially support the health care costs for the small percentage of students with spouses," Ogletree-McDougal said.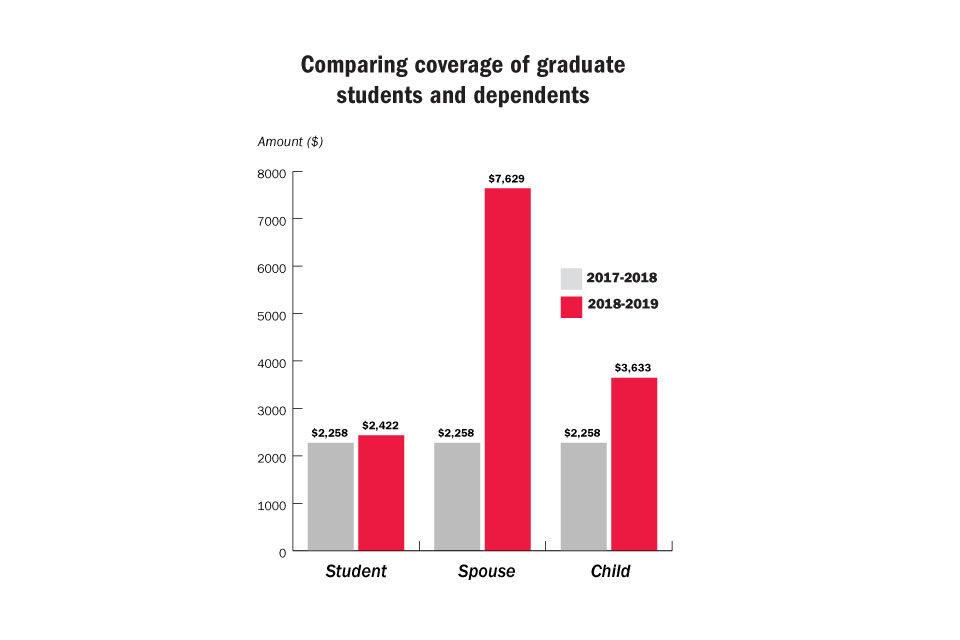 Although the students' plans didn't go up, Lord and his wife share a bank account, so she is affected too. By raising his premiums $4,000 a year, Lord said this directly affects the graduate student. 
Lord said UGA did not do a good job of communicating "an announcement of this magnitude." One notification was sent through ArchNews in July, but it got lost through his email, Lord said. Other than that, he said he received no notice. 
"The insurance company — they're in it obviously to just make money -— but the university could be a little bit more compassionate," Lord said. 
Negotiations with UHSR began in late 2017, according to Ogletree-McDougal. Rates are assessed annually. 
USG negotiated the "best overall premium plan for covering its students," Ogletree-McDougal said. 
In its July notification sent to students, UGA Human Resources recommended spouses of graduate students enroll for health insurance through the marketplace or through employer plans. 
The marketplace's open enrollment period for 2018 ended in December 2017. The 2019 open enrollment period is from Nov. 1 to Dec. 15. 
Moving forward, Lord does not plan to renew his UGA health insurance for the semester. Instead, he will explore his options on the marketplace but will only be able to apply for coverage if his situation is considered a loss of coverage. Otherwise, he will be temporarily uninsured.
---
Clarification: A previous version of this article suggested graduate students had to have university health insurance, but they are required to have either university health insurance or a comparable plan. The Red & Black regrets this error and it has since been clarified.