On April 15, the University of Georgia's Entrepreneurship Program hosted UGA Idea Accelerator Demo Day, marking the program's 10th year hosting the event. Eight weeks ago, the Entrepreneurship Program commenced training 45 teams to pitch their business ideas to a panel of five judges who succeeded in launching and gaining profit from their own business models.
"We started with 45 teams and ended with only nine," James Flannery, entrepreneurship lecturer, said. "The few teams that it make through the final eight weeks not only worked hard but prove they have the skills to launch their business."
The students who made it past the eight-week mark are not only grateful for the experience but also for the knowledge and skills obtained.
Aminah Matthews, a senior psychology major with a minor in biology, never envisioned herself involved in the world of business prior to participating in UGA's Idea Accelerator Demo Day.
"I feel grateful for the experience to help me think more on the business side since I am a science major and this is all so new for me," Matthews said. "I'm excited for people to hear my ideas and I hope it resonates with them."
Each team had exactly three minutes to pitch their idea to the panel of judges in hopes of receiving the $5,000 reward given to the winner to help continue their business model. The business ideas pitched by each team tackled issues of food insecurity, accidentally eating cockroaches, sustaining long relationships and more.
---
I Need Express
Arianna Jones
Jones pitched a non-profit business focused on ending food insecurity in Athens. The business would target lower socioeconomic families and communities in order to deliver them already cooked, wholesome meals. Thus far, she partnered with Earth Fare, Last Resort and other food markets that donate their extra food. Then, by working with a number of organizations to locate where the need is, I Need Express delivers the food to the families.
Exert Smart
Casey Ridley, Will McCarthy, Joseph Wargo
The vision behind Exert Smart is to move past the wave of relying on smartwatches to calculate your calorie intake and into using a breath acetone analyzer. The human body naturally produces acetone and the chemical is found in the breakdown of fat.
"The breath analyzer would be small, convenient and cheap. It measures the acetone in your breath and then downloads the data onto our app," Ridley said. "Then it will immediately give you a snapshot of how much fat and calories you're actually burning."
Gupkay
Zach Eidex
Zach Eidex founded Gupkay after his girlfriend accidentally swallowed a cockroach in her apartment. Gupkay is designed to offer a better apartment hunting experience by offering users the company's one, verified review.
"Most people leave reviews if they're extremely angry or apartment complex's leave their own good but fake reviews. Both don't reflect the reality of the conditions of the apartment," Eidex said. "Gupkay would eliminate all the biases and display one, unbiased and researched review."
My Travel Closet
Lee Setty
My Travel Closet is an app that will eliminate the costs of laundry and clothes renting fees for businesswomen, specifically consultants. For a $10 monthly fee, consultants can place their closets in the hands of My Travel Closet. Consultants can choose their outfits for the trip, have it sent to the airport and waiting for them in their hotel room.
Fetch Event
Mathieu Ney
"Pierre is a French student, living with his parents like 52% of college students in France. He would like to go to a party and invites his friends but they have a problem," Ney said. "They all want to party but no one can host. This is where Fetch Event comes in."
The app would vet hosts and partiers through background checks and other small procedures but will focus primarily on connecting students who enjoy parties.
Merried
Megan Staebell and Emily Ruff
"Today we're not here to talk about the bride, we're here to talk about the bridesmaid and the long to-do list that comes with planning a bachelorette weekend," Staebell said.
For just a $3 premium fee to download the app, Merried will partner with bars, entertainment industries and restaurants from city to city to coordinate the best priced and planned bachelorette activities.
"The goal is to make the process more merry for all involved," Staebell said.
Made You Laugh
John Brannen
Brannen said 10 years of experience in developing software solutions led him to create the Made You Laugh app in order to accurately measure people's emotional connections to jokes, sites, videos and other online platforms. The app aims to help campaigns and companies evaluate consumer engagement. So far, the app is used for beta testing by 18 stand-up comedians and one comedy producer.
"The app would use the camera on your phone to measure the distance between the corners of your mouth and then use an algorithm to tell if it's a smirk or a full-blown smile," Brannen said.
Kinect
Caroline Barry
Kinect is set to prove that high profile influencers might not always be the right fit for businesses, primarily for organic skin care campaigns and companies. Kinect would function as an app where companies can turn to in order to find the right influencer to market their product.
"The most effective influencer is that which is highly engaged," Berry said. "Kinect would connect organic beauty companies to an influencer that will market their product the best according to their niche or region."
A Date To Remember
Aminah Matthews
Match.com helped conquer people's problem of finding someone, A Date to Remember founder Aminah Matthews said, but now couples face the problem of breaking out of the routine of dating.
After planning dates and activities for long term couples on UGA's campus, Matthews decided to launch her skills and ideas into an app. For a $5 monthly fee, couples can have three date nights a week planned. The app is geared for those needing extra help to find and plan interesting activities.
"We are in a day in age where couples want a relationship that makes them happy and they are willing to pay for it," Matthews said.
---
The finalists
After a few minutes of deliberation, the judges announced their top three to the audience and contestants. Exert Smart came in third place, My Travel Closet came in second and Merried won first place with a $5,000 check to continue its business model.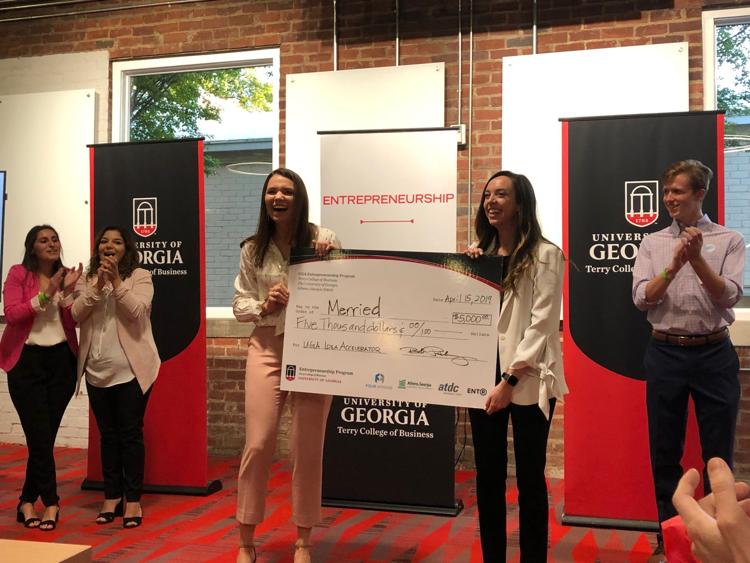 The winners of the $5,000 check, Staeball and Ruff, plan on using the money to better market and launch their app to a larger demographic this year.
"We've been friends for four years, working on their app for eight weeks and it's all been a dream come true," Staebell and Ruff said.
The judges selected the winner based on a combination of viable business concepts, work ethic and the fit of the product to the business, said judge Ashley Steele.
The event was held at Studio 225 and packed with students, faculty and many spectators. Those in attendance selected their personal favorite contestants and apps.
"A Date To Remember was my favorite," senior finance accounting major Garrett Vaughan said. "Matthews's pitch was very put together and very fluid with the best vision and to solve problems."
For one spectator, Demo Day brought back old memories and feelings from when she participated in last year's event.
"I've been in their place before so I understand how nerve-wracking it all is," senior marketing major Kaitlin Lutz said. "Your business, app, product it's all a part of you, and you're sharing that piece of you with everyone."