Throughout its 2018 fiscal year, the University of Georgia made significant growth toward its goal of becoming one of America's premier research universities.
Sponsored research awards rose by almost 7 percent, reaching a total of $219.1 million — a 74 percent increase since fiscal year 2014 — according to a UGA press release.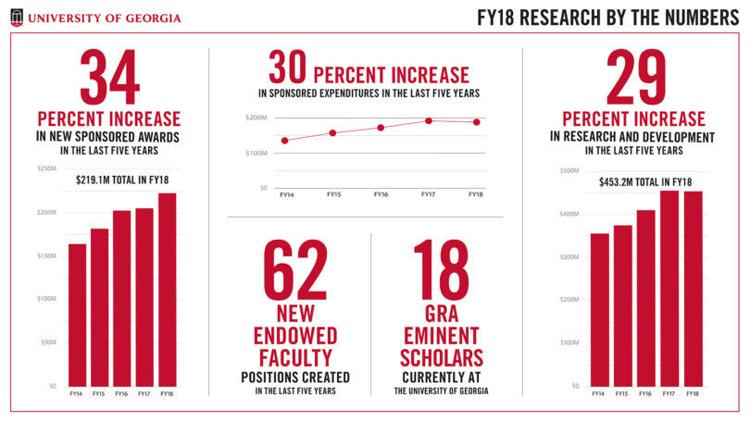 Since 2014, sponsored research expenditures have also increased by 30 percent, reaching a total of $187.4 million and overall research and development has increased by 29 percent, reaching a total of $453.2 million.
These improvements resulted in UGA going from No. 66 in 2012 to No. 54 in 2016 in the National Science Foundation's Higher Education Research & Development rankings.
Outside of funding alone, UGA devotes attention to faculty recruitment, capital investments and infrastructure to support its research goals.
"Faculty are the key," said Vice President for Research David Lee, in the press release. "Straight from the top, our leadership is committed to doing the kind of research that will make a real impact on the world around us, but we need the people to do it."
This year, UGA will also introduce its 18th Georgia Research Alliance Eminent Scholar, Gerald Hart, who is the sixth scholar named since 2015.
UGA has also added 62 new faculty positions in the past five years to reach a current total of 289.
Additionally, construction on the new $65 million STEM building, which will begin somewhere between 2018-2019, represents "the culmination of well over $100 million in capital expenditures dedicated to research in the past five years," the press release said.
UGA plans to continue devoting capital expenditures to research development over the next five years as well.
"Like never before, this institution is focused on making a positive difference in the world," said UGA President Jere W. Morehead in the press release.