By the end of the non-stop fundraising event, Tate Grand Hall was covered with empty Starbucks cups, plastic water bottles and backpacks from all the mayhem of the 25 hours.
UGA Miracle raised more than $1.2 million for Children's Healthcare of Atlanta at their 25th annual Dance Marathon, which began Saturday at noon and ended Sunday at 1 p.m.
The total amount raised — $1,251,410.20 — was revealed during the final hour of the event. Executive board members embraced and cried after the announcement.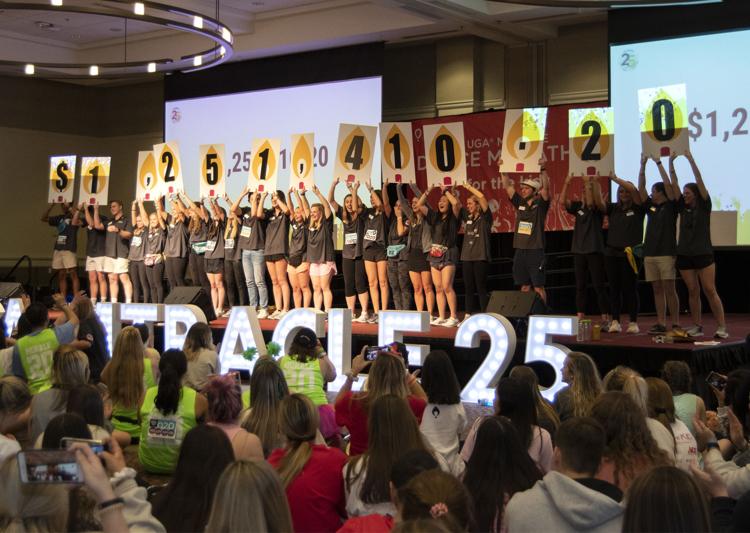 "We are beyond excited about this total and we could not have done it without you guys," Caitlin Oh, UGA Miracle's internal director, said to close the event.
The first million of that amount will be donated to the Inpatient Rehabilitation Unit at CHOA, while the remaining $251,410.20 will go toward the Aflac Cancer and Blood Disorders Center said Jenna Coyne, executive director of UGA Miracle.
UGA Miracle hosts Dance Marathon each year as a final push to raise money for patients at Children's Healthcare of Atlanta. This event is 25 h…
The philanthropy event raised more this year than it did in 2019, when it brought in about $1.1 million.
The Dance Marathon at UGA is one part of a larger picture. Dance marathons hosted by Miracle programs benefit nonprofit Children's Miracle Network Hospitals across the country.
Fraternities and sororities raise a large amount of the fundraising with representatives from the Panhellenic Council and the Interfraternity Council. These sects of Greek Life raised a total of $906,617 for Dance Marathon.
Participants attended Dance Marathon for a number of reasons, such as fulfilling their sorority's philanthropy requirement, like freshman Madison Kelly did, or returning for a fourth consecutive year since the start of their college career like senior Annabel Farley. Farley won the Mary Elizabeth and Abe Hopkins Joyous Award, which is given to two UGA Miracle members who embody selflessness and joy. John Roorbach also won the award.
"It gives me hope every single day to think about being part of this and all the kids we get to fight for," Farley said.
Others had a specific name behind why they stayed up for 25 hours. Kristy Ward, a sophomore business administration major from Gainesville, fundraised in the name of her friend who went into remission after being diagnosed with breast cancer. At the beginning of the event she had raised $500, and by the end, she raised $2,150.
Ward was part of UGA Miracle last year on the Morale Team, which is in charge of leading a Morale Dance throughout the event to keep participants on their feet. Participants are challenged to stand for the entire 25 hours in honor of the children who can't stand due to various conditions. Even Ward was tired by the end.
"I ended up falling asleep standing up for 20 minutes," Ward said.
To avoid this, UGA Miracle planned multiple events throughout the night to keep participants engaged. From haircuits to live music to talent shows, Dance Marathon had a wide array of events to keep every participant on their feet.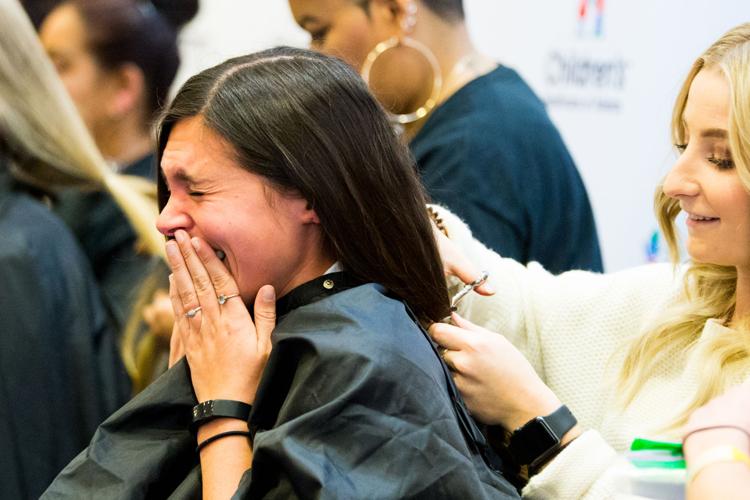 Early in the night, the non-profit, Children with Hair Loss, held the Hair Chop Challenge, an event that challenged participants to donate their hair to make into free wigs for children with hair loss caused by a medical condition. Stylists from local Styles At Five salon cut over 30 participants' hair.
Natalie Dietz, a sophomore cellular biology major from Watkinsville, and her roommate Jessica Flynt, a sophomore biology major from Lawerenceville, each donated eight inches of their hair.
Flynt cited her mom, who has cancer, as inspiration for her last minute haircut.
"I didn't want to cut my hair, but the fact that you're doing it so that someone else can have it is so special," Flynt said. "I feel so light and so good."
Dance Marathon also featured two talent shows for children from CHOA, called "Miracle children," and UGA Miracle members, called "family pals." Gracie Kozel and her family pal lip synced to "In Summer" from Frozen. Another Miracle child, Olivia Harvey, sang "Love Yourself" by Justin Bieber.
Musical performances included Zion Moore, an R&B artist, who has been performing at Dance Marathon for the past three years. Moore said he keeps coming back because of the energy of the participants.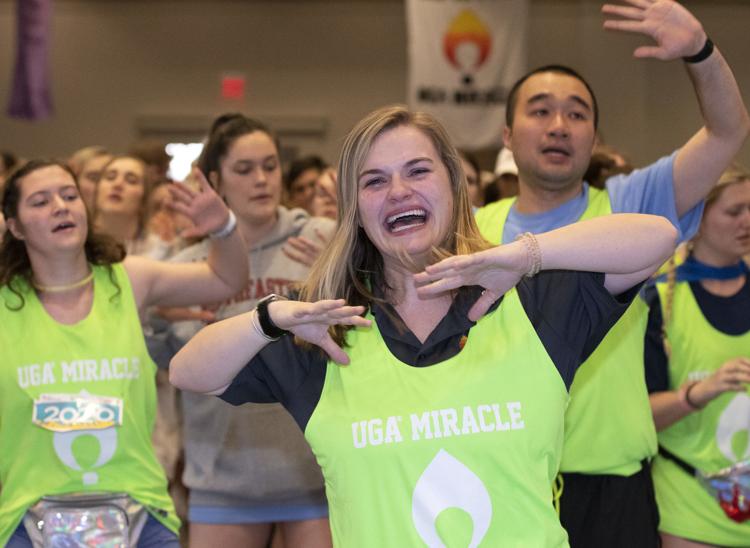 "The love is like none other," Moore said to the crowd of more than 1,600 participants. "You all show me so much love that I have to give it back every year."
To encourage participants in their fundraising efforts, Miracle families shared stories about their experience with CHOA.
The Helton family told their story about their daughter, Belle, who was born with a life-threatening kidney disease and eventually was in need of a kidney transplant.
Belle Helton, 15, is an ambassador for CHOA. Although she is cancer-free, she still has to take 15 pills a day to ensure that her kidney is healthy.
The Helton family has attended Dance Marathon for seven years, and Belle Helton said that she "loves" coming every year.
"I'll never miss one," she said.