Dorothy Rau was at odds with her love for performing when she began her sophomore year of college. After spending her entire childhood involved with performing arts programs, she felt lost without an outlet to pursue during her first year at the University of Georgia.
Searching for something to fill the void, she was encouraged by a friend to join UGA's Undergraduate Mock Trial Program, pitched as a program where acting can win you actual scoring points.
"I both like acting and I am competitive, so I auditioned and fell in love with it," the international affairs and Arabic major said. "It was the perfect combination of theater and creativity that I was looking for, as well as intellectual problem solving and stimulation."
Somewhere along the spectrum between legal studies and liberal arts, UGA's Undergraduate Mock Trial Program creates a bridge between the complex world of civil and criminal law and the imaginative terrain of the performing arts.
More so than other undergraduate mock trial organizations, UGA's team is known for its emphasis on creative flair and experimentation. Entirely student-run, the team thrives on constructing eccentric characters and adding small details to their case theories presented at each competition.
---
"It's all about the presentation, the show and the theatrics. That's what separates us from these teams that are very robotic and rigid."
— Donavan Juleus, UGA student
---
Establishing avenues for creativity and compelling performances within rigid case proceedings is what separates teams from their competition, Rau said. Competitors must be able to construct a believable narrative and likeable characters to enhance their case theory.
Within the past year, the organization placed at invitational competitions, winning first at Florida State University, second at Duke University and fifth at the University of Chicago. In 2016, the team placed fifth at the Bell Tower National Championship Tournament in North Carolina.
With the competitive season underway, the team is moving into their second round of regionals on Feb. 16 and aims to qualify for the championship round of the tournament structure. The team's performance at the championship rounds will determine their eligibility for nationals.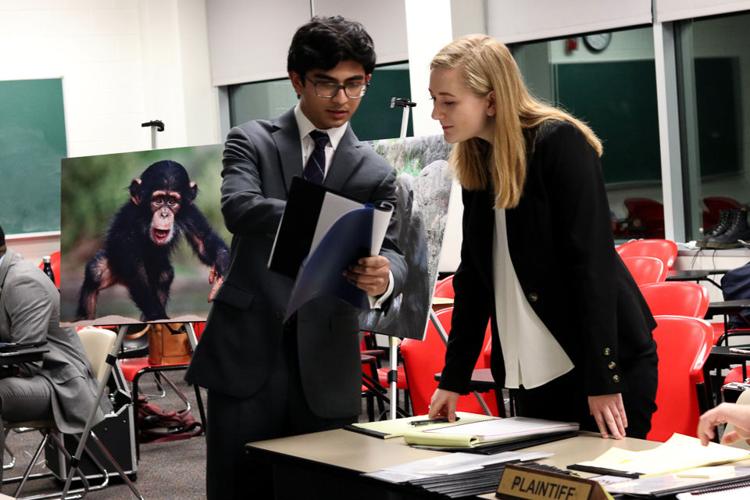 Another universe
Intercollegiate mock trial is designed to familiarize students with the judicial system and legal forum by simulating lower-court trial proceedings for fictional criminal and civil lawsuits. The objective of each competition is to present a case theory based off of a fictional case problem assigned to all teams for the entirety of the academic year.
Team members act as either an attorney or witness and aim to accrue the highest points for their team. The scale goes from one to 10, with tournament judges assigning scores for each round.
The entire world of undergraduate mock trial is rooted in fiction. All collegiate cases are set in the fictional state of Midlands, a territory governed by the U.S. Constitution that mandates their own unique rules of evidence and criminal procedure.
Recurring witnesses, experts and victims in each case populate and work in fictional Midlandian institutions, such as Midlands State University and Midlands Television Studios, while abiding by the Midlands Age Discrimination Act and other statutes governed by the Midlands Supreme Court.
The purpose of establishing the fictional universe is to promote consistency across competing teams. Each collegiate mock trial program across the country practice different codes of state law, so centralizing the law used in the courtroom eliminates any confusion or unfair advantage a team may have.
---
"The culture of mock trial is so unique, and I've found my family with them."
— Dorothy Rau, UGA student 
---
Although knowing both federal and Midlandian law front-to-back is an essential part of scoring well, half of the competition is based on creating a compelling case.
"It's all about the presentation, the show and the theatrics," Donavan Juleus, a senior advertising major from Savannah, said. "That's what separates us from these teams that are very robotic and rigid."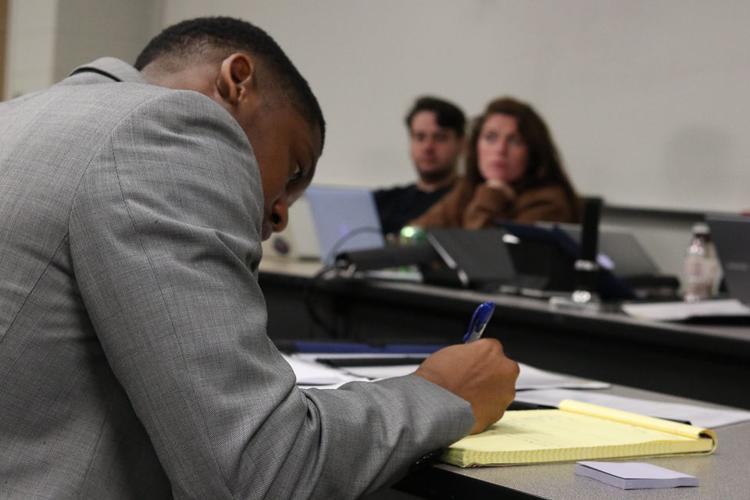 There is a drawback to wild flairs of creativity, however. The American Mock Trial Association, the governing body of all undergraduate mock trial competitions that writes and distributes all case materials, penalizes and sanctions teams who commit an "egregious improper invention of material fact" outside of the facts provided. This can result in the suspension of a team for the remainder of the competition season.
UGA's team is well-known for minor invention of fact, Rau said. The excessive penalizing of invention takes away some of the creative power and individuality that makes mock trial so appealing, the team members said.
"Finding that middle ground where you can have fun and make a perfect case theory and add in a couple of tweaks to show how it's supported—those kinds of things score highly," Sajjad Ali, a junior management information systems major from Atlanta, said. "But you have to make sure you're not crossing the line."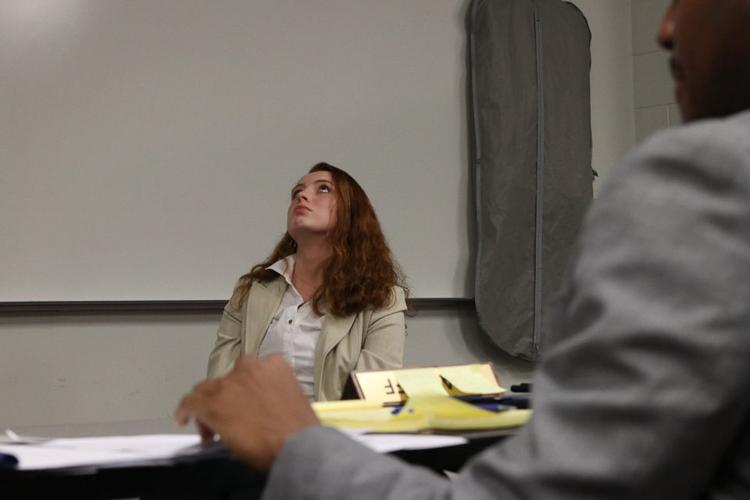 Getting into character
UGA's creative strategy is based on three basic principles: likeability, believability and credibility.
"In our program, that trifecta is tattooed in your chest and stamped on your forehead—it's what you have to do to perform well," Rau said.
UGA's organization spends an average of six hours per week in the fall and 12 hours per week during the spring practicing. Teams also perform exercises where they ask questions that wouldn't appear in the courtroom but would add depth to the character and their backstory.
"The positive comment I hear the most from judges when giving us comments is that our characters are so believable," Rau said. "If you are a character that the jury or the judges wants to like and does believe, your case theory has to be good, but good performances take you a very long way."
When the program is competing at weekend tournaments, members immerse themselves completely in the fictional world and tend to speak, function and act in-character.
"To be good, it requires that you buy in and participate in that world, which I find to be really theatrical," Rau said. "In mock trial, a lot of the theatrics is taking the knowledge that you have of the world and of the character you're trying to portray and exist in a very honest way. That takes practice."
The larger interscholastic mock trial community exists as its own subculture. Multiple student-moderated forum websites and Facebook pages exist for participants to discuss tournament results, post memes about ongoing case trials or confessions about other players.
The most popular online forum, Perjuries, serves a social currency within the collegiate circuit, where omniscient competitors post their predictions for competition results or list their top performers of that season.
Mock Trial President Margaret Shin, Recruitment Director Caroline Pearson and Rau were listed on players-to-watch lists during the 2018-2019 season.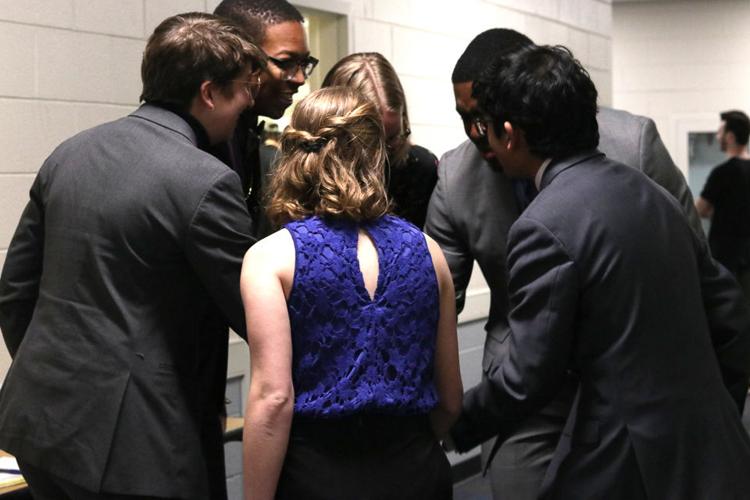 One big family
Although the competitiveness is rewarding, what members appreciate the most about their involvement with mock trial is the relationships they have developed with their peers and competitors at other universities.
When Juleus first joined the organization, he was intimidated by other students on the team and did not know where he would be able to fit in among the more knowledgeable and experienced competitors. As he put in more time and started competing as a witness, he found he was performing well, despite not knowing what he was doing.
"Coming in, I'm a black African-American, and I didn't know if I was going to be accepted or feel comfortable," Juleus said. "That was the most surprising thing about mock trial. Even when I really didn't know anything and I was quiet, I came into a community that was so accepting of who I am."
Competitors invest so much time in mock trial that they have a hard time leaving, Juleus added.
"What separates us from other programs is the investment we have in it and the pride we have as a result of that," Rau said. "The culture of mock trial is so unique and I've found my family with them."