The Muslim Student Association at the University of Georgia is hosting events on campus for all students for Islamic Awareness Week.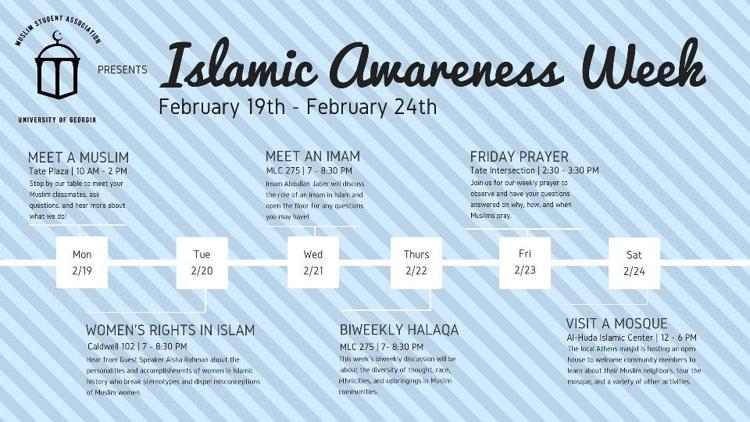 President of MSA, Mae Eldahshoury, said the group will spend a week encouraging discussion and dialogue she hopes will dispel some of the misconceptions people may have about Muslims.
"Essentially the idea is for us to raise awareness on campus about who the Muslim students are on campus, so your classmates and your professors," Eldahshoury said. Just to kind of bring a sense of community and explore different ideas within Islam."
On Saturday Feb. 24, the week will close with Al-Huda Islamic Centers' annual Open House, where the Athens and UGA communities are invited to come from noon to 6 p.m. to meet members and ask questions.
The week started with tabling at Tate Plaza on Monday, where students were encouraged to come by on campus and do the same thing -- ask any questions about Islam and meet Muslim students. 
On Tuesday Feb. 20, Aisha Rahman will speak in room 102 in Caldwell Hall from 7- 8:30 p.m. about women's rights in Islam.
Rahman spoke about a similar topic at an event in spring of 2017, however Eldahshoury said this talk would be more centered around important women in the faith.
"This time she kind of wanted to change it up, so at this event she's going do kind of like a storytelling session where she highlights the importance of these women in Islam," Eldahshoury said. "So that's property rights or being able to own their own businesses or rights in marriage, what you can own and what your husband owns."
On Wednesday, students are encouraged to come meet Imam Abdullah Jaber to ask questions about the role of an Imam in Islam.
MSA hosts a biweekly Halaqas, which is a discussion about the diversity of thought, race, ethnicity and upbringings in Muslim communities. This event will be held at the Intersection at Tate on Thursday.
Every Friday MSA has a prayer from 2:30-3:30 p.m., and this Friday students are invited to come observe the prayer and ask questions about Muslim practices.
Eldahshoury said she hopes people come get to know the Muslims in the community so they can try to better understand each other and create a dialogue.
"I know this is like that stereotypical, 'Muslims aren't terrorists' or, 'We're not bad people,' or whatever it is," Eldahshoury said. "But even if people do have that in the back of their mind, hopefully when they're talking to Muslims and if they are attending these events and attending these lectures and meeting these people, they get a better understanding and have more of an open mind towards Islam."
---
Correction: An original version of this article misidentified Aisha Rahman as the executive director of Karamah: Muslim Women for Human Rights. She no longer holds this position.