At the University of Georgia, women have chipped through many barriers to equality.
From Mary Creswell, who was the first woman to earn an undergraduate Bachelor's degree from the university, to the many who have risen in the ranks to work as high-up administrative executives, including Senior Vice President for Academic Affairs and Provost Pamela Whitten, female academics have made enormous professional achievements at UGA.
Socially there have been some pushes forward as well. Patricia Yager, a professor of marine sciences in the Franklin College of Arts and Sciences, said recently the university has made major strides in accommodating its women faculty.
In 2011, UGA started construction on a child-care center which Yager said provides important services for mothers, both professors and students, on campus.
The university also has a well-structured "tenure clock stop" program which allows female faculty to take extra time without losing their progress for tenure while starting a family.
"In the 20 years I've been here . . . there's been progress made," Yager, who will chair the Human Resource committee for the University Council this year, said. "You know, some little steps."
But there are still many areas in which many female professors are not sure whether they are treated fairly, one of these being pay and tenure.
Disputing disparity
Nationally, there is a long history of inequality in pay between male and female professors.
Several studies from the American Association of University Professors have shown a disparity in the pay of male and female employees.
"[These are] fairly well sited, well vetted documents that talk a lot about how complicated this issue is and how you have to treat it very carefully and think about it in certain ways," Yager said.
The university has conducted several of its own studies regarding gender pay inequity as well.
One of the first was conducted in 1990 and had many flaws in its methodology, according to a publicly released email from Provost Whitten to Brenda Keen, the previous chair of the Human Resources Committee.
Two other studies were also completed in 1993 and in 2002, according to Yager, but the university hadn't conducted its own internal survey again until last year.
In 2015, the university commissioned a statistical research group called the Economic Research Services Group from Tallahassee, Florida to test the most recent salary data for inequities.
"The university chose an independent consultant to conduct the study to avoid any potential conflicts of interest," Sarah Covert, associate provost for faculty affairs said in an email to The Red & Black.
The study attempted to statistically determine whether there was a difference in similarly ranked professor's nine-month base salary.
"The study found no institution-wide practice or pattern of paying faculty members differently based on gender," Covert said. "The methods it used are consistent with best practices in higher education."
But, at a University Council meeting held on May 3, a dispute regarding the 2015 study was voiced.
Female faculty in the room, including Yager, said they would not have passed a student if they had turned an assignment using in the methodology from the equity study performed by the ERS Group.
"I was really shocked and naive I think because I thought things were moving forward," Yager said. "That's why I was a little bit unhappy."
In the 2002 UGA study, also conducted by the Economic Research Services for UGA, Yager said there were three types of statistical analyses used to determine whether there was a gap in pay.
In each of the analyses, there were differing gaps in the amount that men were paid versus women. One of these gaps showed there was not much of a difference in salary pay, one showed a medium size difference and the last showed a large difference, Yager said.
---
"I was really shocked and naive I think because I thought things were moving forward. That's why I was a little bit unhappy."
- Patricia Yager, University Council Human Resources Committee chair
---
"The answer you get depends on the statistics," Yager said.
In the most recent 2015 study, Yager said the statistician decided to use one method, the one that showed the least disparity, without giving weight to the others.
Yager also said the scale of the axis on which the researcher plotted the salaries of university professors was too small to appropriately show the differences in the numbers.
The plots were crammed into a space that was too small to tell the differences in the numbers. Yager said $300 plotted on a graph should not look the same as $700 or $1,000.
"You can't look at a scale like that and think that somebody is not trying to spin [the story]," she said.
Lynne Billard, a professor of statistics at UGA, who has completed many studies on the pay gap herself since the 80s, said the statistical method that must be used to compare salaries is called multiple regression.
She said most studies use multiple regression as their method, but for the most part, the studies she has reviewed do not use it correctly.
Billard said it is possible that the statistical research company employed by UGA to conduct the 2015 study may have completed the multiple regression analysis correctly, but not enough information has been released for other scientists to recreate the analysis and verify whether or not a gap in pay exists at UGA.
"Other than the words 'multiple regression,' we don't know how they did it," she said.
Yager said she would be happy if the study truly does find there are no disparities in pay at UGA but also said she would "love to know for sure."
"I do believe [the administration] genuinely wants the right analysis to be done, but they are not staticians," Billard said.
As for promotion, none of the studies have addressed whether males and females achieve the full professorship at the same rate relative to their start at the university, Covert said in the email.
"Bias in promotion and tenure decisions is a clear violation of university policy," she said.
But Billard said that does not mean this bias does not exist.
According to numbers from the Open Georgia Transparency in Government website, in 2015 there were 253 female and 254 male assistant, 228 female and 335 male associate and 166 female and 556 male full professors. On average, the salary of a female assistant is much less than a male assistant professor's, roughly $75,000 and $91,000 respectively.
But, by the time a female reaches full professorship, she will typically earn more than her male counterpart, with women on average earning about $7,000 more.
Billard said her studies using data for the past 20 years suggests women are staying in rank longer and taking more time to get promoted to full professorships and tenure.
"By and large, women are being hired as assistant professors at the same rate men are relative to the proportion [of students] getting Ph.D. degrees [in the same fields]," Billard said. "From the time they start out, they are getting lost over time."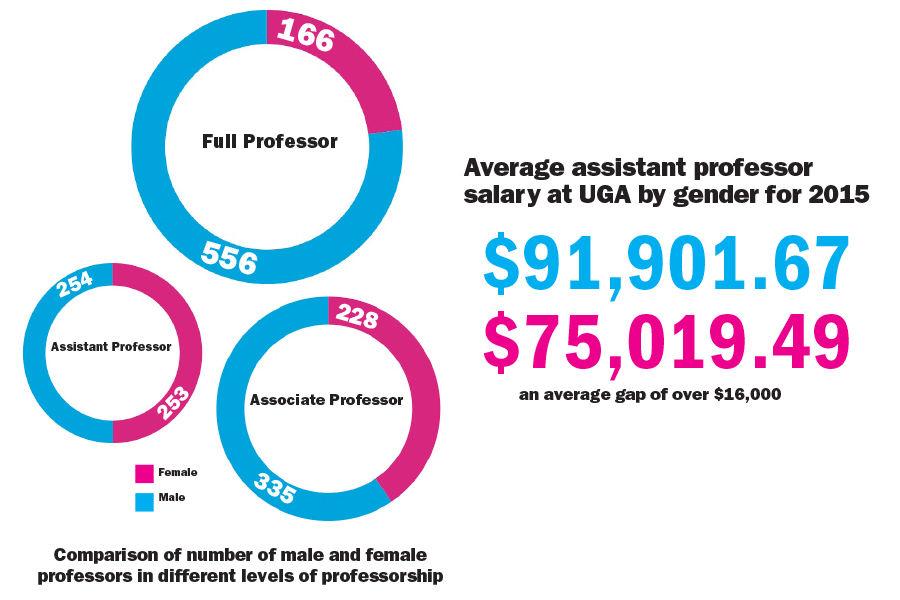 Despite what the administration has produced on gender equity, Billard said every study she has conducted on UGA has shown the university follows the national trends closely.
"We can talk a good line and say, 'Oh, we at Georgia are different'," she said. "No we're not."
A culture of inequality
To start, Yager said, disregarding the issue of gender, determining how to attribute merit to professional work is difficult in and of itself.
Billard said she thinks the differences in pay and promotion have become a cultural trend.
There are many studies that show papers thought to be written by female professors are evaluated as lower quality than those thought to be written by men, Billard said.
"Some of these show the women do it to the women too," she said. "That's why I think it's culturally driven."
The same supervisors who evaluate papers are typically responsible for promoting women, Billard said.
"Departments are being asked to be much more transparent about what are the requirements of this job . . . so that when the annual evaluations are done they are done in a concrete . . . way," Yager said.
Yager said pay and promotion may also be affected by how the large majority of women write papers.
"We tend to be a little bit more quality over quantity," she said.
And another contributing factor is the role of women in the family.
Yager said despite the fact UGA has a good tenure stop clock program, the time it takes to bear and raise a child slows down the process for women to get a pay raise or promotion. Thus, women fall behind comparable men when they take time to start a family.
---
"We can talk a good line and say, 'Oh, we at Georgia are different'. "No we're not."
-Lynne Billard, UGA statistics professor
---
Billard said many studies attempt to account for these time periods, but Yager isn't entirely sure if there isn't something more malicious going on.
Even if there isn't a pay gap at the university level, Yager said, it is definitely possible for inequities to occur at the department level, as that is where most of the pay and tenure decisions are made.
"I don't get angry about it. I'm not mad at somebody," Yager said. "I just want to know, 'Can we fix this?'"
Finding solutions
Billard said, from the time she has spent focused on women's issues, the best way she has seen to advance women in their careers and to earn them more pay is to train them more.
She said she had once helped run a program called Pathways to the Future which saw concrete success for women who participated in the program. If UGA started a workshop similar to this one, she said she believes it would help decrease the disparities in institutional pay.
But Billard said starting a program such as this one would only happen with an effort from the upper administration. She said before the previous provost Karen Holbrook left the university to become the president of Ohio State University, the pair had made headway on bringing a development program to campus. But after Holbrook left, the headway was lost in the transition to the new provost.
In the past two years with Provost Whitten in place, the university has made some advancements for women including the Women's Leadership Initiative, but some have yet to be effective.
Billard said she had never heard of the Women's Leadership initiative. Most of the members of the inaugural class of the Women's Leadership Fellows declined or did not have time to comment for this article.
Peggy Ozias-Akins, a member of the fellows, Genetics and Genomics, said she has not seen pay discrimination in her personal situation but believes some inequality exists on a national level.
Ozias-Akins said she could not comment on the situation of the university as she has not seen data.