When she wasn't taking college students on field trips across the state to assess housing, University of Georgia professor Karen Tinsley was riding her bike around the county.
Tinsley worked in the College of Family and Consumer Sciences financial planning, housing and consumer economics department for 16 years and served as the director of the UGA Housing and Demographics Research Center.
Tinsley died in a bicycle-vehicle accident on Astondale Road in Oconee County on Tuesday evening, according to the Georgia State Patrol.
Tinsley is survived by her father, Roger W. Tinsley; mother, Judy Tinsley McPeak; her siblings, Susan Schumer, Sarah Tinsley, Gwilym Jones, Kathleen Alpha, John McPeak, Kevin McPeak; and her partner and recently retired UGA professor Art Snow.
---
The lives she has changed are vast and far reaching. Her efforts will continue to improve people's lives not only now, but for many years to come as well.
-Mandy Reeves Young, friend and former colleague
---
Aside from teaching, Tinsley was an avid cyclist and a longtime member of the Athens-based Nitty Gritty Bike Band. She also enjoyed tennis and taking part in local book clubs.
To the UGA community, Tinsley is "irreplaceable," said FHCE department head Sheri Worthy in the statement from the school.
"Karen was an invaluable member of our college and was admired across the state for her tireless efforts toward improving housing conditions in Georgia," Worthy said. "Her impact was felt by countless communities in Georgia as well as by our students, and she was a model representative of our college's mission of improving the lives of people in our state."
Tinsley was recently promoted to senior public service associate in the college's FHCE department, according to the school's statement.
In 2004, she was instrumental in starting the Georgia Initiative for Community Housing program and served as the program's director. Since 2004, the program has provided housing stability for over 71 Georgia communities.
Mandy Reeves Young, Tinsley's friend and former colleague, said Tinsley quickly turned her passion for affordable housing into action.
"Karen's innovative ideas and dedication to continue improving the GICH program is truly noteworthy and unparalleled," Young said. "Housing efforts and initiatives throughout the state have been made because of Karen Tinsley's passion and dedication. The lives she has changed are vast and far reaching. Her efforts will continue to improve people's lives not only now, but for many years to come as well."
Tinsley combined her initiatives with the GICH program and the University of Georgia by teaching housing and community development, FHCE 4340S, a service-learning project course which she taught with professor Kimberly Skobba for the past six years.
The course allows students to learn tools and strategies to assess affordable housing in Georgia communities while also providing a plan for communities to meet their housing and neighborhood revitalization needs.
Tinsley was also researching how communities use social capital to meet local housing needs though a five-year research grant.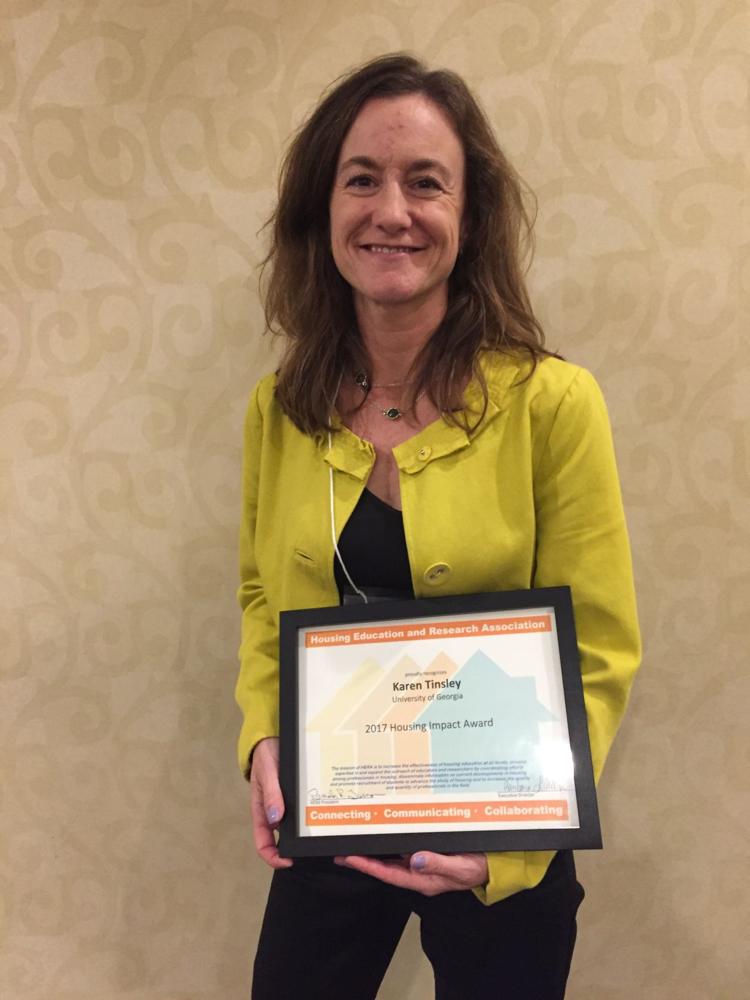 In 2017, Tinsley received the Housing Impact Award from the Housing Education and Research Association for her dedication and contributions to affordable housing in the state.
"Karen's dedication to GICH and the HDRC was unwavering," said Steve Dempsey, associate vice president for the UGA Office of Public Service and Outreach, in the school statement. "She was the glue and the engine that made GICH such a successful program with such a diverse partnership touching communities throughout the state. She will be sorely missed by the housing community and UGA."
Before moving to Athens, Tinsley received her bachelor's degree from Syracuse University in New York.
She earned both her master's and doctorate degrees in economics from UGA. She was selected as a Service Learning Fellow and was a graduate of the Vivian H. Fisher Public Service and Outreach Leadership Academy at UGA.
A scholarship fund has been set up in honor of Tinsley by her family. The scholarship will give funding to undergraduate students who wish to study affordable housing and community development.
Lord & Stephens Funeral Home West in Watkinsville has not announced funeral arrangements at this time. A service for Tinsley will be held in the UGA Chapel on Monday, April 9 at 2 p.m.A reception will follow at 4 p.m. in the Georgia Center's Mahler Hall.
---
Correction: In a previous version of this article, the department of financial planning, housing and consumer economics was titled incorrectly. Karen Tinsley's role in the creation of the Georgia Initiative for Community Housing program was also misidentified. The Red & Black regrets these errors, and they have since been corrected.