The University of Georgia is stepping in regarding an inflammatory tweet by the Young Democratic Socialists at UGA.
On May 11, conservative activist Charlie Kirk tweeted an article about a professor at the Art Institute of Washington reportedly saying House Republicans "should be lined up and shot."
On May 12, the YDS account reportedly quoted the tweet, saying "This is absolutely outrageous! House Republicans should NOT be shot! They should be guillotined," according to screenshots of the tweet.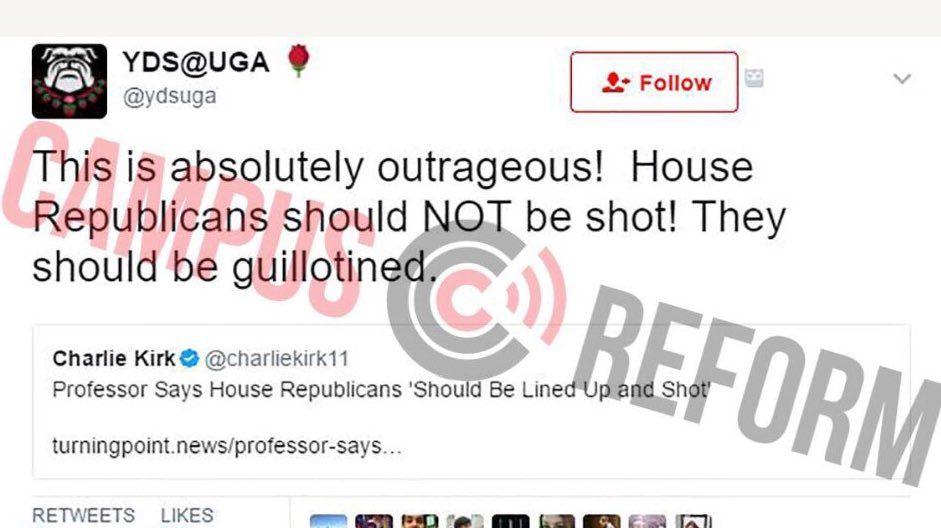 At the time of publication, the YDS Twitter account is listed as "protected," so The Red & Black could not independently confirm the tweet.
After an article by The Blaze on June 8 and the tweet's mention in an Associated Press article on June 14, the University of Georgia Police Department is investigating the matter, according to a statement on the university's twitter account. The issue has also been referred to the Office of Student Conduct, according to the statement.
UGA response to Young Democratic Socialists student group tweet: pic.twitter.com/RA2EJy3eZG

— UGA (@universityofga) June 14, 2017
According to a post on the organization's Facebook page, now renamed the Athens Democratic Socialists of America, shortly after UGA's statement, the organization is distancing themselves from the university.
"Recent events have made clear that the only way forward is through the democratic will and revolutionary spirit of our members and community. The Young Democratic Socialists student group at the University of Georgia has voted unanimously to distance itself from UGA and restructure its platform to meet the needs of its members and the larger Athens community," according to the post.
Under its new name, the organization says it will continue its mission of "bringing socialism to the forefront of domestic politics will continue to be felt on campus but will extend with a broader focus to the entire city of Athens."
The organization's page on the UGA Involvement Network, a list of official university organizations, appears to have been removed.
According to David Littman, founder of the Young Democratic Socialists, the inflammatory tweet was intended as a joke and should not be taken literally. 
"I wouldn't have made that joke myself, but it is clearly and obviously facetious," he said. "As a strict pacifist, I believe that all violence is immoral, period. But it's absurd to take the joke literally."
Littman graduated from UGA in December 2016, and is no longer affiliated with the YDS chapter. 
Please return to redandblack.com for updates.